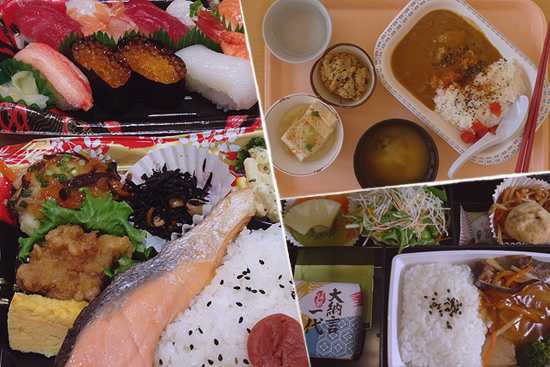 (SPOT.ph) I just came from a trip to Japan. I was based in Tsukuba City in the Ibaraki prefecture, about an hour away from Tokyo. It was my first time in Japan in over two decades.
My food-related memories of my childhood trips there are vague—burger steaks at roadside restaurants, watery soup spaghetti at the Washington Hotel in Akihabara where we stayed—a dish that I first recoiled at then grew to love, my mother telling my sister not to ask for green tea ice cream because it was made from wasabi (It actually wasn't; she just didn't want my sister to eat it), and my brother's love for Japanese cream of corn soup.
It was in Japan where I learned that really good iced tea was actually brewed leaf tea with ice, and that it could be enjoyed with milk. I know now that these are all Japanese takes on Western food, our Japanese hosts' way of making us culinary barbarians feel at home.
ADVERTISEMENT - CONTINUE READING BELOW
So on this trip, while I still wanted to eat some of the dishes that reminded me of my childhood, I was also excited to see what made up a typical Japanese meal. What I found was washoku.
Washoku, which translates to "Japanese food" (my friend who introduced me to the concept explained), is basically Japanese home cooking. It's based on balance of form and flavor tied to the seasons. Sometimes referred to as Ichiju-Sansai or "one soup, three dishes" (the main dish and rice going unsaid), the cuisine is a UNESCO Intangible Cultural Heritage recipient, the only other culinary practice being French cuisine.
Washoku is comprised of four elements: ingredients, cooking style, nutrition, and appreciation. Japanese cuisine relies heavily on what's available. Since Japan is comprised of islands, this is usually seafood. Cooking methods include steaming and simmering, usually in umami-rich dashi stock, the main flavoring agent of Japanese cuisine. The resulting dishes are nutritious, not to mention delicious, and should be appreciated before, during, and after the meal. The last element is encapsulated in "omotenashi," which means "to entertain wholeheartedly." This includes everything from ambiance to tableware to food presentation. One doesn't simply eat washoku, one looks at it, admires its arrangement, tastes it, delights in the subtle melding of flavors, and gives thanks to the earth that provided the ingredients, and the person who cooked them.
My friend says that in reality, preparing this kind of meal day in and day out can put a strain on anyone, especially if they are juggling a job and a family, hence, their availability as set meals in supermarkets and restaurants. Still, it is a wonderful way to eat, and I am trying—mostly unsuccessfully—to use the same principles (but with different ingredients) when I make my meals at home.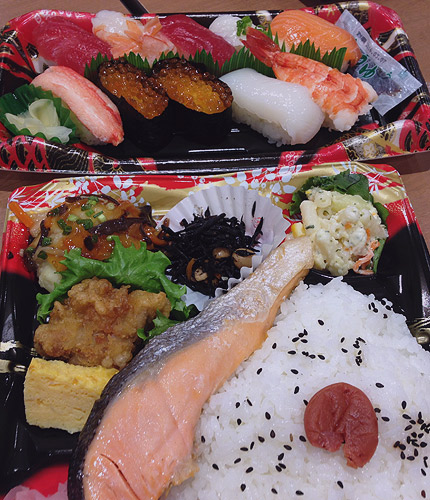 ADVERTISEMENT - CONTINUE READING BELOW
Supermarket washoku: Rice, salmon, fried chicken, seaweed, tofu ball, scrambled egg. We also bought sushi because we're gluttons.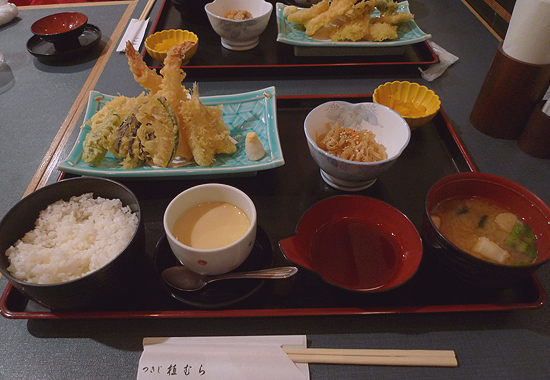 Japanese set meal, Example 1: Mixed tempura, chawan mushi (egg custard), stewed vegetables, pickles, miso soup (dessert and drink not shown).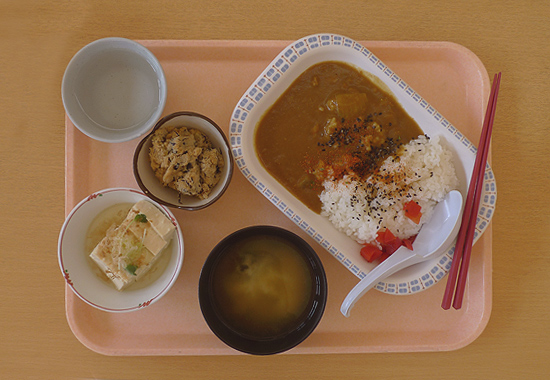 ADVERTISEMENT - CONTINUE READING BELOW
Assemble-your-own meal from the Tsukuba University cafeteria—tofu, soybeans, curry rice, miso soup (dessert not shown). Students have access to free-flowing green tea and Japanese condiments that include soy and sesame salad dressings.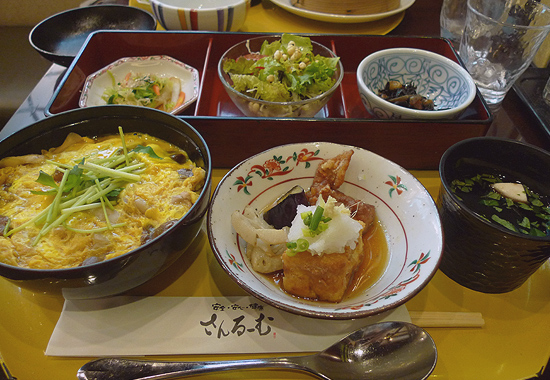 Japanese set meal, Example 2: Mushroom omelette on rice, tofu in dashi stock, miso soup, pickles, salad, and seaweed. Dessert and drink not shown.
ADVERTISEMENT - CONTINUE READING BELOW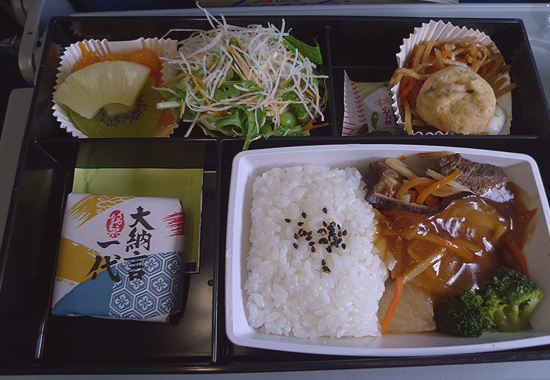 Philippine Airlines' Japanese lunch: Beef, rice, tofu ball, stewed vegetables, salad, fresh fruit, dessert (kind of not shown).
But for times when I have a hankering of what I had in Japan, instead of hopping on a plane to Tokyo, Japan, I take a cab to Little Tokyo, Makati, where restaurants like Izakaya Kikufuji and Seryna offer lunch meals that come with one soup and three dishes for anywhere from P255 (Chicken Teriyakidon) to P730 (Ikuradon) at Kikufuji and P320 (most sets) to P485 (Makunouchi Bento) at Seryna. Friends say that you should order Seryna's sukiyaki neto meal if you get the chance, because it is delicious and more than worth the price. I haven't tried it yet though, because it sells out fast.
ADVERTISEMENT - CONTINUE READING BELOW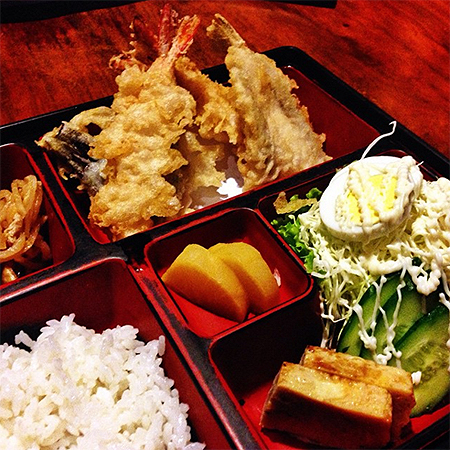 Tempura Bento from Seryna
The takeaway from all this is not that we should always demand a bento at every meal, but that every meal should be appreciated, savored, and given thanks for. That, I believe, is what eating should be about.
Yvette Tan is a lifestyle writer by day, horror writer by night. Pick up her books Waking the Dead and Kaba at select establishments. Find her on Twitter and Instagram (@yvette_tan).
ADVERTISEMENT - CONTINUE READING BELOW
Share this story with your friends!
---
Help us make Spot.ph better!
Take the short survey
More Videos You Can Watch
Load More Stories