This organic local drink is a gym rat's best friend
SPOT.ph blogger Yvette Tan shares the story behind Primal.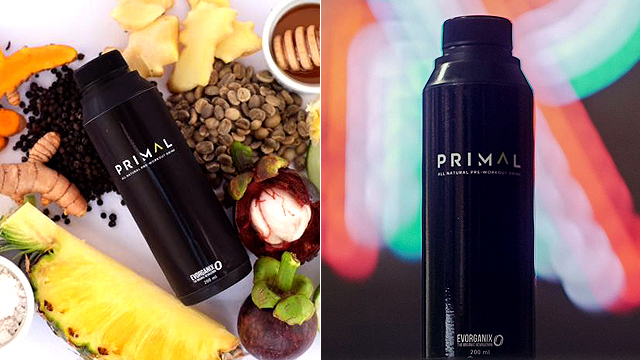 (SPOT.ph) I'm not a very active person—oh, who am I fooling? —I'm really not an active person, but I do like immersing myself in the lifestyle. I read fitness articles, daydream that I'm a super athlete, and am always looking for healthy stuff to try. I count myself fortunate to be one of the few people who prefer vegetables over meat (otherwise, I wouldn't have the willpower to be a flexible pescetarian), and love the taste of fresh herbs and spices, and not always in food. So when I came across Primal at a fair run by the Department of Agriculture, I had to find out what it was.
I bought a bottle and took it home to sample, and was pleasantly surprised. It's got the sting of ginger and chili, enough to perk you up for a few hours. It's probably not for everyone—maanghang siya, guys—but I loved it. I wouldn't say I'd pick it over coffee (because I love the taste of coffee more than I need the caffeine boost), but this is the kind of juice that I'd drink for fun, so it's a plus for me that it's actually good for you. I asked Jammy San Juan, one of the sales and marketing heads of Primal, about the product, and here's what I found out.
ADVERTISEMENT - CONTINUE READING BELOW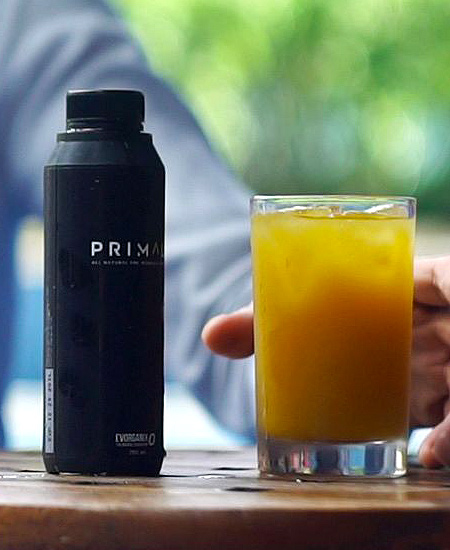 CONTINUE READING BELOW
Recommended Videos
Please tell us about Primal.
Primal is your go to organic power drink—it is a great source of energy and nutrients, and contains healing properties. It does wonders for your body because its ingredients are all-natural and the unique blend and taste gives you that clean, strong boost when you take it. We recommend you try one whole bottle for you to feel its full effect. We call that the "Primal Kick" or your body getting "Primed Up." We believe that once we feed our bodies the right stuff, it functions better, our minds are clearer, and we become better.
How did Primal start?
Before it was Primal, it was a bright orange drink packaged in a mineral water bottle called Whappak which was only sold in a couple of gyms in Cagayan de Oro. It was formulated by my elementary schoolmate, Miguel Mejia, who worked on it as a thesis for his food tech degree. He has been working on various turmeric concentrates for a while now and kept striving towards innovating his products. The drink was so effective in my workouts, (I lasted two to three hours in boxing sessions) and I knew I wanted for everyone else in Manila, and the rest of the country to try it, so my partner and I decided to distribute and market it.
ADVERTISEMENT - CONTINUE READING BELOW
What was your inspiration for the drink?
We were on our way back from Cagayan de Oro for my sister's wedding, and we couldn't stop thinking about it, and we were really just in need of change in our bodies and our perspective on food and what we take in. We want to feel better on a more holistic level. We wanted a staple solution that jumpstarts our healthy lifestyles. We believe that it is innate in everyone to want to become better versions of ourselves, and so we came up with the word instinct, which led to Primal—which ultimately means essential, fundamental, and intrinsic. The black bottle and the arrow pointing up in the logo of Primal encapsulates our message of Primal being a boost, as well as of the discipline of moving forward.


Who are the people behind the product and what are their backgrounds?
Evorganix is a movement towards an "Organic Revolution" and is run by Miguel Mejia, a food tech grad who also served in the U.S. Army, together with his dad Ardi Mejia, Carlo Limjuco, and Mark Chongbien who are all experienced and successful businessmen in their respective fields. Evorganix came about from their passion to lead healthier lives, and help small scale organic farming in Mindanao. A big part of Primal is really its advocacy in contributing to the livelihoods of the farmers behind the ingredients of Primal.
Please tell us about the ingredients used and their benefits.
Primal's proprietary blend is a broad spectrum of potent all natural ingredients. The taste and function of each one complements the rest. For instance, turmeric is a strong source of anti-inflammatory properties and antioxidants; cayenne pepper is a thermogenic and increases metabolism and improves blood flow; green coffee extract is unroasted coffee which is a more sustainable source of caffeine and helps with alertness and focus. Mangosteen is also a super antioxidant and studies have shown that it aids in fat burning. These are just some of the powerful natural ingredients in the drink. In addition to that, there is no sugar, no preservatives and no synthetic additives at all. All these work together perfectly to provide an all-out organic experience proudly produced right here in the Philippines.
ADVERTISEMENT - CONTINUE READING BELOW
What is the most optimum way to reap the benefits of the drink?
Having a fresh cold bottle of Primal in the morning is the perfect way to jump start your day. Your body will thank you for all natural nutrients you take in. Also popping a bottle 15 to 20 minutes before your workout will give you just the right state of mind and energize your body to its full potential.
Can you drink it any other way than out of the bottle? For example, can you use it for cocktails?
Yes, you can pour it over a glass of ice, and you may also take it with alcohol to keep you alert. It works like an energy booster, but better and healthier.
Where can people find the drink in Manila?
We are now available in over 30 retail outlets in the country, mostly in Metro Manila. These include gyms in Rockwell Club, Anytime Fitness branches in BGC, Cycling studios like Ride Revolution and Saddle Row, and even crossfit boxes like Primal Ape and Circuit Box. You may also buy Primal from Real Food in Alabang. We deliver for free as well in Rockwell Center which is where our office is.
For more information, log on Primal's Facebook page. 
Share this story with your friends!
---
Help us make Spot.ph better!
Take the short survey
Load More Stories