This new cookbook will take you back to dining by the waterfalls
SPOT.ph blogger Yvette Tan rediscovers Villa Escudero.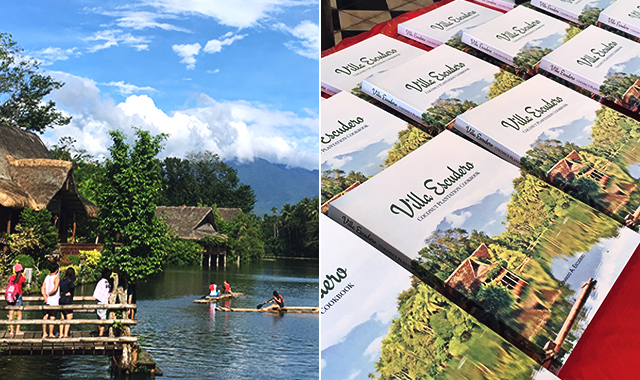 (SPOT.ph) Villa Escudero Plantation and Resort has been a vacation destination for as long as it has been open. During its heyday in the '70s and '80s, it was one of the places to vacation in that didn't require a plane ride from Manila.
The resort recently released Villa Escudero Coconut Plantation Cookbook, which explores Villa Escudero's history and foodways via stories and recipes. The book was written by Don Conrado "Ado" Escudero, who built the resort on his family's coconut plantation, with the help of Villa Escudero's Executive Chef Cocoy Ventura.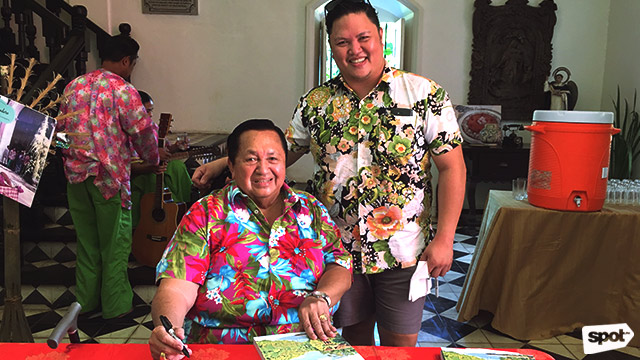 ADVERTISEMENT - CONTINUE READING BELOW
Don Ado Escudero and Chef Cocoy Ventura
The cookbook came about because Don Ado had always wanted to publish a book of his family's recipes. And while a book written by him does exist, specifically The Coconut Cookbook, published by Mr. & Ms. Publishing in 1981, Don Ado claims that he never got any compensation for it, so a republishing was in order.
"This is primarily a glimpse of life within the coconut plantation and the hacienda," Chef Cocoy says. "People might be wondering what happens inside the plantation and the resort; it would be nice to kind of explain to them why we have these kinds of food, why we have the waterfalls, and how we celebrate the holidays."
CONTINUE READING BELOW
Recommended Videos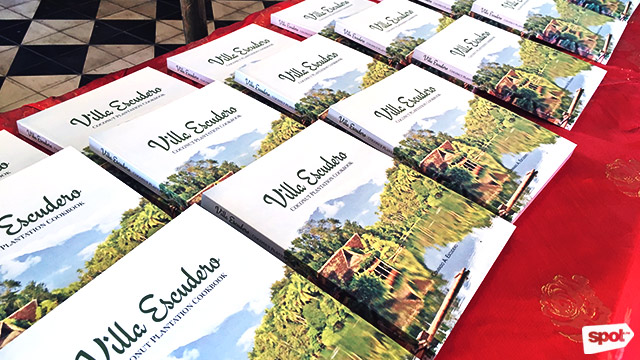 The Villa Escudero Coconut Plantation Cookbook chronicles traditions and foodways inside the plantation.
The cookbook, which is more the size of a coffee table book than a kitchen reference, focuses on the life of Don Ado, who grew up on the plantation, the only child of seven who did not live in the city. "We used to swim in the canals, catch fish and crabs and miniature clams," Don Ado says.
ADVERTISEMENT - CONTINUE READING BELOW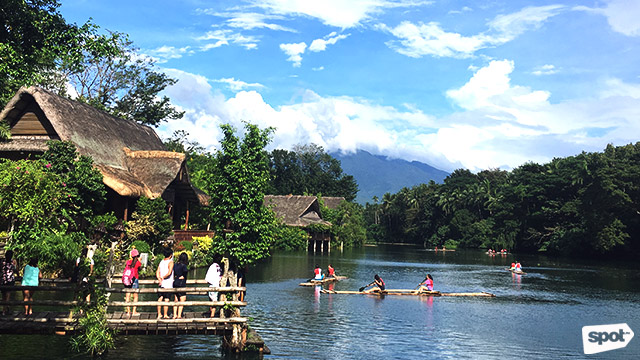 The Labasan River, which feeds the waterfall, is a great place for rafting.
The resort was built after coconut prices went down and the Escuderos needed a way to save the plantation and their workers' livelihoods. Inspired by Colonial Williamsburg, a living museum in Virginia, USA where guests get to see what life was like in colonial America, Don Ado infused the resort with Filipino culture and Escudero family traditions, offering guests an idea of the idyllic hacienda life. "(I told my father that) rather than just rely on farming, we should go into that type of business. Because my parents were collectors and this place is very historical, I said, it is not too much more to convert it into a commercial destination."
The waterfalls, for example, has been a traditional Easter Sunday picnic destination since 1842. "I said, that should be a good treat for the tourists. And sure enough, it caught on," Don Ado says.
ADVERTISEMENT - CONTINUE READING BELOW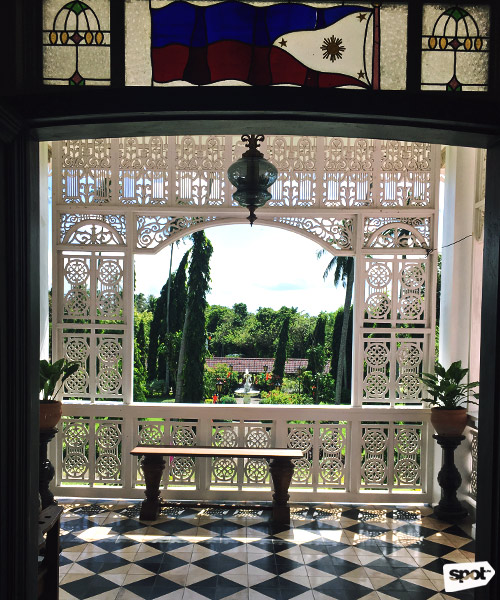 Villa Escudero offers guests a glimpse of idyllic plantation life.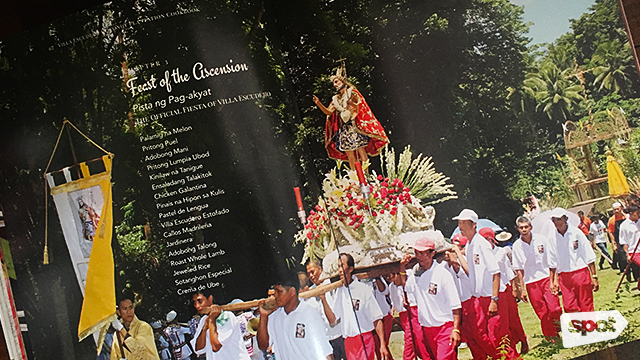 Described as a 'pocket opera,' the Villa Escudero Coconut Plantation Cookbook is divided by occasion. The chapters are: Picnic at the Waterfalls, dishes served during lunchtime by the resort's famous waterfalls; Feast of the Ascension, dishes served during fiesta; Plantation Meals, everyday meals enjoyed by the staff; Weddings at the Villa; The Holidays, dishes served at Christmastime; and Food Friends, a society page-like chapter of the people who have supported Villa Escudero through the years. "A lot of (the dishes) are ginataan," Chef Cocoy says, proceeding to enumerate a sampling like ginataang kuracha sa may sili, ginataang alimango sa may kamias, ginataang manok sa may gata, kinilaw na tuakan (white anchovies), and palakpakin hipon.
ADVERTISEMENT - CONTINUE READING BELOW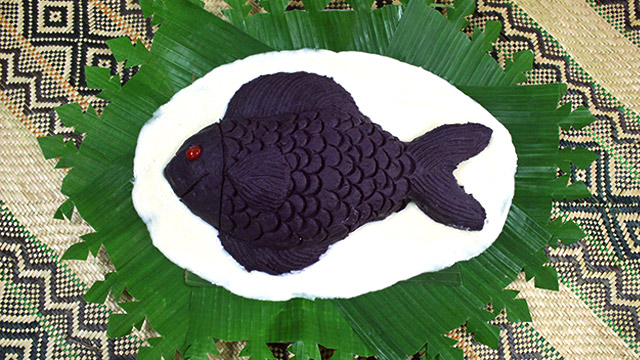 The Crema de Ube is a mainstay of the dessert table.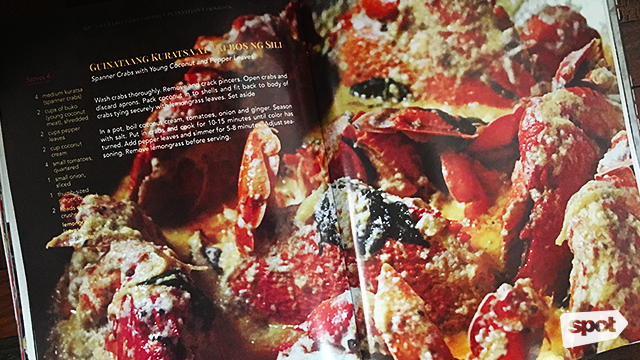 Some recipes make use of plants found in the area. "Everything is what's available in your backyard. There's a type of lettuce tree called kulis that we use in Pinais na Hipon, which is served during fiestas," Chef Cocoy says. "It's basically shrimp meat with buko, onions, garlic, pepper, salt, wrapped in kulis leaves and cooked in kakang gata until the kakang gata solidifies and becomes curd and everything is cooked through. Just think of dolmadakia, that kind of color and texture."
ADVERTISEMENT - CONTINUE READING BELOW
"For someone like me who is a foodie and who has been involved in food for many years, when I see something like this, it's really fascinating. It's something unusual," Chef Cocoy says. "It honors heritage cuisine and celebrates traditions and life."
The Villa Escudero Coconut Plantation Cookbook (P1,500) is available at Villa Escudero's website. For more information, log on to Villa Escudero's Facebook page.
Photos by Yvette Tan and courtesy of Chef Cocoy Ventura
---
Help us make Spot.ph better!
Take the short survey
Load More Stories