Let Them Eat Unli-Rice
There are many broken things in our food system that need fixing before we can adequately fix our nutrition problems.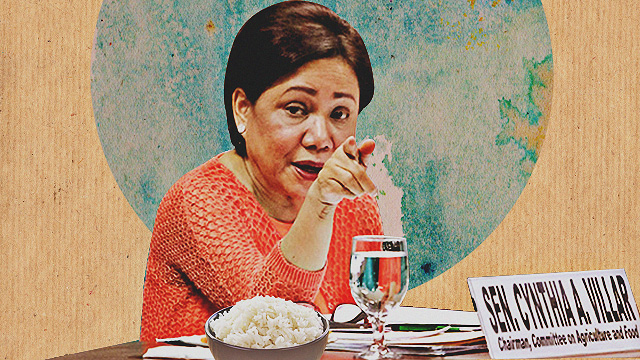 (SPOT.ph) Senate Chair of the Senate Committee on Agriculture and Food Cynthia Villar has come under fire for suggesting a ban on unli-rice (which she sort of took back later on). The unlimited rice promo is a big draw for consumers looking to fill their bellies without having to shell out a lot of cash. Her defense: that Filipinos are unhealthy and that we should be eating more vegetables. She was first quoted as saying, "Ipagbawal na 'yang unlimited rice, masama 'yan. Pagbawal na natin 'yang unlimited rice kasi nagkakasakit tayo gawa ng unlimited rice na 'yan; we should learn how to eat vegetables." 
While her intentions are well-meaning, it shows a remarkable lack of identification with a majority of the populace.
For Filipinos, no meal is complete without rice. We have it for breakfast, lunch, and dinner. Sometimes, we even have it for merienda, as evidenced by delicacies like biko, bibingka, and puto. But this is more than just a cultural preference.
ADVERTISEMENT - CONTINUE READING BELOW
While the Philippines is rich in agricultural land, it's also one of the poorest countries in the region, with many people unable to get three square meals a day. Especially in the cities, the standard of living is high, forcing many citizens to make tough choices on necessities, such as nutrition. Even in rural areas, access to nutritious food is difficult to come by for a variety of reasons. Farmers don't get paid much, for one. Besides, most of the land they till is used to grow cash crops like oil palm (the palm used for palm oil) or fruits for export, with little to no land left for them to grow food that they can live on.
CONTINUE READING BELOW
Recommended Videos
People turn to rice because it's cheap, and people turn to unli-rice because it fills their bellies. Sen. Villar's statement at a recent rice production and consumption hearing saying, "I think we should learn how to eat vegetables because it's healthier. Kasi sasabihin mas mura ang rice sa vegetables eh ang mahal naman magpagamot ng diabetes," while, again, sound and well-meaning, underscores an inability to understand the mindset of the majority of the people she serves. Studies have shown that poverty makes people focus on the short term. The stress of worrying about rent, sickness, family, and food makes the brain go into survival mode. Many people think that if only the 'poor people' thought long-term, their lives would be better. Turns out they literally can't. This, among many other things, is what we're really dealing with, not just the Pinoy's fondness for rice.
ADVERTISEMENT - CONTINUE READING BELOW
Instead of just telling people to eat less rice and more vegetables, the government should follow their own advice and think long-term. Banning unli-rice is a stopgap measure. What they should be focusing on is upping the regular Filipino's access to cheap, nutritious, culturally acceptable food. This isn't as easy as it sounds.
For one, it would need a reworking of how land is distributed in the country. It would need an overhaul of what we use our farmlands for. It would need focusing on planting and consuming indigenous crops. There are many broken things in our food system that need fixing before we can adequately fix our nutrition problems. Instead of putting the onus on the Filipino people, the Department of Agriculture and other related government agencies should work on fixing the broken systems that make poverty and low wages possible. 
That a government official is shaming the citizenry's consumption of a staple that's a cheap way of staving the grumblings of a hungry stomach smacks of privilege. It's as if she had said, "Let them eat cake."
Share this story with your friends!
---
Help us make Spot.ph better!
Take the short survey
Load More Stories