One Tama Does You Right
It's not rocket science, according to the campaign, One Tama. Doing one right thing a day, with even the simplest of actions, brings about big changes.
[vimeo]http://vimeo.com/3430426[/vimeo]

One Tama, roughly translated, is 'one right thing', atleast according to a group of yuppies who, like most Filipinos, want a better country.   The inspiration to start the campaign came to Boyet Dy, one of the members of the advocacy group, Duyan ng Giting, in the form of a song.   Driving to work one morning, with the soundtrack of Moulin Rouge accompanying him on his daily commute, he was struck by the lyrics from an unlikely track, David Bowie's "Heroes" from "The Elephant Song Medley":   "We can be heroes just for one day, we can be heroes forever and ever…". Still high on a not-so-new epiphany, he shared the idea with his peers at Duyan ng Giting, who all come from different fields such as banking, brokerage, marketing, development, law, medicine and events management.   Buoyed by everyone's enthusiasm, One Tama was born.   "We all want a better country anyway, so why don't we try living in that 'better country' for just for one day?", muses Boyet.   "The core idea remains the same: changing the country starts from one simple yet concrete right action, by one person on one day, and then the journey toward bigger change proceeds from there." Collaborating with Ideals Creatives, a social enterprise who provides multimedia communications solutions and are equally as idealistic, they put up their website, onetama.com. The website allows campaign supporters, friends and fellow change-enablers to list down the simple things that they've done, suggest actions that people can accomplish and to share it with everyone at their school, workplace and even with one's Facebook friends network.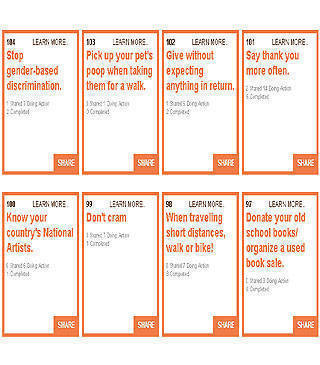 The task lists are filled with 'small' but do-able actions:   stop spreading rumors, saying 'thank you' more often and learning all about our National Artists.   Fellow Duyan ng Giting member, Mickey Ingles, admits to surprising himself by unplugging appliances that are not in use.   "Before I used to leave my cellphone charging the whole night, until I realized all the energy it eats up coupled with the dangers of leaving it plugged too." Recently, Starbucks Philippines invited the folks from One Tama to share their vision and their stories to an intimate group of people during a session of their Dialogues Series.   A short video of Mang Rey, a flower vendor who has been hanging out and selling roses at Makati Avenue for the past twenty-plus years, was shown.   According to the video, Mang Rey admits that remaining positive and cheerful is hard when not a lot of people easily spend on flowers, but it is the one 'tama' thing he knows that pays off.   His son has now graduated from law school. The people behind One Tama are now looking into organizing a monthly One Tama Action Day, where people can come together to do a One Tama Action at the same time.   If you've been looking for the perfect opportunity to inspire and do your share in changing the world, One Tama may just help you change someone's life, if not yours. What One Tama action do you plan to do ASAP? Post your ideas below:

ADVERTISEMENT - CONTINUE READING BELOW

CONTINUE READING BELOW

Recommended Videos
Share this story with your friends!
---
Help us make Spot.ph better!
Take the short survey
Load More Stories