The prettiest actress when I was a kid was Gretchen Barretto. Wasn't she the one "Beautiful Girl" sang about so longingly? Then I became more interested in Hollywood and Gretchen became more interested in starting a family. So when I heard that she'd made a comeback as a singer, I just had to check her out. I was surprised to say the least. This is the Gretchen of "Beautiful Girl" fame… Behold the Gretchen of Complicated…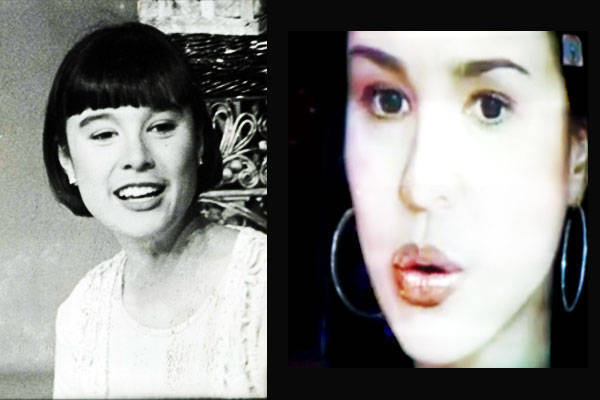 Gretchen Barretto in 1994 and in 2009.

ADVERTISEMENT - CONTINUE READING BELOW

Complicated indeed. A little older, a lot sexier, and a bit too lush in the mouth, but spectacularly beautiful still. To her credit, Gretchen doesn't deny having some enhancement done. She tells Pep.ph, "I'm not denying it. Yes, I had my lips done. Or I have my lips done every now and then. It's fillers only." I like Gretchen. She's honest. Other stars are less likely to come out and admit it. For example, just recently a woman claiming to be Pops Fernandez was all over TV talking about her breakup with a much younger man. Well, this is the Pops I know (left), And this is the Pops on the cover on FHM (right):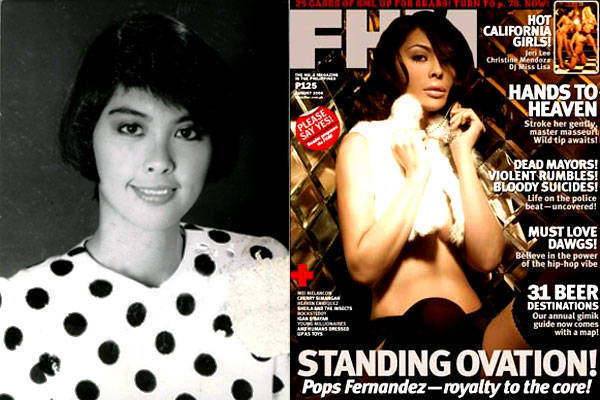 A younger Pops Fernandez in the '80s and her August 2006 FHM cover.

ADVERTISEMENT - CONTINUE READING BELOW

Recommended Videos

The woman who calls herself Pops on recent gossip TV shows looks like a thinner Angelu de Leon with very big lips. The FHM cover girl made me think, "Dolly Carvajal, is dat chu?" No offense to Angelu and Dolly, who are both lovely women, but am I wrong to ask, why would a singer as cute as Pops want to alter her face in that way? We merely assume this from what we see on the FHM cover, of course, since Pops denies undergoing any procedures. Indeed, this befuddles us ordinary folk: Why would someone already prettier than the rest of us sorry lot feel the need to enhance what Nature has so bountifully blessed them with? Dermatologist Aivee Aguilar-Teo, M.D., rumored to have a star-studded queue in her NU.U Asia Clinic, offers a simple explanation: "I would think the main reason my patients are doing these procedures is because they need to maintain and enhance their looks because that is what their job demands. In their industry, physical appearance is of utmost importance." Ah, that is quite true. While actors and singers insist that they are where they are because of their talent, we all know it's actually their looks that put them on the star map. As the super hot Jessica Alba once told Elle magazine, "Contrary to how people may feel, I've never used my sexuality [to get roles]." Hmm. While some celebrities seem to be in denial, most of them know that their stardom rests on their hotness and they can't help but devote a lot of time and money to keeping themselves hot. Cosmetic surgeon Angeles Morales-de Leon, M.D., explains, "Celebrities rely on their looks [so] they take extra effort to look better if they think they still need improvement or maintain as much as possible their youth." Psychiatrist Genuina Ranoy, M.D., who delivered a lecture titled "The Psychiatric Issues in Aesthetic Surgery" in Beauty and Sex: Beyond the Physical, a post-graduate course in St. Luke's Medical Hospital, assures us there is nothing wrong with this. "Even though they are already beautiful, there are times when they can be more beautiful. Yun naman kasi ang kanilang puhunan–to look good all the time so they really have to invest in [their looks]. Okay lang yun. Artista ka, famous ka, siyempre ang expectation ng mga tao is that you look beautiful all the time, and you really strive hard to achieve that. You want everything to be perfect although talaga namang walang perfect." Which brings us to another question: What is this perfection and can it be achieved? Is perfection the Western ideal of big round eyes, fair skin, full lips, high cheekbones and big breasts? Not so, says Dr. Aguilar-Teo. "When I examine a patient, what I look for are lines and wrinkles, loss of volume, skin laxity, asymmetry, skin texture and pigmentations. I will then propose the necessary treatments to address the problems." What she means really is that as long as everything looks healthy, normal and symmetrical, you're perfect! But stars can't just be normal; they have to look better than everyone else if they are to book that next endorsement or film role. Dr. Aguilar-Teo explains that her most requested enhancements are "botulinium toxin [botox] injections for lines, wrinkles and facial contouring; medical grade fillers for deep lines and volumization of areas like the lips and cheeks; skin tightening treatments and body contouring treatments. And of course, skin care, skin whitening and anti-aging treatments." Sounds like a lot of stuff to do to your face but Dr. Ranoy says this is acceptable. "When you're getting older, definitely may magbabago. If you are an actress, someone famous o star ka talaga, you want to maintain your looks. That's fine. It's not a problem to want to maintain your good looks. Nagiging problem lang siya when you do it excessively. It's no longer needed, wala nang igaganda pero they always think there is something more [to be done]." It's a good thing that decent doctors always take measures to ensure that a cosmetic procedure is the best decision for a patient. Aside from routine physical examinations, Dr. de Leon says she requires her patients to go through a psychological test. Dr. Ranoy concurs, "Talaga namang dapat may psychiatric evaluation. Unfortunately, not everyone does it, especially here in the Philippines. In PGH, may psychiatric clearance. Kasi it's a permanent change. So if you're not prepared psychologically to undergo the procedure, hindi ka dapat ina-allow to have a procedure. Dapat pinag-isipan mo ito; it's not a spur-of-the-moment decision." Apparently, while most of us normal folk will cut off our hair in a fit of emotional despair, some celebrities get a nose job, a boob job or a face lift! Dr. Ranoy explains further, "Ganoon ba ang gagawin mo every time you have a problem? That is not the right way to cope with problems. Kasi kung iisipin nila na the husband ay babalikan na sila kasi mas maganda na sila sa kabit or you'll become famous again… baka kasi hindi [cosmetic procedure] ang solution." Our good doctors do say that this is why a psychiatric evaluation is important. And no matter how much money they can make from a cosmetic procedure, a good doctor will refuse to perform an unnecessary enhancement. Dr. de Leon says, "I say no to some patients if their demand is unrealistic, like if they come to me and show me a picture of a star or actress to copy. We can only improve on what is the basic structure of her face. The preferred psychological exam is to address these unrealistic expectations." Even simple procedures won't be performed on a patient if your doctor feels you don't need it. Dr. Aguilar-Teo tells the Philippine Star, "It's tricky when patients have unrealistic expectations. It's difficult when you have patients who are difficult or demanding. They want to be beautiful. There are high expectations. You have to deliver and it's not easy. So I don't over-promise and under-deliver." It's a great comfort then to know that our cosmetic enhancement industry are stalwart in their beliefs and motivations on what is best for a patient. Which makes me wonder: Could this be the reason why Pops maintains that she has not done any enhancements?

ADVERTISEMENT - CONTINUE READING BELOW
Share this story with your friends!
---
Help us make Spot.ph better!
Take the short survey
Load More Stories