Just Another Manyak Monday
Manila's jeeps and buses are rife with molesters disguised as everyday commuters. Here's one manyak-target's take on who they are–and how to deal with their wandering appendages.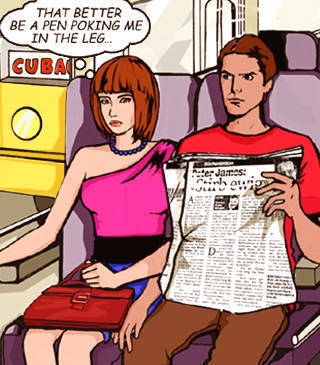 I have been a commuter since college and I don't think anyone has been pestered by manyaks as much as I have. Jeeps and buses are rife with these maniacal dregs of society. At least women riding LRTs and MRTs, with "his 'n' hers" cars are now spared. Molesters strike whenever they please with different techniques and different degrees of persistence.
One particular Monday morning, I was half-asleep in the bus on my way to work when a tall, dark man in his forties sat comfortably beside me. He crossed one arm over the other and dozed off. After a while, I felt the weight of his elbows on my breasts. I shifted my position, hoping to wake this seemingly deep sleeper. He was awake alright–his fingers started crawling over my arms to my breasts! I reached inside my bag, searching for a sharp object. Luckily, I found a nail cutter in my kikay kit, twisted the nail file out, and flashed it right before his face. He started acting as if he had done nothing wrong, but the pale color on his face couldn't deny the fact that he was guilty. He left his seat and got off the bus, his eyes on me the whole time.
ADVERTISEMENT - CONTINUE READING BELOW
So, who are these people who try to harass people taking public transportation? Here are different profiles I've dug up from my vault of unforgettable manyak experiences:
1.       The big, brooding D.O.M. Fat or thin, tall or short, this old geezer will take advantage of his size to grope the female body part  nearest him.
2.       The man with a bag. This horny man uses a prop to hide his sinister deed, resting his bag on his lap to conceal his creeping hands.
3.       The deep "sleeper"  will bend his neck at obtuse angles to get a better view of your breasts.
CONTINUE READING BELOW
Recommended Videos
4.       The horny teenager. They're the most creative, and also the weirdest kind. They will put one of their legs in between yours while you sleep. Also, they will sit in the oddest position just to rub against your legs with their backsides.
5.       The tabloid "reader." Get off that seat when the man beside you reads Tiktik. He will start reading the sex section, angle the paper hoping you'll ead and enjoy it too, and revoltingly feel himself in front of you.
6.       The inconspicuous corporate man in a barong. This type is rare and when he does strike and gets caught, he fearfully retreats.
7.       The man who constantly looks out the window. He's not looking for a landmark, he's actually looking at whatever glory the holes in your button-down shirt may reveal.
8.       The obvious bad guys. If their eyes are bloodshot and their breath stinks like fermented  chico, you should transfer to another seat immediately.
ADVERTISEMENT - CONTINUE READING BELOW
9.       The creepy nerds. We love our nerds but some of them are probably desperate for pleasure so they take their chances with strangers on the bus.
10.    The man who sits erect.  Sorry for using that word, but the man who sits stiffly is most likely nervously waiting for a chance to satisfy his carnal needs through quick contact with your flesh.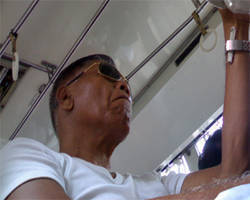 Author stops manyak-ing in progress by shooting molester's mug with her phone.
My friends say it's because I look sweet and meek, that I'm perceived as a docile child who wouldn't dare confront these chancingero creeps. The first time it happened I was too stunned to react, but things changed very quickly after that. I'm still a manyak target, but am no longer helpless. Here, some anti-manyak techniques I've resorted to in the course of my commuting life.
1.       Take his picture. Set your camera phone on loud, activate the flash, and point it directly at his face. The unquestionable image of his face (and if you're good, his groping hand!) will be your evidence against him.
ADVERTISEMENT - CONTINUE READING BELOW
2.       Be creative with your artillery. There's no need to pack a bolo, you can in fact find a lot of weapon-worthy objects in your bag! Get the fork from your baon or threaten to stab him with a pen. If that fails, use your bag to beat his head!
3.       Call for help. You can count on the other passengers for help the moment you scream. You will be surprised at the amount of violence they can unleash upon seeing a manyak.
4.       Drench him. If you're carrying a drink with you, pretend that you're sleeping and slowly tip the drink over the manyak's legs. He'll be so pissed, he'll be the one moving to another seat!
5.       Use your bag for defense. Hugging your bag is a good way to cover any gaps or holes in your shirt and essentially guard your bosom.
6.       Give him an angry look.
7.       Elbow him.
8.       Pack a can of pepper spray. Pepper sprays, which range from P200 to P700, can be purchased in gun and hardware stores.
9.       Be polite. Some manyaks will stop once you give them a sign that you know what they are doing and you don't want it done to you. Perhaps a simple "Itigil niyo na po 'yan" will prevent his dastardly deed.
10.       Be un-polite. Some manyaks, on the other hand, need some nagging. Give them a nice, long sermon!  Remember that you have to be ballsy in these situations. You have to face manyaks with a daring approach and let them know that you are not the type they can easily mess around with.
ADVERTISEMENT - CONTINUE READING BELOW
Illustration by Warren Espejo.
We'd love to know what you think! Please post your comments below:
Share this story with your friends!
---
Help us make Spot.ph better!
Take the short survey
Load More Stories