The Hit Least #6
A roundup of the past week's lowlights in news and pop culture
1. ADAM LAMBERT ADMITS HOMOSEXUALITY TO ROLLING STONE. This item is what we in the journalism trade call "Duh!"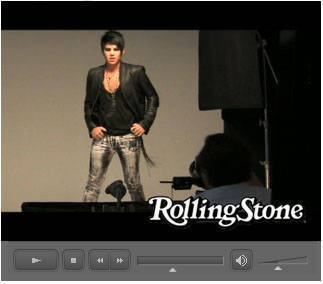 Behind the scenes at Adam Lambert's Rolling Stone cover shoot
2. HOUSE SPEAKER PROSPERO NOGRALES WARNS JUNE 10 CON-ASS PROTESTERS ABOUT CONTRACTING H1N1 VIRUS. I'm sure if manananggals could prowl during the daytime, he'd warn rallyists about them too.
3. NOGRALES SAYS SENATE RESOLUTION TO SHIFT TO FEDERALIST GOVERNMENT IS REALLY THE SAME AS CON-ASS. You say po-tay-to, I say po-tah-to. You say H1N1…I say swine flu.
4. CONTROVERSIAL MISS CALIFORNIA CARRIE PREJEAN STRIPPED OF TITLE BY DONALD TRUMP, SAYS GAY COMMUNITY BEHIND HER OUSTER. Because homosexuals and a guy with a bad wig make natural conspirators.
Carrie Prejean answers Perez Hilton's question on gay marriage at Miss USA pageant
5. TEXAN GREAT-GRANDMOTHER RESISTING ARREST DARES TRAFFIC COP TO TASE HER…SO HE DOES. Be careful what you wish for, Granny!
ADVERTISEMENT - CONTINUE READING BELOW
6. VICKI BELO ATTENDS INDEPENDENCE DAY AFFAIR AT MALACAÑANG, BUT TRIES TO KEEP A LOW PROFILE. And sometimes when I want to be inconspicuous, I stand naked in the middle of EDSA and scream, "Nobody should notice me!"
7. MALAWIAN SUPREME COURT OVERTURNS LOWER COURT RULING, ALLOWS MADONNA TO ADOPT BABY GIRL. I hear the African justices were listening to "Papa Don't Preach" on their iPods while writing the decision.
8. EX-POISON LEAD SINGER BRET MICHAELS GETS NOSE FRACTURED AFTER DESCENDING SET HITS HIS FACE AT TONYS. It seems every rose–and gaudy set piece–has its thorn.
CONTINUE READING BELOW
Recommended Videos
Bret Michaels injured at Tony Awards
9. SARAH PALIN ACCUSED OF PARAPHRASING NEWT GINGRICH SPEECH WHILE INTRODUCING RONALD REAGAN'S SON AT REPUBLICAN FUNDRAISER. I can see plagiarism and loss of credibility from my house!
10. GOVERNMENT STUDY SAYS RP MIDDLE CLASS SHRINKING. Not according to my waistline.
Share this story with your friends!
---
Help us make Spot.ph better!
Take the short survey
Load More Stories