THE HIT LEAST #10: Last week's lowlights in the news
4. RUPERT GRINT HIT WITH SWINE FLU. Get him some Skele-Gro, stat! Wait…that's for re-growing bones, right? How about some mandrake root? By Andrew Paredes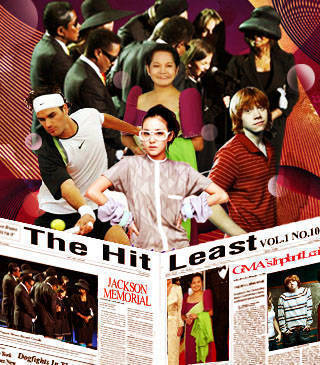 A roundup of the past week's lowlights in news and pop culture:
1.STAR-STUDDED MICHAEL JACKSON MEMORIAL SHOWN IN 41 THEATERS ACROSS U.S., TICKETS RAFFLED OFF ONLINE. Thanks to MJ, not only do stars have to worry about the sales of their albums and movies, they have to worry if their death will be a hit too.
2. ROGER FEDERER BEATS ANDY RODDICK, CLAIMS SIXTH WIMBLEDON WIN. I'd call it a David versus Goliath match, but it's more like David versus Goliath and Goliath's whole family.
3. NBI INVESTIGATES NEWS LEAK ON GMA'S "IMPLANTS". At the very least, the authorities should catch the sicko who got me contemplating Gloria's breasts.
4. RUPERT GRINT HIT WITH SWINE FLU. Get him some Skele-Gro, stat! Wait…that's for re-growing bones, right? How about some mandrake root?
5.CELLPHONE COMPANIES MULL PLAN TO CHARGE CALLS PER THREE SECONDS INSTEAD OF BY THE MINUTE. Meanwhile, Lucifer mulls plan to burn the souls of telecom bosses in hell for three eternities instead of one.
ADVERTISEMENT - CONTINUE READING BELOW
6. SANDARA PARK SCORES HIT WITH KOREAN GIRL BAND 2NE1. She'll lie dormant for a while until the next big outbreak. Is it any coincidence her group's name sounds like a virus?
7. INVESTORS' LAWYER SUES PARIS HILTON FOR NOT PROMOTING FLOP MOVIE PLEDGE THIS. You don't understand, Mr. Attorney–if Paris had promoted her movie, we'd be suing her for making us watch it.
8. '80s TV SHOW TJ HOOKER TO BE MADE INTO A MOVIE. Great. Another reboot of a William Shatner TV show they won't invite him to join.
9. LOCAL CABLE SHOPPING NETWORK TRUMPETS CHRISTMAS IN JULY. What's next–Valentine's in September?
CONTINUE READING BELOW
Recommended Videos
10.GREEN INNOVATORS INVENT RACE CAR POWERED BY CHOCOLATE. In a related development, Belgium and Switzerland are identified as new geo-political hotspots.
Share this story with your friends!
---
Help us make Spot.ph better!
Take the short survey
Load More Stories