Wii Lightsaber? Bluetooth speakers? Cooking Mama on your iPhone?
And all the latest gadgets under one cyber-roof. Techies, Lolas and otherwise, will find a new home in this snazzy and informative website.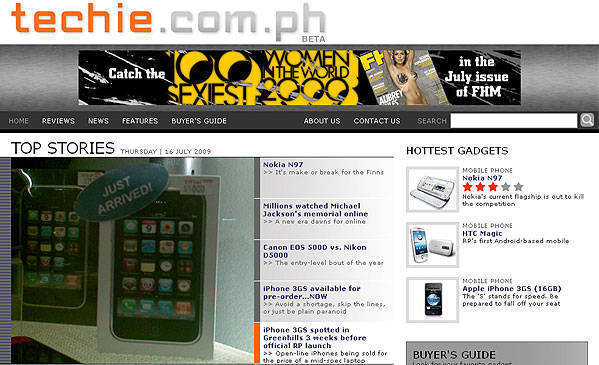 Techie.com.ph, the newest website of Summit Digital, launched last week. The site is packed with no-nonsense, comprehensive and unbiased news and reviews about the latest gadgets and gizmos.
The articles range from product reviews and software news to music and movie features. You'll find the buyer's guide quite useful with a comprehensive list of prices, specs and easy-to-understand comparisons to help make you shop smarter. Plus, read the blogs of Techie Editor Vince Sales, Technograph founding editor Rico Mossesgeld and tech and music writer Jim Ayson on the site.
Here are five things we love about the website:
1. Latest news: The Wii Lightsaber
Now, you won't look like a dork the next time you whip out a lightsaber at a house party. These Wiimote-attachable pieces of plastic come in blue and green with those lightsaber sound effects you love.
2. Product review of Soundmatters foxL mb
Bluetooth speakers made by an actual rocket scientist with a whole lot of free time in his hands. Techie gives it full stars for performance, an expensive but "painless wireless solution for your Bluetooth devices," says Techie.
3. Product face-offs: Canon EOS 500D vs. Nikon D5000
It's the battle of the DSLRs with HD video recording. Get all the specs here plus neat brief summaries at the end for those who want the bottom line fast.
4. Game reviews: Resistance Retribution (PSP) and Cooking Mama on the iPhone
It's futile to resist Resistance Retribution, a first person shooters (FPS) game. With top-notch gameplay and great graphic scenes, Techie says "there's a lot to love and it's definitely worth your time." Meanwhile, continue your Cooking Mama addiction on your iPhone. A lot more fun this time though since you'll be using your hands instead of the stylus from the Nintendo DS version.
ADVERTISEMENT - CONTINUE READING BELOW
5. Music review: It's Blitz by the Yeah Yeah Yeahs
There are hints of growing up but not growing old for the Yeah Yeah Yeahs, according to Techie. With an overall rate of five stars, It's Blitz is worth a spin.
For more, visit Techie.com.ph.
CONTINUE READING BELOW
Recommended Videos
Share this story with your friends!
---
Help us make Spot.ph better!
Take the short survey
Load More Stories