THE HIT LEAST # 11: Last week's lowlights in the news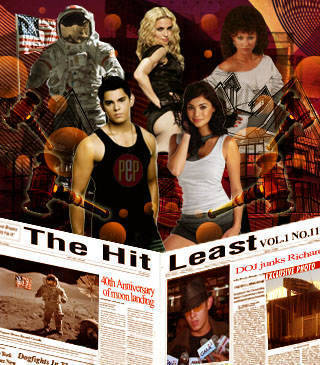 A roundup of the past week's lowlights in news and pop culture
1.  DOJ SCRAPS RICHARD GUTIERREZ COMPLAINT VS PEP; GUTIERREZ TWINS TELL DOJ THEY SHOULD STUDY CASE. In response, DOJ says it will accept legal advice from Richard if their lawyers can workshop him on his acting.
2. TRANSPORT GROUPS TRY TO PARALYZE COMMUTER TRAFFIC IN METRO AS PROTEST AGAINST RISING GAS PRICES. If this is their strategy for public sympathy, these transport groups must have been inhaling too much exhaust fumes.
3. ACCORDING TO SPECULATION, ICRC WORKER EUGENIO VAGNI RETURNED IN EXCHANGE FOR TWO WIVES OF ABU SAYYAF LEADER. Proving once again that in marital disputes or hostage negotiations, withholding sex is still the greatest weapon.
4. DES MOINES INHABITANTS WANT 1942 ORDINANCE ON DANCING CURFEW REPEALED. Letting people dance when they want? What is this world coming to? Next thing you know they'll be letting female welders who moonlight as strippers into ballet school.
ADVERTISEMENT - CONTINUE READING BELOW
5. ACCORDING TO RICKY LO, DIRECTOR BRILLANTE MENDOZA REFUSES CINEMALAYA OPENING FILM SLOT FOR KINATAY, SAYS FILM HAS COMPETED AT CANNES AND "HAS NOTHING MORE TO PROVE." What is now up for debate: who died and made Brillante Mendoza the biggest jerk in local cinema.
6. ORLANDO BLOOM AND ANNE CURTIS' HOUSES BURGLED. In a related development, e-Bay enjoys a surge of bids on newly acquired Lord of the Rings and Magic Kingdom memorabilia.
7. UNEARTHED FOOTAGE OF FIRE MISHAP AT MICHAEL JACKSON'S PEPSI COMMERCIAL SHOOT SURFACES 25 YEARS LATER. In related news, Kris Aquino braces herself for new footage of her falling in Araneta Coliseum.
CONTINUE READING BELOW
Recommended Videos
8. PASAY BUS TERMINAL GUARD SHOOTS PASSENGER WHO REFUSED BAG CHECK. That should teach those suicide bombers.
9. TWO DIE IN FRANCE AS ROOF OF MADONNA'S TOUR STAGE COLLAPSES. The past three weeks have not been good to '80s pop stars. Prince and Phil Collins, I'd watch my back if I were you.
10. NASA ADMITS THEY ERASED FOOTAGE OF 1969 MOON LANDING SO THEY COULD REUSE THE TAPE. Those NASA people must really love their Monday Night Football.
Artwork by Warren Espejo.

Share this story with your friends!
---
Help us make Spot.ph better!
Take the short survey
Load More Stories