Museum Hopping is Now Just a Mouse-Click Away
Virtual art galleries may just make art more democratic, less snobby and more accessible.
If you're like most people who have the urge to take a peek at art in famed museums such as the Met in New York or the Louvre in Paris, but have no time (or the means) to jet off on a cultural odyssey, virtual art galleries are starting to break these barriers in the art world.
Today, hundreds of art galleries are making famous works of art accessible on the internet. Some works are displayed online in a way that gives the would-be viewer a chance to sample the collection of a museum in much the same way as if they would if they were actually there, sans the curators. Ordered by artist, era and medium, it is art-viewing made easy without the ever-present pushing crowd at the museum, or the snobby glances some art connoisseurs may throw your way.
In the wake of our dot-com dependency, some world-famous art havens now have virtual galleries up on the web, including the Metropolitan Museum of Art, the Walters Art Museum in Baltimore, and the Hermitage Museum in St. Petersburg, Russia. Here are some art collections you may want to browse through online: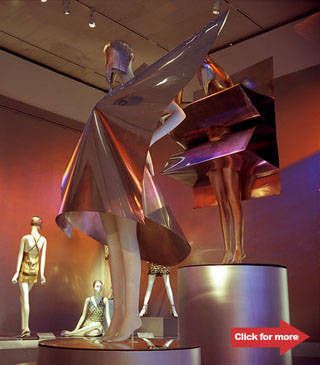 Installation at the Met's "The Model as Muse: Embodying the Fashion Model"
ADVERTISEMENT - CONTINUE READING BELOW
1. "The Model as Muse: Embodying the fashion model" at the Met
Those who prefer contemporary works over historical art will enjoy The Metropolitan Museum of Art's "The Model as Muse: Embodying the fashion model." Running until the August 9, this unlikely exhibition in an art museum focuses on the relationship between fashion and how the perception of beauty has changed over time.
The viewer will be privy to fashion icons through glamour photography between 1947 to 1997. Also included online are curatorial and designer interview videos. Fifty years of the history of the perception of popular beauty have been neatly arranged for those not planning to go to New York anytime soon.
CONTINUE READING BELOW
Recommended Videos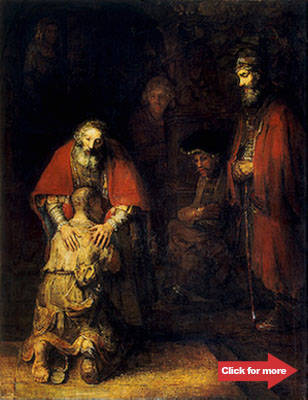 "The Return of the Prodigal Son" by Rembrandt.
2. "The Return of the Prodigal Son" at the Russian State Hermitage Museum
The museum, which houses a gigantic collection of works that covers everything from jewelry to armor, from textile to Rembrandt's "Return of the prodigal son," is the world's largest museum of art, second only to the Louvre. The online edition allows art fans to view paintings and other works without crossing borders.
ADVERTISEMENT - CONTINUE READING BELOW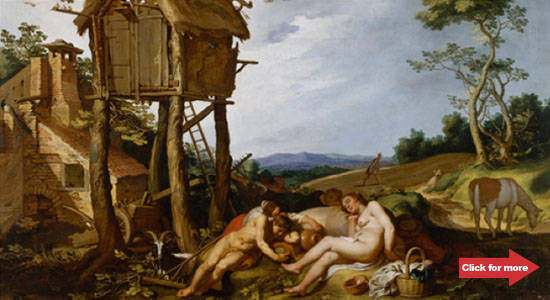 Parable of the Wheat and the Tares by Abraham Bloemaert.
3. Ancient Art at the Walters Art Museum
The Walters Art Museum's virtual gallery hosts a great spread of art and objects dating back to the Roman empire and the Byzantium era. Ordered according to origin, period and medium, the search function also helps narrow down the search for ancient art pieces. The various options online make the Walters Art Museum a rich resource for those who are looking for something other than classicist forms of European art.
Focus on the vision of a single artist also often amplifies the power of a collection of artwork, when viewers are able to see a work's origins and the direction the artist is taking. Other online galleries include those of artists Alex Grey and Aya Kato: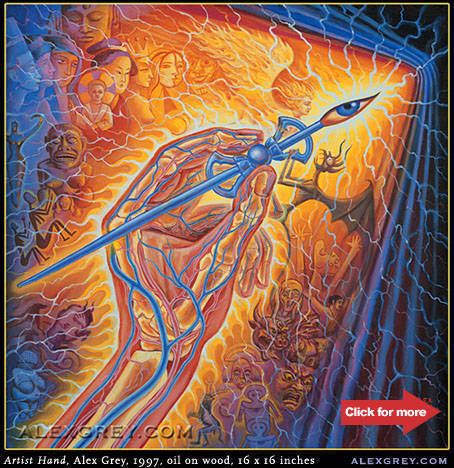 Artist Hand by Alex Grey.
1. Alex Grey's Sacred Mirrors Collection
ADVERTISEMENT - CONTINUE READING BELOW
Alex Grey is a famed visionary artist who has written books on the relationship of art and the human spirit. He views art not merely as an occupation but as a kind of religion or a way of life. Grey is a scholarly figure and his works reflect a commentary on spiritual issues, yoga, the chakras, and higher planes of existence in both visual art and poetry. His online gallery allows art students and enthusiasts to view his image stills, paintings and sketches with a flash gallery.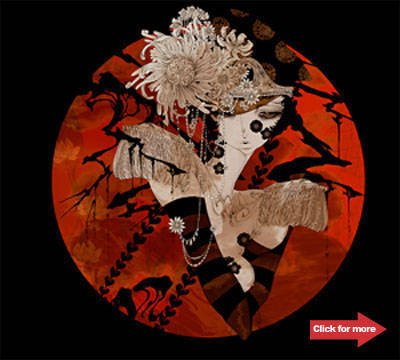 "Red Moon" by Aya Kato.
2. Aya Kato's Visual Dreamworld
Aya Kato is a contemporary artist whose work is used by commercial brands. Chances are, a trip to the boutique People are People will have you see her art without even knowing it. Kato's art have made appearances on clothing and laptop accessories.
Kato, however, strives to revive traditional Japanese visual art with the help of digital mediums and connections to modern iconography. Evidently meticulous, her works are deep plunges into Eastern dreamworlds, they are perhaps the most visually stimulating of all contemporary examples listed in her online gallery.
ADVERTISEMENT - CONTINUE READING BELOW
For digital art like Grey's and Kato, it is easier to go between digital and the traditional art galleries. Works made from measured wood, cut canvas, and layers and layers of oil glaze are not as lucky. While online galleries bring us a step closer to accessible art, there are still some things that the digital world may not quite capture: scale is disrupted by the confines of a screen, or not being able to see how real and changing natural light affect the exhibition space, elements which all have a particular influence on how the work is viewed. But for now, virtual galleries make us feel like we've seen more and learned more, without having to hop on a plane.
Share this story with your friends!
---
Help us make Spot.ph better!
Take the short survey
Load More Stories