The 2009 National Artist Awards Brouhaha: Artists Speak Out
The controversy, the lowdown, what artists are saying and everything you need to know about the National Artist awards.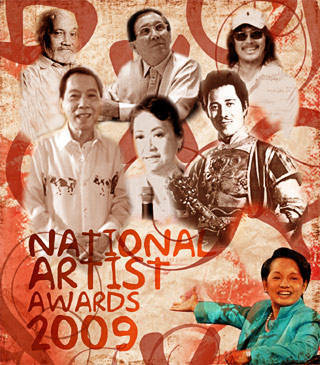 Clockwise: Federico Alcuaz, Francisco Manosa, Carlo J. Caparas, Pitoy Moreno, Cecile Guidote Alvarez, Manuel Conde. Not in Photo: Lazaro Francisco.
Controversy surrounding the new list of National Artists has reached fever pitch among the country's most renowned artists with the naming of Cecille Guidote-Alvarez (as National Artist for Theater) and Carlo J. Caparas (National Artist for Visual Arts and Film). National Artist for Visual Arts in 2006 Ben Cabrera has called the list "a mockery," and will boycott the awards ceremony along with fellow National Artists Arturo Luz, Napoleon Abueva and Bienvenido Lumbera.
What does it mean to be a National Artist and how exactly do you get the honor? SPOT.ph gives you the lowdown.
The Order of National Artists (Orden ng Gawad Pambansang Alagad ng Sining) is the highest national recognition given to Filipino individuals who have made significant contributions to the development of Philippine arts; namely, Music, Dance, Theater, Visual Arts, Literature, Film and Broadcast Arts, and Architecture and Allied Arts. The award is jointly administered by the National Commission for Culture and the Arts (NCCA) and Cultural Center of the Philippines (CCP) and bestowed by the President of the Philippines upon recommendation by both the NCCA and the CCP.
ADVERTISEMENT - CONTINUE READING BELOW
The awardees are measured by their vision, insight, creativity, imagination and technical proficiency in expressing Filipino culture, tradition and aspirations. Started in 1972, the award was established under Proclamation No. 1001 to give due recognition to artists. The first award was given posthumously to artist Fernando Amorsolo the year after. In 2003, the National Artist Award was raised to the level of a Cultural Order, meaning the award is equal in rank to the Order of National Scientists and the Gawad sa Manlilikha ng Bayan.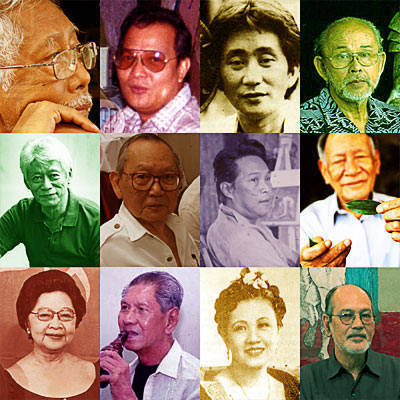 National Artists All: Ramon Obusan(Dance), Lino Brocka(Cinema), Ishmael Bernal (Cinema), Napoleon Abueva(Sculpture), Ang Kiukok(Painting), Arturo Luz (Painting), Carlos "Botong" Francisco (Painting), Levi Celerio(Music), Lucrecia Kasilag(Music), Nick Joaquin(Literature),Bienvenido Lumbera(Literature) and Atang dela Rama (Theater and Film), Ben Cab (Painting),
Aside from the honor, awardees get the following: a cash award of P100,000 (net of taxes); P75,000 (net of taxes) for posthumous awardees paid to legal heirs; monthly life pension, medical and hospitalization benefits; life insurance coverage for Awardees who are still insurable; arrangements and expenses for a state funeral; and a place of honor at national state functions, and recognition at cultural events.
CONTINUE READING BELOW
Recommended Videos
ADVERTISEMENT - CONTINUE READING BELOW
The Best of the Best: Criteria for Selection
Artists who are nominated are selected with the following criteria:
▏ Through content and form of their works have contributed in building a Filipino sense of nationhood;
▏ Have pioneered in a mode of creative expression or style, thus, earning distinction and making an impact on succeeding generations of artists;
▏ Artists who have created a substantial and significant body of works and/or consistently displayed excellence;
▏ Artists who enjoy broad acceptance through: prestigious national and/or international recognition, such as the Gawad CCP Para sa Sining, CCP Thirteen Artists Award and NCCA Alab ng Haraya; acclaim and review of their works;
▏ Respect and esteem from peers;
▏ Artists who are Filipino citizens at the time of nomination, as well as those who died after the establishment of the award in 1972 but were Filipino citizens at the time of their death.
The presentation of awards is usually made on June 11 or any appropriate date in fitting ceremonies to be organized by the National Artist Award Secretariat, according to the NCCA website.
Previous awardees include Ramon Obusan (Dance), Lino Brocka, Ishmael Bernal (cinema), Napoleon Abueva, Ang Kiukok, Arturo Luz, Carlos "Botong" Francisco (Art), Levi Celerio, Lucrecia Kasilag (music), Nick Joaquin, Bienvenido Lumbera (literature) and Atang dela Rama (Theater and Film).
For the complete list, click here.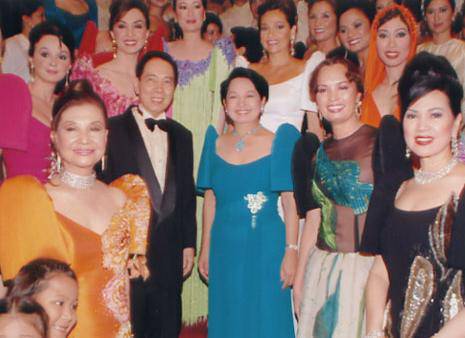 Fashion designer Pitoy Moreno and President Arroyo after a show
Dagdag Bawas List? New National Artists Named by President Arroyo
ADVERTISEMENT - CONTINUE READING BELOW
According to a member of the voting board, the selection was made after the first week of May and forwarded to Malacanang. The board did not receive any official communication and didn't hear anything until yesterday, July 30, when news came out about the July 29 announcement.
In a press conference at Ninoy Aquino International Airport (NAIA) shortly before President Arroyo's departure to the United States for a week-long official visit last Wednesday, the following were named as National Artists: Manuel Urbano a.k.a Manuel Conde (Film and Broadcast); Lazaro Francisco (Literature); Federico Aguilar Alcuaz (Visual Arts, Painting, Sculpture and Mixed Media); Cecilla Guidote-Alvarez (Theater); Magno Jose "Carlo" Caparas (Visual Arts and Film); Francisco Manosa (Architecture); and Jose "Pitoy" Moreno (Fashion Design).
Notable changes were made to the National Artist list, confirms the board member who prefers not to be named. Ramon Santos, whom the board nominated for Music, was taken out of the list and architect Francisco "Bobby" Manosa, who was announced National Artist for architecture did not even make it to the second round of elimination.
Leo Martinez, Director General of the Film Academy of the Philippines also expressed his bewilderment over the changes, saying, "He (Carlo J. Caparas) was obviously added by the Malacanang. We did not nominate him. We guess it's a presidential prerogative. We feel bad, I mean, we have no questions about Manuel Conde pero tinalo ni Caparas yung ni-recommend namin, si Celso Castillo. Walang comparison sa body of works and we didn't mind that Celso lost to Conde. Saka bakit 2 (ang awardee) for visual arts? Pinilit lang yon, siningit lang yon." He says the Film Academy of the Philippines is currently "trying to come up with a statement saying just that."
ADVERTISEMENT - CONTINUE READING BELOW
Martinez will likewise boycott the awarding ceremony. "I was at UP last night and the sentiment was the same. I'm sure not to attend the awarding ceremony," he said.
According to NCCA Public Affairs, no announcement has been made on the awarding ceremony for the National Artists Awards.
Collages by Warren Espejo.
Keep logged on to SPOT.ph for further developments of this story.
To read National Artist BenCab's statement on the matter, click here.
SPOT.ph wants to know: What do you think?
Share this story with your friends!
---
Help us make Spot.ph better!
Take the short survey
Load More Stories