"We were never consulted" -CCP on Malacañang's announcement of National Artists
The CCP Board of Trustees breaks their silence on the Palace's announcement of "dagdag" National Artists Carlo J. Caparas, Pitoy Moreno, Cecille Guidote-Alvarez and Francisco "Bobby" Manosa.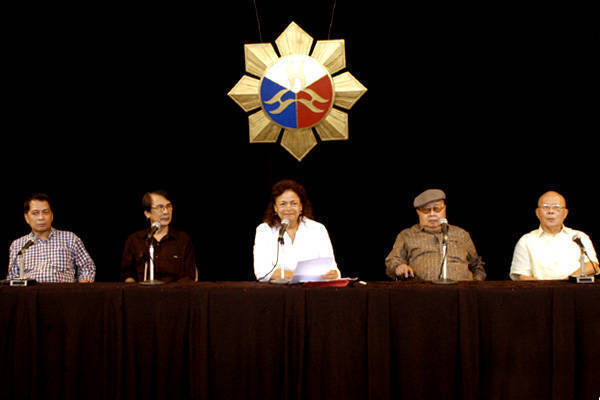 CCP Board of Trustees and National Artists: (L-R:) Nestor O. Jardin, Salvador Bernal (National Artist for Theater Design, Emily Abrera (CCP Chair), F. Sionil Jose (National Artist for Literature) and Bienvenido Lumbera (National Artist for Literature) gave their own statements on the recent controversy re-selection of the current National Artist Awardees.
�
�
The Cultural Center of the Philippines (CCP) Board of Trustees headed by Emily Abrera, today gave their official statement on Malacanang's announcement of the new seven National Artists last July 29. In a press conference at Ninoy Aquino International Airport (NAIA) before President Arroyo left for the United States, she declared as National Artists Manuel Urbano a.k.a Manuel Conde (Film and Broadcast); Lazaro Francisco (Literature); Federico Aguilar Alcuaz (Visual Arts, Painting, Sculpture and Mixed Media); Cecilla Guidote-Alvarez (Theater); Magno Jose "Carlo" Caparas (Visual Arts and Film); Francisco Manosa (Architecture); and Jose "Pitoy" Moreno (Fashion Design).
Various comments and reactions, ranging from snide remarks to disbelief have been flying all over the web and appearing in phone inboxes, from people who belong to inner art circles, appalled citizens and even from National Artists themselves. Bencab, 2006 Awardee for Visual Arts said, "It's a mockery of the system. They might as well just appoint [their own choices] and not go through the whole process."
ADVERTISEMENT - CONTINUE READING BELOW
Today, Abrera, current chairman of the CCP Board of Trustees said, "While we respect the President's prerogative to name her choices, we deplore the disregard of the established process whereby our National Artists are chosen.
We wish to clarify that we were never consulted about these final choices, nor have we been officially informed about them, to this day."
She shares that of the seven, only Francisco, Conde and Alcuaz were original choices. Ramon Santos (nominated for Music) had been dropped from the list.
According to Nestor Jardin, President & Artistic Director of the Board, "Manosa was dropped during the second deliberation. Caparas was earlier nominated but never made it to the second deliberation. We were even debating if Fashion Design was to be included and the consensus was to discuss it more thoroughly."
CONTINUE READING BELOW
Recommended Videos
National Artists speak up
Salvador Bernal (National Artist for Theater and Film), F. Sionil Jose and Bienvenido Lumbera (National Artists for Literature) also gave their two cents worth on the controversy.
"I'm not surprised that this happened. The presidents in the past have always interfered and you can't do anything," Jose laments. "This I can tell you, there is no movie of Carlo Caparas that I have watched in entirety, I always walk out."
Lumbera adds, "It is obvious that a scandal has been created with the announcement."
Bernal reiterates that, "our efforts have been for naught. It is an insult to the whole body of people who made the selection."
Jardin clarifies that "it is the CCP that is in charge of the awards but we cannot act alone [on what to do]. We are still waiting for the National Commission for the Culture and the Arts (NCCA). If you ask me personally, I think a new law has to be created, a law that will probably include measures that will safeguard the integrity of the award to avoid politicizing."
ADVERTISEMENT - CONTINUE READING BELOW
According to Attorney Lorna Kapunan, who currently sits as Board of the Licensing Executive Society of the Philippines, "the President has no prerogative with regards to the National Artist Awards. The Constitution does not say she can appoint the National Artist."
Moving Forward
"We have received no official communication about the National Artist Awards," reiterates Abrera. "And we respect artists who wish to express their individual opinion."
Several artists are organizing a protest rally on Friday, August 7, 2 p.m. at the Cultural Center of the Philippines (CCP) Ramp. To be led by artists Arturo Luz, Ben Cabrera, Bienvenido Lumbera, Rio Alma, F. Sionil Jose, Arturo Luz and Salvador Bernal, there will be a symbolic necrological service for the National Artist Awards. Confirmed to attend are Nestor Jardin of the CCP and Behn Cervantes, stage director, nationalist, former UP Professor and member of the CCP Board of Trustees.
Image by Julio Sambajon.
SPOT.ph wants to know: Will you be at the CCP on Friday?
Share this story with your friends!
---
Help us make Spot.ph better!
Take the short survey
Load More Stories