"National Artist Brouhaha: Not if we can help it"-Carlos Siguion Reyna
Award-winning director Carlos Siguion Reyna was at the Artists' Rally at the CCP yesterday. He tells SPOT.ph what he saw, felt and wants to say.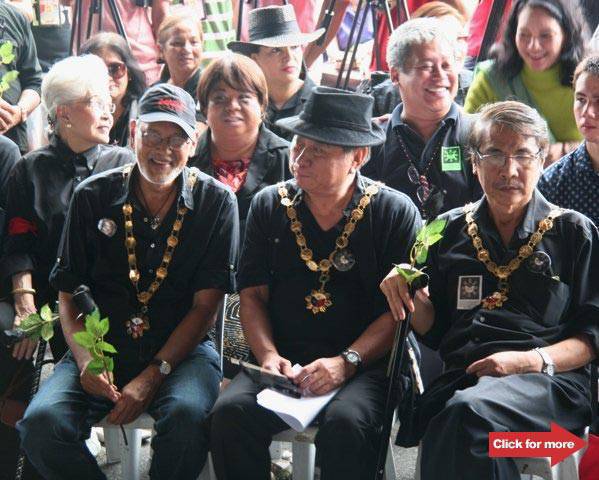 National Artists Ben Cab, Virgilio Almario and Salvador Bernal.
The Necrological Service for the National Artist Awards (Pagdadalamhati ng Bayan para sa Gawad Pambansang Alagad ng Sining), held Friday, August 7, 2 p.m. at the main ramp of the Cultural Center of the Philippines (CCP) turned out an unprecedented large gathering of the country's leading artists of music, dance, literature, cinema, theater, and the visual arts protesting Malacanang's subversion of the awards selection process for purposes of political accommodation of a preferred few. With sympathizers from the academe and media, patrons of the arts, supporters from militant and party-list organizations, student groups, the action numbered about 700 participants, mostly wearing black to signify mourning.
On the front lines of the necrological service sat eight previously awarded National Artists, all wearing their gold medallion-necklaces: Napoleon Abueva, Arturo Luz and Benedicto Cabrera, Celeste Legaspi representing her father Cesar Legaspi (visual arts), F. Sionil Jose, Virgilio Almario and Bienvenido Lumbera (literature), Eddie Romero (cinema), and Salvador Bernal (theater).
ADVERTISEMENT - CONTINUE READING BELOW
I saw writers Gilda Cordero-Fernando and Krip Yuson; musicians Renato Lucas, Armida Siguion-Reyna, Isay Alvarez, Jim Paredes and Danny Javier; sculptor Abba Dalena; from theater, designer Gino Gonzales, playwrights Rody Vera and Nick Pichay, directors Bart Guingona, Alex Cortez and Chris Millado, actors Nanding Josef, Raul Montesa and Mae Paner aka Juana Change; dance artists Myra Beltran, Edna Vida and Nonoy Froilan; cinematographer Romy Vitug ; screenwriters Raquel Villavicencio, Bibeth Orteza and Raymond Lee; and fellow film directors Joel Lamangan, Mark Meily, Joey Reyes, Raymond Red, Gil Portes, Chito Roño, Joey Romero, Adolf Alix, and Butch Perez.
I miss out on some names; the omission is not intentional. With media interviews conducted left and right, it was a tough choice between finding out who else was there and working to get the message across.
CONTINUE READING BELOW
Recommended Videos
The protest was galvanized by the general perception that the awards selection process had been politically compromised. As nominated and selected by arts organizations and the joint boards of the CCP and the National Commission for Culture and the Arts (NCCA), the legitimately chosen National Artist Awards honorees of 2009 were Manuel Conde (cinema), Lazaro Francisco (literature), Federico Aguilar Alcuaz (visual arts) and Ramon Santos (music). This list was forwarded to Malacañang for Mrs. Gloria Macapagal Arroyo's signature, and that's when the massacre took place.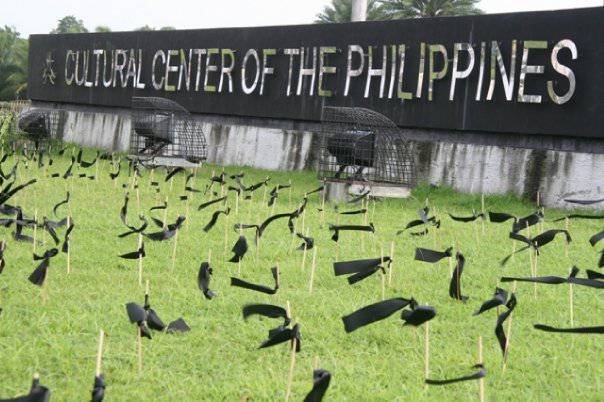 Black ribbons signify the death of the National Artist Awards. Photo by Illac Diaz

The Palace's subsequent awards announcement dropped Santos from the original roster of four, no matter that he had placed second in the deliberations, and added four others–Cecile Guidote-Alvarez, Carlo J. Caparas, Jose "Pitoy" Moreno, and Francisco Mañosa–despite their failure to pass the rigorous three-level NCCA/CCP selection process, and despite Guidote-Alvarez's position as NCCA Executive Director legally disqualifying her selection.

Malacañang spin-doctors Cerge Remonde and Anthony Golez claimed Guidote-Alvarez, Caparas, Moreno and Mañosa were nominated and recommended for the awards by anonymous members of a mysterious "honors committee" – the make-up of which they could not identify.

ADVERTISEMENT - CONTINUE READING BELOW

As of this writing, Moreno and Mañosa have wisely refrained from publicly commenting on the controversy. But Guidote-Alvarez and Carlo Caparas pushed the matter to scandalous proportions, with their defense: Guidote-Alvarez insisting she was "not an idiot" before she got the recognition, and Caparas maintaining this is nothing but a class war, high art vs. popular art: "Ayaw nila sa akin kasi elitista sila, ako, maka-masa. Sabi ni Sionil-Jose, nagwo-walk-out siya sa sine ko, e bawat walk-out niya, milyon ang pumapasok."

Friday's protest action started with Bituin Escalante's rendition of Lupang Hinirang. A procession led by a funeral wreath embracing the awards logo and followed by seven women representing the seven arts honored by the awards–dressed from head to toe in black–progressed from the bottom of the ramp in front of the CCP Building all the way to the top, to meet protesters stationed just in front of the main doors.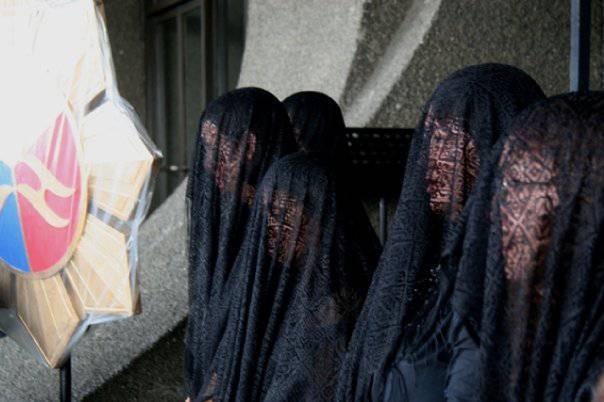 Seven women represent the seven arts. Photo by Illac Diaz
Salvador Bernal delivered introductory remarks reviewing the purpose of the artists' gathering, after which Benedicto Cabrera spoke on the spirit and value of the National Artist Awards. Cellist Renato Lucas played a mournful rendition of Bach's Sarabande from the Fifth Suite–a protest piece often played in the past by Pablo Casals against Generalissimo Francisco Franco. Virgilio Almario and a chorus of mourners then interacted in a prayer ritual lamenting the debasement of the awards. Celeste Legaspi delivered one of National Artist Amado V. Hernandez's famous poems, as adapted for the occasion and retitled Kung Tuyo na ang Luha Mo, Aking Sining.
ADVERTISEMENT - CONTINUE READING BELOW
A satirical monologue entitled, National Artist na Ako! Have Mercy on Us!, written by Rody Vera was performed by "Juana Change." In the sketch, Juana castigated the protesters for envying her acquisition of National Artist honors, but generously advised the crowd on how to secure the award through the most unscrupulous means. Next came Bienvenido Lumbera's call for conviction to stand against the violation of the spirit of the awards.
The National Artists in attendance dramatically removed medallion-necklaces they symbolically put back in storage boxes for safekeeping at the CCP, until such time current issues motivating the protest are resolved.
The CCP portion of the event ended to great applause. It segued to a motorcade that proceeded to the NCCA in Intramuros, where–amidst a noise barrage sustained by the funeral vehicles–motorcade participants laid the funeral wreath in front of the NCCA building. Shortly after, a shouting match erupted between Guidote-Alvarez supporter Angie Ferro and the rallyists, a footnote we heard about only when we got home.
Not even the screaming of a boor can stop the principled.
Share this story with your friends!
---
Help us make Spot.ph better!
Take the short survey
Load More Stories