Mars Ravelo's family breaks silence on Carlo J. Caparas award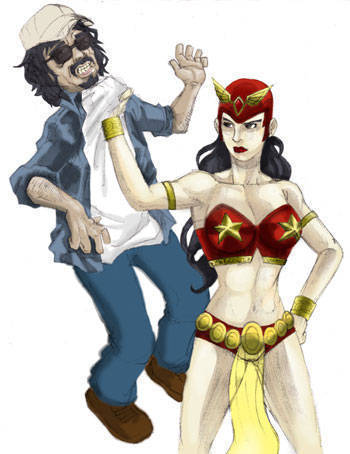 The Darna creator's family has released a statement about Carlo J. Caparas' National Artist Award, declaring him "underserving of the National Artist title."
Read the full statement below:
CJC: The Man That He Is Not
Revered
Right now, the late Cory Aquino is the most revered person in our nation. Opposite this, Carlo Caparas probably is the most ridiculed and reviled.
Even before this National Artist brouhaha, as children of the late Mars Ravelo, we've long been observing the moves of this man in silence. Until Manoling Morato, Caparas' patron and staunch supporter, started wagging that notable tongue of his against our father. Now, we're breaking that silence.

Komiks King
Thru dubious press releases, Carlo Caparas proclaimed himself the Komiks King. A title which, we know Caparas very well knows, belongs to Mars Ravelo. Mars Ravelo earned it thru the merits of his work. It's a title that grew on him thru the years. It has become synonymous with his name. One day, Caparas, brazenly grabbed it for himself. Just like that. And it's not even up for grabs.
Messiah
The Komiks Caravan of Caparas was aimed to discover new talents in komiks writing and illustrating. And more ambitiously, it aimed to resurrect the dying if not the already dead komiks industry. According to one of Caparas' series of press releases in an afternoon tabloid, the vacuum he left in the komiks industry took a heavy toll on the industry. The absence of his greatness and highness in the komiks industry caused the industry its very life.
ADVERTISEMENT - CONTINUE READING BELOW
Later, after the announcement of his noble act of resurrecting the komiks industry, about four comics strips in the Philippine Daily Inquirer were cancelled to give way to his own diario novela.
Meritorious
Next came the various awards. Caparas becomes multi-awarded. He was even conferred a peace prize award (we hope not for his massacre movies), together with a pool of international dignitaries as co-awardees including a former Philippine president.
Morato is the president of the foundation which conferred the award.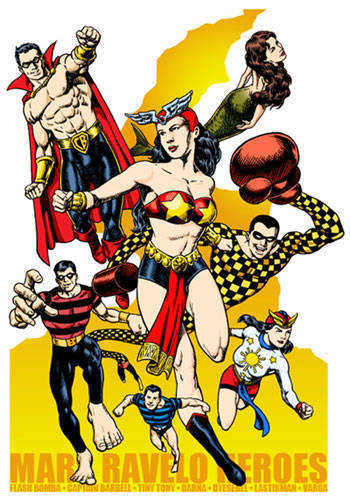 From http://marsravelosuperheroes.tripod.com
Komiks Legend
One day, one of our siblings texted us: Dad to be given an award at Malacañang tomorrow at 11 am. Sino ang pupunta?
CONTINUE READING BELOW
Recommended Videos
Huh? Did we read right? An award from the palace and we were just advised the night before? We were not even given enough time for the dry cleaner. Did they really want our presence there?
ADVERTISEMENT - CONTINUE READING BELOW
And then we learned that together with Mars Ravelo, Tony Velasquez, Larry Alcala, and Francisco Coching, Caparas is also to be awarded the Presidential Medal of Merit. Seeing the line-up, we can hear ourselves singing (again) with Ate Isay: Alin, alin, alin ang naiba. Isipin kung alin ang naiba...
We decided, without second thought, not to go to the palace to receive the award on our father's behalf. Not only because it sucks of insincerity but seeing the dark side of it, our father, together with the other honorees who are all komiks legends, is being used to elevate Caparas into their league. Caparas may be legendary, but that's another story.
National Artist
Another text from another sibling: Caparas declared a National Artist
Everything becomes crystal clear.
Director Par Excellence
"Sabi nila, dapat daw na si Mars Ravelo muna ang bigyan ng award. E, visual arts nga ito. Si Mars Ravelo ba, nagdirek ng pelikula? Si Carlo, direktor pa rin ng pelikula. Nagsusulat din siya ng script sa pelikula at sa TV. Nakakapag-drawing pa rin siya sa komiks. At nag-i-script sa komiks.
abs-cbnNEWS.com | 07/31/2009 11:09 AM, 'Manoling' defends Caparas' Nat'l Artist Award
Mamang Manoling, iyon po bang award niya sa visual arts ay dahil sa pagiging director niya sa pelikula?
"Nanalo na bang Best Director si Mars Ravelo? Hindi pa kaya wala siyang karapatan. Mas malawak ang nagawa ni Carlo kaysa kanya.
abs-cbnNEWS.com | 07/31/2009 11:09 AM, 'Manoling' defends Caparas' Nat'l Artist Award
Pwede po ba iyon Mamang Manoling na manalo ang ama namin ng Best Director kahit hindi siya director? Sabi nyo po kasi ay hindi pa siya nananalong Best Director. Kailan po kaya pwede?
ADVERTISEMENT - CONTINUE READING BELOW
The Most Prolific Komiks Novelist
"Si Mars Ravelo ba, nakapagsulat na ng script para sa pelikula at TV? Ilan lang ba ang nagawa ni Mars Ravelo na komiks? Baka sampu lang. Si Carlo, eight hundred komiks novels. Kaya ba nila 'yan? Nagawa ba 'yan ni Mars Ravelo? Hindi. Si Carlo lang talaga ang nakagawa n'yan kaya he deserves the award.
abs-cbnNEWS.com | 07/31/2009 11:09 AM, 'Manoling' defends Caparas' Nat'l Artist Award
Mamang Manoling, dahil po ba sa eight hundred na komiks novels na isinulat ni Caparas kaya siya nanalo sa category ng visual arts? Sayang kung nakapagsulat pa pala ng limangdaang kuwento ang tatay namin ay pwede na rin siyang manalo ng NAA (National Artist Award) para sa visual arts tulad ni Caparas. Kung nagsulat pala ang tatay namin mula ng ipinanganak siya hanggang ngayon na patay na siya, idivide mo yong 800 sa 93, mga 8.6 na novels pala ang dapat niyang isulat sa bawat taon ng kanyang naging buhay hanggang sa ngayon na patay na siya para makagawa siya ng 800 nobela sa loob ng 93 years. Pwede pong mahiram yong listahan nyo ng 800 novels? Kung gusto nyo po padadalhan din po namin kayo ng listahan namin. Para fair.
Pero mali po kayo doon sa number na sampu. Mga pito lang po ang naisulat ni Mars Ravelo na nobela–sa bawat taon ng 50 years niyang career sa komiks. At nasaksihan po namin kung paano tinrabaho ng ama namin ang mga nobelang iyon. Ika nga po, ang gabi ay ginawa niyang araw. Tulog lang po ang pahinga. Kasi po kahit nasa kubeta siya, at kahit habang kumakain siya, nag-iisip pa rin siya ng kuwento. Tapos si Mang Carlo ay nakuha pang makapag-direct ng mga pelikula. Wow!
ADVERTISEMENT - CONTINUE READING BELOW
The Father of The Komiks Industry's Rebirth
"Kasi, si Carlo, hindi lang sa komiks nag-excel. Siya ang nag-revive ng komiks. Sino sa kanila ang nakapag-revive ng komiks industry. Patay na dapat ang komiks pero siya pa rin ang nag-revive nito. May caravan pa siya sa buong Pilipinas at his on expense. Sino ang nakagawa ng ganyan sa kanila?
abs-cbnNEWS.com | 07/31/2009 11:09 AM, 'Manoling' defends Caparas' Nat'l Artist Award
Ay, nabuhay po pala? Naghahanap nga po kami ng mga CJC sa bangketa, parang wala kaming makita. Meron po DVD.
True Man
Caparas said he was aware of the criticism that his victory had bypassed such komiks legends as Mars Ravelo, Francisco V. Coching, Tony Velasquez and Larry Alcala.
"But they were my fellow recipients of the Presidential Medal of Merit in 2007. In any case, I am representing other komiks novelists and artists with this honor. I believe I was given this award because I was able to cross over from komiks to movies and TV."
Palace choices of 4 nat'l artists protested By Kristine L. Alave, Bayani San Diego Jr. Philippine Daily Inquirer First Posted 09:44:00 08/01/2009
Carlo Caparas can never represent these artists. Tony Velasquez, Larry Alcala, Francisco Coching and our father are komiks legends not as a result of a grand design but because of hard work, extraordinary talent and true passion for komiks. Caparas represents something else.
The belief of Caparas that he was conferred the NAA title because he was able to cross over from komiks to film and television is evident that Caparas does not understand the real meaning of this award. Ilang beses na niyang hinuhulaan kung bakit siya nanalo, hindi pa rin niya mahula-hulaan. It also tells a lot about how oblivious he is to his fellow komiks artists' achievements and plight. Or, he just simply don't care.
ADVERTISEMENT - CONTINUE READING BELOW
When will Caparas realize that he is living in a dream? That he is not what he thinks he is? That he is not what the people around him tell him he is? That he is not the Komiks King? That he is undeserving of the National Artist title? That he is not a komiks legend? That he is not a messiah?
We can almost hear Caparas' torment echoing within his being. The uproar that is torturing him now. Why are so many people up in arms against him? Why are his fellow artists, particularly from the komiks and film sector not with him in his darkest hour?
All Caparas' camp's efforts from collecting awards, to grabbing and inventing all titles imaginable for him, to all the press releases meant to extol his legendary image are supposed to culminate to the National Artist title. Caparas' camp may have made certain that their contender will meet the list of criteria for the National Artist Award, at all cost. But the last criterion in the list was impossible to circumvent. It may be the last, but it is undoubtedly, not the least–respect and esteem from peers.
Mr. Caparas, try to find the exit door from that pseudo world of yours. It's the only way you can free yourself of all your misery and pain right now. Don't allow the Christofs in your life to tell you what to think and say. It's a matter of being able to come to terms with yourself. Truman Burbank found his exit door just in time.
ADVERTISEMENT - CONTINUE READING BELOW
To our father, you can stop turning in your grave now. Tell your friends Tony, Larry and Francisco, it went pffft.
--Regina Ravelo-Marasigan, via Rita Ravelo dela Cruz

Illustration by David Sysing
Share this story with your friends!
---
Help us make Spot.ph better!
Take the short survey
Load More Stories