The Cam Sur Ironman 70.3: Recap, Highlights and Galleries
Pinoy triathletes Nonoy Jopson and Monica Torres shined at the Ironman 70.3 triathlon held in Camarines Sur. Plus! Photo galleries of the winners, sights and scenes of the race.
New Zealander Terenzo Bozzone clocked in at first place, finishing the first Philippine Ironman competition in 3 hours, 51 minutes and 25 seconds at the Ironman 70.3 triathlon held August 23 at the Cam Sur Water Complex in Cadlan, Pili, Camarines Sur.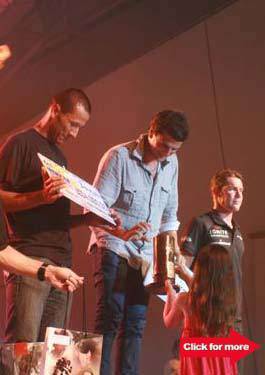 Top placers in the men's division: Terrenzo Bozzone, 1st; Chris McCormack, 2nd; and Cameron Brown, 3rd.
Noted Ironman champion Chris McCormack finished second at 3:52:18. Filipino Nonoy Jopson was the best finisher among the local entries, finishing at 4:38:32. Filipina triathlete Monica Torres, finished fifth place for the Women's Division at 4:48:18.
"The run was truly a test of survival," eleven-time Ironman champion Lisa Bentley told the race website. "It was like running inside an oven. I have never run in such conditions. I almost quit several times."
The first, second and third placers for each division won $6,000, $4000 and $2000 respectively. The Filipino elite first, second and third placers for each division also won P50,000, P30,000 and P20,000 respectively.
Here are the final standings:
ADVERTISEMENT - CONTINUE READING BELOW
Men:
1. Terenzo BOZZONE (New Zealand) 3:51:25
2. Chris MCCORMACK (Australia) 3:52:18
3. Cameron BROWN (New Zealand) 3:52:31
4. Pete JACOBS (Australia) 3:56:51
5. Timothy MARR (USA) 4:02:52
Women
1. Lisa BENTLEY (Canada) 4:24:29
2. Gina KEHR (USA) 4:26:11
3. Charlotte PAUL (Australia) 4:31:26
4. Bree Wee (USA)4:45:31
5. Monica TORRES (RP)4:48:18
Filipino Elite Standings:
Men:
Nonoy Jopson: P50,000 (04:38:33)
Peter Gonzales: P30,000 (04:39:08)
Ferdinand Catabian: P20,000 (04:39:59)
Women:
Monica Torres: P50,000 (04:48:19)
Anna Marissa Remigio: P30,000 (05:25:28)
Amanda Carpo: P20,000 (05:28:42)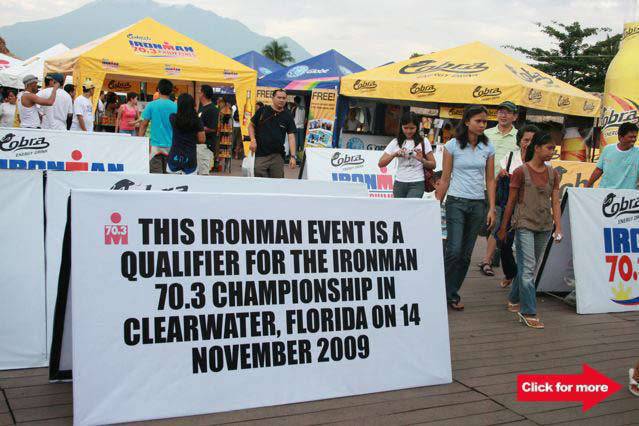 Just a reminder to all the participants about what's at stake. Photo by Gene Go.
CONTINUE READING BELOW
Recommended Videos
The triathlon, which started at 7 a.m., combined 1.2 miles (almost 2 kilometers) of swimming, 56 miles (over 90 kilometers) of cycling and 13.1 miles (over 21 kilometers) of running for a total distance of 70.3 miles or some 113.11 kilometers. The competition's entry list had 389 individual participants and 45 relay teams of three entries each divided into five in the corporate, 16 in all-male, three in all-female and 11 in mixed categories.
ADVERTISEMENT - CONTINUE READING BELOW
"Ironman racing is different from other sports," said Murphy Reinschreiber, Managing Director Asia Pacific World Triathlon Corporation, in a report from the Ironman 70.3 website. "It's more than just winning. It's the experience of competing as athletes. They are here to experience the local venue. They are here to meet the other participants. They are here to experience the whole race."
The euphoric mood of the race was dampened early yesterday morning by the tragic death of Miguel Vazquez, one of the participants.
Images from Gene Go, Ocs Alvarez/Acme Innovatives, Dennis Valdes and Bree Wee.
Share this story with your friends!
---
Help us make Spot.ph better!
Take the short survey
Load More Stories