The Good, the Bad, the Funny
SPOT.ph Blogger Ria Limjap went from Kinatay to Tarot to Kimmy Dora in one week–and came out fat, paranoid, but in a good mood!
What a week. First I went to the Adobo Magazine-sponsored screening of Brilliante Mendoza's Kinatay which won the Best Director award at Cannes last May. Got through it with the aid of a few gummy bears. Truthfully I was half prepared to find myself dizzy and slightly bored (which sometimes happens to me when I'm watching these gritty handheld movies about poverty and pain) but the fruity flavors in my mouth got me through it relatively unscathed. Both the candy and the film spoiled my appetite for dinner, though.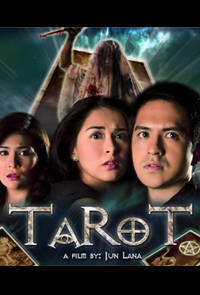 Then I caught Tarot, the latest horror movie from Regal Films. They should have called it Takot instead. It's not really about a pack of cursed tarot cards but a mass suicide in a jungle cult. The movie is centered around a girl named Cara (Marian Rivera) who reads her lola's old tarot cards to find her missing fiancé Miguel (Dennis Trillo). Uh oh. Poor girl, no one ever told her not to play with lola's tarot deck. Marian is the perfect heroine for horror with her dewy eyes and long lashes, plus she has that important ability to look scared and pretty at the same time. All the other cheesy horror clichés apply: creepy piano music, heavy breathing, flickering lights, fog machine in the forest, wind effect, espasol-ish makeup, and some really awful prosthetics. But the scares are more than generous and apparently effective enough for the squealing audience. I didn't quite squeal, but I did jump in my seat once or twice during that precious scene set in Dita Sandico Ong's bridal shop. Imagine barong fitting complete with flickering lights, bridal zombies, and groom freaking out. Award. Ang daming layers dyan. So what's this movie all about? Revenge, of course.
ADVERTISEMENT - CONTINUE READING BELOW
Strangely enough the dirty cops in Kinatay scared me more than the babaeng naka belo in Tarot. Thinking of an old whore getting hacked to pieces bothers me more than the shadowy veiled figures and cold spots in my hallway. I'm more afraid of seedy than scary these days.
So please, a comedy! Thankfully there's a screening for Kimmy Dora tonight. I saw the trailer at Cinemalaya and I've been looking forward to it since. It will be like gummy bears in my mouth. After all the ghouls and grit, I'm in the mood for some fun. Aren't you?
CONTINUE READING BELOW
Recommended Videos
Tarot's official trailer
To see where this movie is showing, click here.
Share this story with your friends!
---
Help us make Spot.ph better!
Take the short survey
Load More Stories