10 Heroes of Our Time
What makes a hero most? Dying for your country? Influencing change in the lives of others? Or just doing what you do best? SPOT.ph. brings on the hero worship on National Heroes' Day.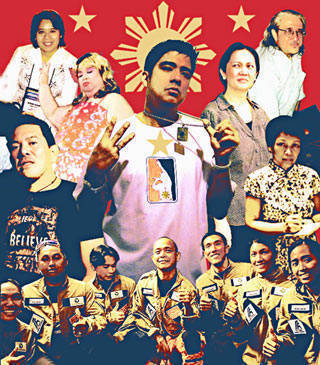 Strength, courage, goodness, grace, and sacrifice are words that come to mind when you think of heroes, altruistic attributes no one exemplified better than the Mother (and Father) of all modern-day Philippine heroes, Cory and Ninoy Aquino. Leading lives that were sterling examples of integrity and honesty in their pursuit of truth and freedom, the two influenced our thinking and changed our lives and those of generations to come.
On National Heroes' Day, we need to be reminded of some of their most meaningful words and ideas that ring true today more than ever: Ninoy Aquino once said, "We should not depend on one man, we should depend on all of us. 'All of us' is expandable in the cause for freedom and therefore I say stand up now and be a leader, and when all of us are leaders, we will expedite the cause of freedom." Cory Aquino is best remembered for this quote: "I just do whatever it is that I believe I should do, regardless of the risks to my life…I would rather die a meaningful death than to live a meaningless life."
While dying for one's country can certainly catapult one to heroic heights, many ordinary people leading extraordinary daily lives continue to work for the greater good just doing what they do best and what they think is right. SPOT.ph brings you 10 such people worthy of being called our heroes of today: (In no particular order.)
1. Ballsy Aquino
Though the eldest daughter of the late Ninoy and Cory Aquino calls herself boring, many are impressed by her warmth and dignity, even hoping that she, more than her more high-profile siblings Kris and Noynoy,  could lead our country someday. "I am very proud of you because you have inherited all the best traits of your mother," her father Ninoy once wrote to her in the now famous letter, "I am sure, like your mother, you will possess that rare brand of silent courage and that combination of fidelity and fortitude that will be the life vest of your man in the tragic moments of his life."
ADVERTISEMENT - CONTINUE READING BELOW
Ballsy, who worked as official secretary to her mother during Cory Aquino's presidency was truly the picture of quiet strength and understated grace at the former president's funeral, proving that she is her mother's daughter. Why her? Lifestyle editor Millet Mananquil who interviewed Ballsy for the Philippine Star summed it up so succinctly, "Because while we and the rest of the bereaved nation joined Kris Aquino shedding tears on television during the necrological rites for Cory, there Ballsy was, standing solid as a rock, her composure so calm, her aura so dignified, giving us strength and comfort when we needed it."
CONTINUE READING BELOW
Recommended Videos
"Honesty and integrity have been so imbibed in us by our parents," Ballsy said, and she is a living example of the kind of Filipino we all ought to aspire to be.
2. Grace Padaca
Afflicted with polio as a child, Isabela Gov. Grace Padaca has spent most of her life needing crutches to walk–but she never let them slow her down in whatever she set out to do. She earned a scholarship to go to college and became a Certified Public Accountant at 21. Then she took to the airwaves, becoming "Bombo Grace," the hard-hitting broadcaster of Bombo Radyo Pilipinas who wasn't afraid to talk about issues like corruption and illegal logging. She ran for Isabela governor in 2001. Though she lost by 44 votes to Faustino "Bojie" Dy of the Dy dynasty, she won by more than 44,000 votes in 2004.
As governor, she paid off two-thirds of Isabela's debts, launched a program that subsidized rice and corn farmers, and increased budgets for education and reforestation. She was reelected in 2007 and awarded the Ramon Magsaysay Award for Government Service in 2008. Urging her to run for president in 2010, groups like the Kaya Mo Movement and Kayang-kaya Movement are gathering monetary donations and support in kind, from coconuts to goats, which they plan to sell to benefit her campaign fund if she decides to run.
ADVERTISEMENT - CONTINUE READING BELOW
3. Brillante Mendoza
Brillante Mendoza made history as the first Filipino to win the prestigious Cannes Film Festival Best Director award for Kinatay this year, edging out acclaimed directors Quentin Tarantino (who himself raved about the film, says Cinemanila Founding Director Tikoy Aguiluz), Ang Lee, Pedro Almodovar and Jane Campion.
Mendoza debuted at the Cannes festival in 2008 with Serbis, a film about a family that lives in an old movie theater in Pampanga. But the self-taught director, who studied advertising at the University of Santo Tomas, had been building a repertoire of gritty films that tell real-life stories since he started as production designer: he was nominated for a Gawad Urian Award for Private Show in 1986, and won for Takaw Tukso that same year. His directorial debut, Masahista, won the Golden Leopard Award at the 58th Locarno International Film Festival in Switzerland.
While the screening of Kinatay in Manila was surrounded by controversy, Mendoza has helped solidify the Philippines' place in the world of cinema and proven his talent as a filmmaker who isn't afraid to show the realities of everyday life.
4. Juana Change
Darna, Sta Niña, a ballroom dancer, a fixer–Juana Change a.k.a. Mae Paner plays all these and more in Artists Revolution's famous satirical  YouTube videos. Artists Revolution, composed of artists and social activists, created these videos "using the sharpest political satire hoping to evoke a social sentiment for change," according to their website. The videos tackle issues like bribery, the Charter Change, the sorrows of OFWs, and political arrogance with wit, humor, intelligence, and almost unexpectedly good production value, but what makes us like her most is the realization that yes, there are other people out there who are as disgusted with the present state of Philippine politics as we are. Juana Change clearly has a lot to say, and she's definitely grabbed our attention.
ADVERTISEMENT - CONTINUE READING BELOW
5. Francis Magalona
Every color and every hue was represented during Francis M.'s funeral, as thousands of his family, friends and fans honored the Master Rapper/King of Pinoy Rap after he succumbed to leukemia in March. He was 44. During the course of his illness, Magalona, the man famous for introducing rap to Pinoys back in the '90s with his breakthrough album Yo!, described the pain and the blessings that came with his disease in a blog he called "Happy Battle." He was known for his inspiring, nationalistic lyrics and performances and his reputation as a reformed, devoted family man, but we will probably remember him most for his pioneering contribution to the local music industry with rap-laden songs like "Mga Kababayan Ko," "Tayo'y Mga Pinoy" and "Kaleidoscope World."   Francis M. has truly made us proud to be Filipino.
6. Conrado de Quiros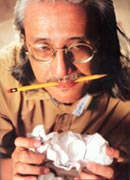 Arguably one of the best, if not the best opinion columnist of today, Conrado de Quiros hits hard and hits deep. His Philippine Daily Inquirer columns are clipped out or posted on bulletin boards while the online versions are forwarded and linked extensively in blogs and sites. There are no sacred cows for this veteran journalist and Palanca awardee–and the public loves him for it. He brought his writing to another level when he  wrote in Filipino recently to criticize the reported   lavish dinners of the Arroyo administration during their United States trip. "Tatagalugin ko na nang makuha n'yo," he says, and goes on to predict, "May araw din kayo." Truthfully, if de Quiros ran for president, we'd probably vote for him.
ADVERTISEMENT - CONTINUE READING BELOW
7. Marites Vitug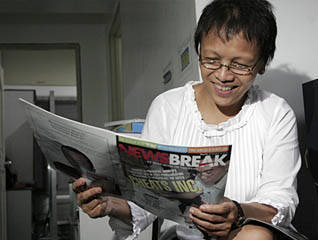 Marites Vitug is the editor-in-chief of Newsbreak, the online news and investigative publication. She's also part of the Board of Directors of the Philippine Center for Investigative Journalism, which she co-founded. In 1991, she was given a Courage Award by the International Women's Media Foundation for reporting on the political corruption and greed that led to the destruction of a Palawan rainforest. In 2006, Vitug was among the 43 journalists charged with libel by First Gentleman Jose Miguel "Mike" Arroyo for a report on allegedly undisclosed properties owned by the Arroyos in San Francisco, California. Despite having to face numerous libel suits and death threats, Vitug still forges on in pursuit of the truth as one of the country's most respected–and most courageous–journalists.
8. Eugene Domingo
Eugene Domingo's first lead role as Kimmy Dora could very well be the eye-opener that previous campaigns promoting different types of beauty have strived to be. Short, brown-skinned and not so young and with a few love handles to boot, Domingo is not your usual lipo-sculpted, tisay leading lady–but she has more acting and comic talent   than most of today's other lead actresses combined. She's already got a long list of roles and appearances in soap operas, TV shows and indie films, plus acclaim as Best Supporting Actress for films Bahay Kubo, Foster Child and Pisay. She's living proof that, while beauty can get you noticed, it's talent that takes your spotlight far and keeps it shining. Whether or not Domingo scores a Best Actress nod this year, we dare declare that she'll be around for a long, long time.
ADVERTISEMENT - CONTINUE READING BELOW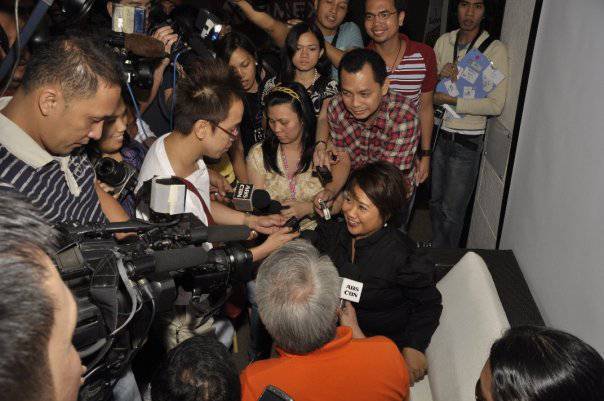 Domingo is mobbed by the press at the Kimmy Dora preview.
9. Balangay Expedition Group
Launched in June, the Philippine Mount Everest team led by Art Valdez is set to sail around Asia and the Pacific using a replica of the balangay, a seafaring vessel used in the Philippines in ancient times. The balangay was made without the help of blueprints or instructions, as none exist. Making the expedition even more authentic, the crew will be steering the balangay, christened "Diwata ng Lahi," using ancient methods like celestial navigation and the use of natural winds. The expedition's four-year journey aims to highlight environmental problems with planned coastal clean-ups. The team will also hold symposiums and lectures for students, as well as medical missions at their stops.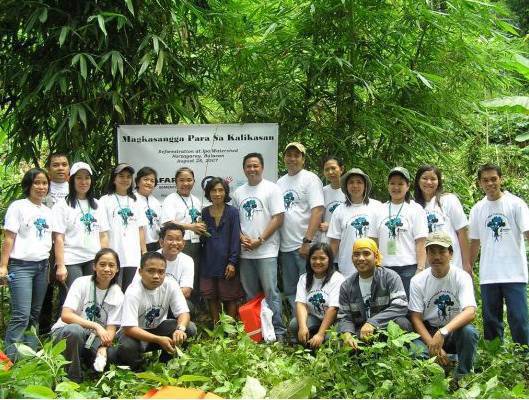 ADVERTISEMENT - CONTINUE READING BELOW
10. Hands On Manila Volunteers
"Those who can, do. Those who can do more, volunteer," goes the saying. And volunteer the Hands On Manila members do–a lot and well: they cook, bake, teach, read, draw, paint, mold, play, dance, build, and whatever else it takes to help better the plight of others. Hands On Manila is a non-profit organization that helps address the needs of various Filipino communities with a range of programs that focus on needs like health and nutrition, sports and recreation, reading, and even computer literacy. The organization's database currently has over 5,000 volunteers in its roster–5,000 people who willingly share their time, energy and talent to help improve the lives of their fellow Filipinos–simply because they can.
Share this story with your friends!
---
Help us make Spot.ph better!
Take the short survey
Load More Stories