The host's curse: UAAP hosts hardly ever become champions in the same year.
The last time the UAAP host bagged the basketball championship was 21 years ago when the Ateneo (ADMU) Blue Eagles won the championship ring. If Far Eastern University (FEU) manages to pull it off this year (yes, that's a big "if"), it would not only be a glorious victory but it would also put an end to a three-year drought for FEU-not to mention a great back-to-back win if the Lady Tamaraws also retain their top spot.
The Wee Wee Protocol: Some teams monitor their players' pee.
Christina Ripoll, Sport Performance Assessment and Rehabilitation Center (SPARC) Manager, emphasizes the importance of hydration by imposing a protocol for her team, the FEU Tamaraws, that requires them to check pee and drink Gatorade (or Hydrite): before leaving FEU; upon arriving at the game venue (or the Flying-V Arena); and before pre-game warm-up.
ADVERTISEMENT - CONTINUE READING BELOW
Men in black: The UP Fighting Maroons is the only team that doesn't sport school colors.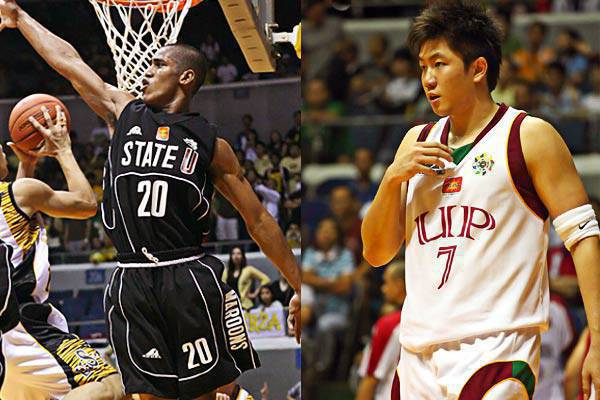 The new and old jerseys of the UP Fighting Maroons
In a game, the color you sport is your identity. However, after two games of wearing the old school maroon jerseys of the University of the Philippines (UP), the Fighting Maroons decided to switch things up with new threads. This season, UP exuded a menacing aura with a sleek, macho black-and-white jersey with just a hint of maroon in the phrase, "State U."
Color blind: Courtside reporters aren't necessarily supporters.
Courtside reporters Maan Panganiban of UP reported for National University (NU), Tiff Atendido of De La Salle University (DLSU) reports for the University of the East (UE) and Job de Leon of ADMU reported for Adamson University (AdU).
"It was difficult for me because I'm a die-hard Archer fan and my first report had to be a game against DLSU," Tiff said. "But as I do my job, I learn to share the team's losses and feel their victory too."
Likewise, Maan is called "nanay" by the Bulldogs. "It's not because of my age! It's motherly love daw."
UE's Crowning Glory: Coach Chongson's hair?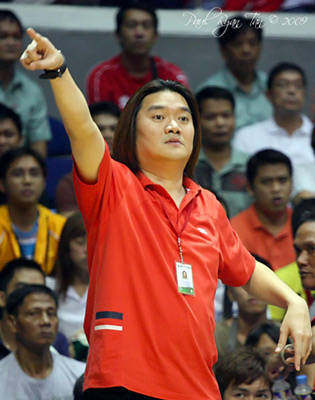 ADVERTISEMENT - CONTINUE READING BELOW
Coach Lawrence Chongson of the UE Red Warriors
Is it a coincidence, or did UE's Coach Lawrence Chongson pattern his long hair after the UE logo?
"All my life I've tried different hairstyles because soon this will all be gone," he tells SPOT.ph, referring to his hair. "I'm not sure if it's a lucky charm but we're winning so... [maybe] if we win the championship, I'll shave my head!"
The Yellow Battalion: Bouncers are your friends.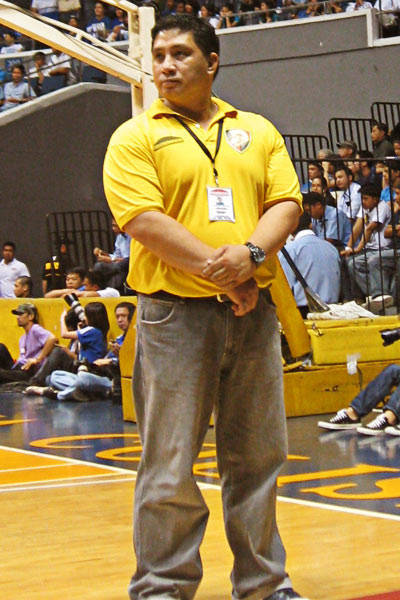 ADVERTISEMENT - CONTINUE READING BELOW
Those big, yellow-clad bouncers are actually friendly. They're not going to crush you to dust-well, unless you're a scalper.
"Scalping is against the Anti-Scalping Law so if a scalper approaches you, don't hesitate to come to us for help," says Mark Agapito, security leader.
Twice the fun: The UP Pep Squad's drummers are sure to make an appearance at halftime at least twice each season.
They sure can play with their sticks, alright. Season 71 UP head drummer, Jahan Castro said, "We were the first ones to do the 'kengkoy' dance in a routine. The crowd seemed to love it so it was established four years ago that the UP drummers would perform twice in the entire season.
"We do one 'kengkoy' dance which is a routine of drums and beats choreographed in a payabangan of skills way, and we do one drumline routine in which we wear our serious faces," the UP Pep alumnus shared.
ADVERTISEMENT - CONTINUE READING BELOW
Around the world in forty minutes: Some schools' cheers may get lost in translation.
The UAAP cheers from each school offer a wide range of foreign vocabulary. To name a few: DLSU's Latin cheers, such as Rektikano, which means "right to rule", NU and UE's Igma Kadima (or Eeneecademah for Ateneo's Fabilioh) which means "go forward" and FEU's Recca recca summa FEU which means "fire high FEU". The University of Santo Tomas (UST) also has a Spanish cheer which goes, "vamos tigres el campeon."
Photos by Roehl Niño Bautista, Paul Ryan Tan and Dyan Zarzuela.
Share this story with your friends!
---
Help us make Spot.ph better!
Take the short survey
More Videos You Can Watch
Load More Stories