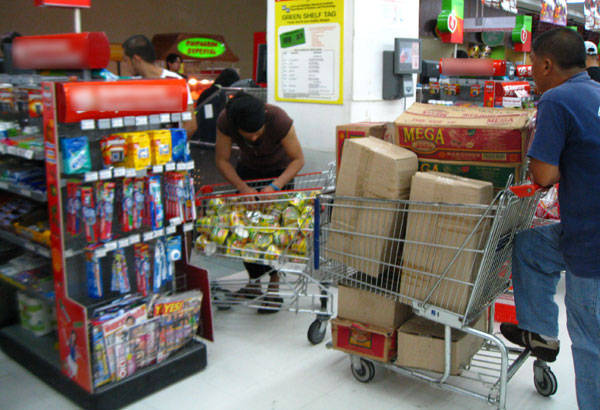 Shoppers in line to purchase instant noodles and canned sardines
Supermarkets from Quezon City to Makati struggled to cope in the aftermath of typhoon Ondoy, with shoppers stocking up on supplies as well as goods to donate. In one store near Libis, close to the worst-hit areas of Marikina, Cainta, and Pasig, there was a shortage of shopping carts and shelves emptied of canned goods. Buyers lined up for up to an hour at the cashiers to pay for their purchases.
ADVERTISEMENT - CONTINUE READING BELOW
"Compared to last year, we actually have a smaller transaction count, but bigger basket size [per customer]," the manager of a national supermarket chain told SPOT.ph. She added that most shoppers are buying goods in bulk–up to 100 cases, in some instances–which makes it likely that they are buying the goods to donate, rather than for themselves.
The top 10 goods that are selling the most, in order of demand, are:
1.       Sardines
2.       Tuna
3.       Corned beef and other canned meats
4.       Instant noodles
5.       Water
6.       Rice
7.       Biscuits
8.       Candles
9.       Flashlights
10.       Detergent
Production manager Mario Mendoza, who went to a supermarket in Mandaluyong on Sept. 28, said, "We went to the grocery to get some supplies for the house and to buy items to donate. [The store] was almost out of instant noodles, water and candles. You could see boxes of noodles and bottled water reserved, so we assumed people were really buying to donate."
At Enderun College, where volunteers are cooking hot meals to be transported to refugees by the Red Cross, Ancie Pamintuan confirms that relief goods have been pouring in, telling SPOT.ph, "On Monday, when we started out, we only had a sack of rice and a box of goods. But today, everything came in bulk, when they realized this wasn't a hoax, that we were really doing this. Today, these came: P50,000 worth of goods, sacks of rice, a truckload of corned beef, anonymous donors calling to give cash (amounts like P20,000). An owner of a convenience store called to ask what we needed [and] a lot of people are just basically giving from their own pockets."
"A lot of people mostly give rice, sardines, but we also need bottled water, milk in tetra packs, corned beef, tomato paste, hotdogs, anything that is processed," Pamintuan added.
- For a list of where to donate for victims of typhoon Ondoy, click here.
ADVERTISEMENT - CONTINUE READING BELOW
- The Department of Trade and Industry (DTI) imposed a 60-day price freeze on basic commodities on Sept. 28, including goods like canned sardines, processed milk, coffee, instant noodles, detergent, rice, meat, poultry, sugar, and cooking oil. Instances of overpricing can be reported to the DTI at 751-3190 to 92 or 751-3194 to 95, or via email at dti.ondoy@yahoo.com.
Share this story with your friends!
---
Help us make Spot.ph better!
Take the short survey
More Videos You Can Watch
Load More Stories