10 Virtual Volunteers: Helping out in the time of tweeting
Mobile and internet users helped Ondoy survivors stay afloat during and after the storm. SPOT.ph found admirable netizens online.
While most areas went without electricity when typhoon Ondoy hit Manila, others found technology useful in disseminating info, calling out for help and mobilizing volunteer efforts even after the storm. SPOT.ph lists 10 netizens who used social media to keep everyone afloat.
1. Rico Blanco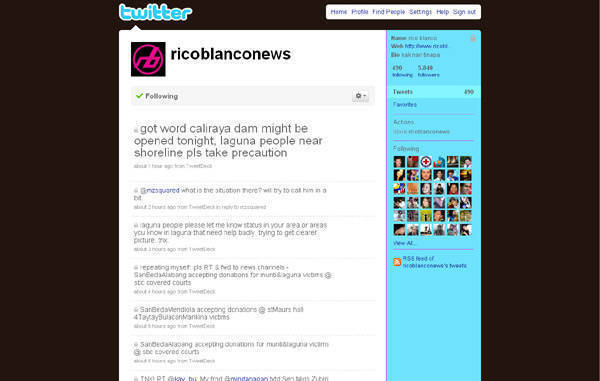 Rivermaya vocalist-turned-solo artist Rico Blanco was in Tokyo for a short vacation when Ondoy happened. Though he tweeted that he "[felt] helpless [and didn't] know how to help," he did help by tweeting rescue numbers and relief centers. His first tweet when he landed in Manila on September 29 was: "I want to hold a unified fundraiser with MYX, MTV, GMA, ABS-CBN and all the country's top artists. Anyone with me on this? Need to do it right away."
Response was quick with Gary Valenciano, Chynna Ortaleza, Maxene Magalona, Gang Badoy of RockEd and DJ Monica "Francesca" Tobias of RX 93.1 already giving their support. Georgette Tengco of MTV, Winner Santos of 99.5 RT and Dennis Poliquit of Magic 89.9 also tweeted they're willing to help out.
ADVERTISEMENT - CONTINUE READING BELOW
As of Blanco's September 30 tweet, "radio and music channel commitment [looks] very promising." Big TV networks are next since "a simultaneous broadcast/telethon would be ideal," said Blanco. If you know a way to help, send Blanco a tweet.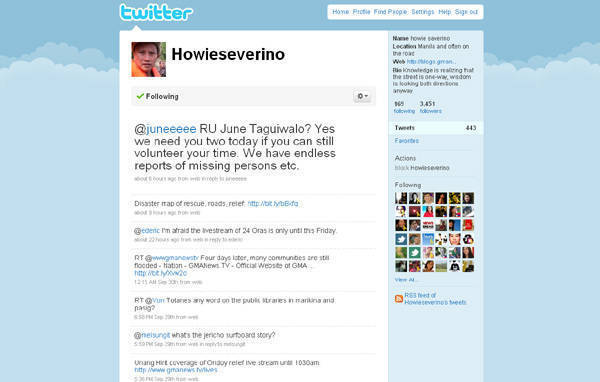 CONTINUE READING BELOW
Recommended Videos
Investigative journalist Howie Severino tweets the word by posting GMANews.tv disaster maps, missing persons database, volunteer calls and congested roads. He posted links to compelling articles like "Philippine man loses own life after saving dozens from floods" and "In social media, a deluge of SOS messages."
He suggested on September 28, "Every yacht in Manila Yacht Club has a tender with outboards. Every ship in North Harbor has lifeboats. Has anyone thought to requisition?"
3. Pia Magalona
ADVERTISEMENT - CONTINUE READING BELOW
Pia Magalona, wife and manager of the late rapper Francis M., tweets and retweets various ways to help the victims of Ondoy. There's the Philippine General Hospital Lactation Unit that needed breastmilk, Ateneo de Manila University being short on supplies, Red Cross that needed volunteers and more.
She was also one of the first who tweeted about White Hat Alabang Town Center's 100 percent donation of all profits on October 2 to the Ondoy victims. She posted ways on how people from all over the world can donate through Red Cross' bank accounts and texting service, which ended on October 1.
Pia is the mother of celebrities Maxene and Saab Magalona who have also been on the volunteer frontline.
4. Jim Paredes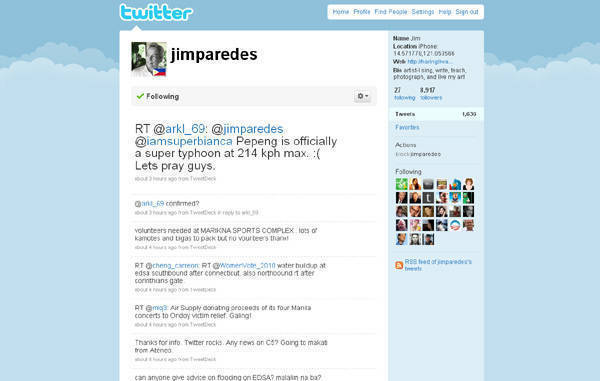 The house of Apo Hiking Society's Jim Paredes was one of the many food-packing relief centers in the wake of Ondoy. Their group was able to prepare hundreds of packs which were quickly and gratefully received by flood victims, particularly the first 500 packs they sent to Marikina on September 27–those were the survivors' first meals since Ondoy swept through Manila. He advised donors through Twitter on September 30 to drop off only packed meals, canned goods and clothes at his house since they no longer have the "capability to cook and prepare food anymore."
ADVERTISEMENT - CONTINUE READING BELOW
He tweeted tips for volunteers and donors: use big bottles to lessen the trash and donate ready-to-eat food like hard-boiled eggs, boiled bananas (saba) and sandwiches. He also tweeted inspirational messages like "Tragedy is just a mental concept until it happens to you. Then its unpleasantness becomes an opportunity for spiritual growth."
Manuel "Manolo" L. Quezon III, grandson of former president Manuel L. Quezon, lives up to his heroic roots in this tweet age. One of his most useful tweets is a link that has a list of bulk goods and where to buy them.
He advised donors from abroad to coordinate with and address donations to the Department of Social Welfare and Development to avoid levies. He helped the people who had goods to give connect with the people who could deliver the goods. He also posted which relief centers were overmanned and undermanned.
ADVERTISEMENT - CONTINUE READING BELOW
"Air Supply [is] donating proceeds of its four Manila concerts to Ondoy victim relief," he tweeted on October 1.
6. TJ Manotoc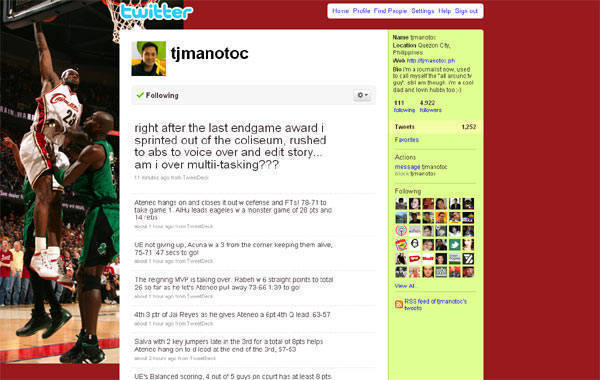 Sports analyst and newscaster TJ Manotoc maximized the Internet by giving all his Twitter followers and contacts real-time updates on where to volunteer while producing his stories for Studio 23.
Manotoc also provided practical advice for volunteers such as "Order MEGA SARDINES in easy open Doy&Pouch packs. Wholesale price, cheaper than sprmarkts! Jean Tiu Lim - 0917-7161005. Free bulk delivery!"
7. AJ Rafael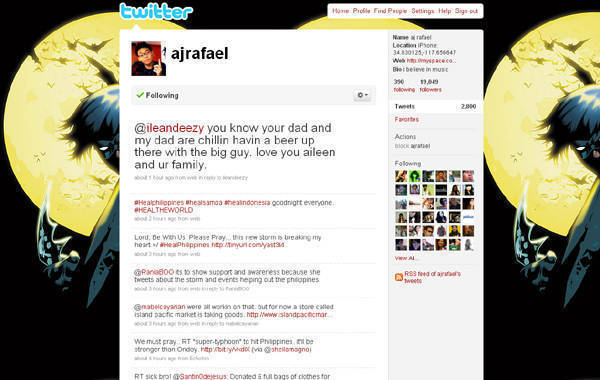 ADVERTISEMENT - CONTINUE READING BELOW
A Youtube celebrity, the 19-year-old Filipino-American raised awareness for typhoon Ondoy through Twitter by starting a "Heal Philippines" revolution, which became a trending topic on the social networking site. The young singer-songwriter's 19, 028 Twitter followers received updates and news while he encouraged everyone help the typhoon victims. Rafael raised $1,342.98 in donation money as of September 30 through his blog by singing songs online and reading online requests and messages.
8. Gabe Mercado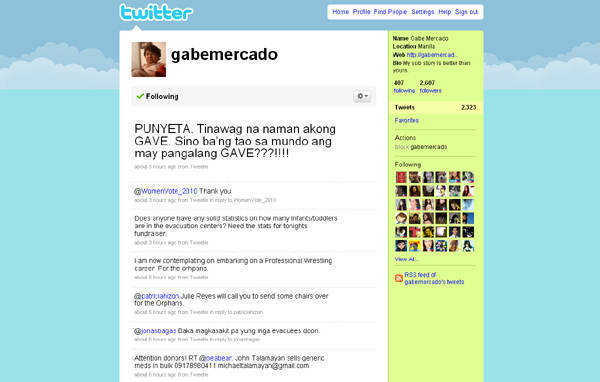 Comedian, singer for the defunct band Da Pulis and founding member of the improv comedy group, SPIT, Mercado was also one of the most active personalities online while Ondoy was swamping Manila in floodwaters. His Twitter account of 2,575 followers constantly received practical updates from the always-upbeat performer, such as "Personally verified: eggs and bananas are much cheaper at Nepa Q Mart than at Farmers Market. Food donors, buy there!"
He personally volunteered to pick-up and deliver relief goods as well as preparing cooked food in his own kitchen to distribute to typhoon victims.
ADVERTISEMENT - CONTINUE READING BELOW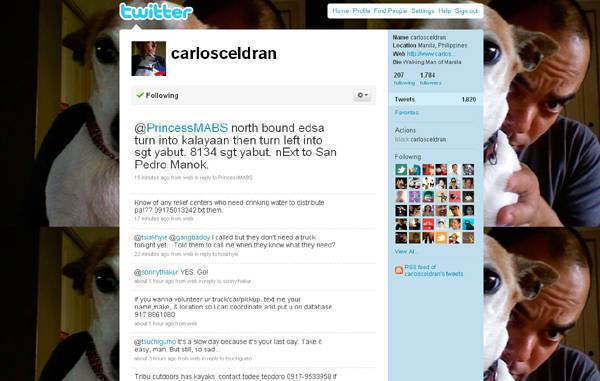 The walking man of Manila who guides people through the history and stories of our city also served as a guide to people online with his useful tweets, updates and mobilization efforts.
Celdran posted real-time updates and helped connect volunteers to places and people who needed them. In an article published by Time.com on September 29, Celdran said, "Filipinos are used to crisis. We've gone through a lot over the years, but we've managed. We're a resilient people."
10. Miriam Quiambao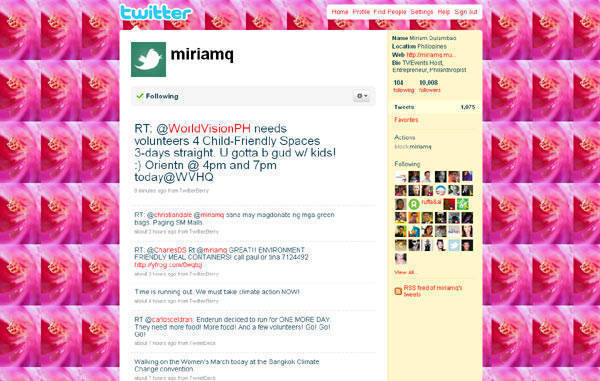 ADVERTISEMENT - CONTINUE READING BELOW
Former beauty titlist, TV personality and World Vision child advocate, Miriam Quiambao continues to hold her own spotlight online, where she continuously updated her Twitter followers with suggestions and mobilization efforts while keeping the environment in mind and attending the Climate Change conference in Bangkok.
"How can we observe green practices on a relief drive?" she asked through Twitter and the suggestions that poured in have been compiled in her blog. Quiambao also encouraged donations for typhoon victims, not just through World Vision but in various relief centers in the city.
Share this story with your friends!
---
Help us make Spot.ph better!
Take the short survey
Load More Stories