PacMom Dionisia to record album, Comelec calls "gayness" immoral + other lowlights
ANDREW PAREDES puts in his two centavos worth on the hit headlines.
1.       PACQUIAO BEATS COTTO. Technically, this isn't a lowlight–unless you start wondering if Manny has more relatives just itching to ride his coattails to an exclusive contract with Star Cinema.
2.       SESAME STREET TURNS 40. Again, this isn't a lowlight–unless I start wondering why I still cry when Big Bird realizes that Mr. Hooper is dead when I'm as old as this show.
3.       HILLARY CLINTON COMES FOR A VISIT. Wouldn't it have been neat if, during Hillary's state dinner at Malacañang, that dyspepsia ad with the fake Barack Obama really happened?
4.       MAR AND KORINA TWEET THEIR HONEYMOON IN JAPAN, WRITE THAT THEY "TRIED HOT SPRING. SUPER INIT, DAHANDAHAN BIGLA PARANG PANLILIGAW." As I sit here typing this, sipping on my mocha frappuccino and contemplating that jacket I saw on sale at Raoul–"Should I buy it? Should I stay away?"–I wonder what is it about the age of Facebook and Twitter that compels us to write down everything we're doing and assume that the whole world will be interested.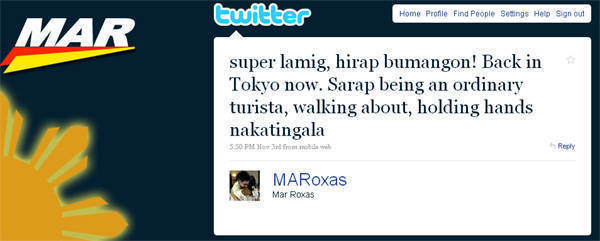 5.       GILBERTO TEODORO PICKS EDU MANZANO AS RUNNING MATE. Apparently, Edu was game na game na!
ADVERTISEMENT - CONTINUE READING BELOW
6.       COMELEC STOPS GAY PARTY ANG LADLAD FROM RUNNING IN 2010 ELECTIONS ON THE GROUNDS OF "IMMORALITY." But corruption and habitual plundering of public funds from heterosexual politicians is just fine.
7.       SENATE APPROVES FILING OF PLUNDER CHARGES VERSUS EX-DPWH SECRETARY EBDANE OVER MISUSE OF ROAD USERS' TAX. Si Jun Ebdane kaya ang tamang daan sa 2010? Hindi yata!
8.       BRITNEY SPEARS UPSET OVER ALLEGATIONS THAT AUSTRALIAN CONCERTGOERS WALKED OUT OVER LIP-SYNCHING. If you expect actual, live singing from a Britney Spears concert, there's a bridge in Sydney Harbor I'd like to sell you.
CONTINUE READING BELOW
Recommended Videos
9.       ALING DIONISIA NOW "MOMMY D"; AFTER ANG TANGING PAMILYA, MAY GO INTO RECORDING. Now there's a case for lip-synching if there ever needed to be one.
10.       FIRST-EVER iPHONE WORM IN AUSTRALIA FEATURES RICK ASTLEY WALLPAPER, REFERENCES "NEVER GONNA GIVE YOU UP." t could have been worse, Aussies–you could have gotten a wallpaper of Britney Spears lip-synching "I'm A Slave 4U."
Share this story with your friends!
---
Help us make Spot.ph better!
Take the short survey
Load More Stories