Manny Pacquiao stripped of Gusi Peace Prize, lambasted by Ambassador Gusi + Who is Gusi?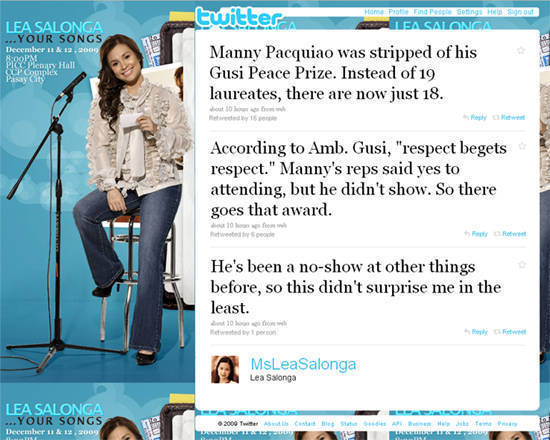 Manny Pacquiao will no longer receive a Gusi Peace Prize, revealed singer-actress and recipient of the 2009 Gusi Peace Prize for Performing Arts, Lea Salonga, on her Twitter profile on November 26. Her tweets:
"Manny Pacquiao was stripped of his Gusi Peace Prize. Instead of 19 laureates, there are now just 18."
"According to Amb. Gusi, 'respect begets respect.' Manny's reps said yes to attending, but he didn't show. So there goes that award."
The Gusi Peace Prize is given to distinguished individuals or groups worldwide who have made exemplary contributions to peace and human rights in different fields which affect our current society. Earlier this year, it was announced that Manny Pacquiao was selected as one of its prestigious awardees.
In a press release published on Fighthype.com on October 28, the People's Champ said that he was "humbled by the incredible honor." Probably too humbled that he decided not to show up at the awards.
ADVERTISEMENT - CONTINUE READING BELOW
Much chatter might arise from this no-show given the current scandal he's involved in. One thing is for sure though, according to artist-performer Carlos Celdran, "Manny Pacquiao didn't show up to accept [his] Gusi Peace Prize [at the] Meralco Theater so Ambassador Gusi will not give it to him. Ever."
The awardees for the 2009 Gusi Peace Prize include:
1.

Congressman Bob Filner (USA)
2.

Madam Timi Bakatselos (GREECE)
3.

Her Royal Hhighness Princess Fuziah Raja Uda (MALAYSIA)
4.

Dr. Alice Chui (HONG KONG)
5.

Professor Emil-Silvio Ciobata (ROMANIA)
6.

Hon. Massimo Romagnoli (ITALY)
7.

Charalambos Lambrou (CYPRUS)
8.

Dr. Ho Son Fat (MACAU)
9.

Manny Pacquiao (PHILIPPINES) - revoked
10.

Judge Natividad Mercedes Meza (PARAGUAY)
11.

Alexey Steele (RUSSIA)
12.

Dr. Liu Chi Chun (TAIWAN)
13.

Ambassador Preciosa S. Soliven (PHILIPPINES)
14.

Silvia Scherer (SWITZERLAND)
15.

Dr. Rudiger Losch (GERMANY)
16.

The Most Rev. Fr. Joseph A. Faller (PHILIPPINES)
17.

Ali Nasuh Mahruki (TURKEY)
18.

Madam Surapee Rojanavongse (THAILAND)
19.

Lea Salonga (PHILIPPINES)
20.

Christine M. Warnke, Ph.D. (USA)
CONTINUE READING BELOW
Recommended Videos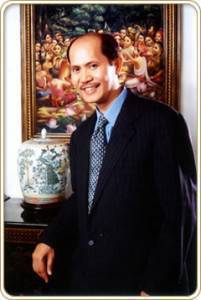 BUT WHO IS BARRY GUSI?
ADVERTISEMENT - CONTINUE READING BELOW
Barry Gusi was appointed by the Northern Mariana Islands in the Pacific Ocean as ambassador-at-large to Japan, Australia, South Korea, Micronesia and the Philippines from the 1990s to 2001. He is the current chairman of the Gusi Peace Prize Foundation, which first gave out awards in 2002.
Gusi said in an interview with Voice of America in 2007, "[The Gusi Peace Prize is] known to be the Asian equivalent of the Nobel Peace Prize... In the future, [it] will come to mean even more than the Nobel Prize because it is not only acclaimed but people all over the world would like to share this honor for it really speaks for peace and humanitarian endeavor."
Born in Buenavista, Marinduque to Teodoro Cha Sotejo and Capt. Gemeniano Javier Gusi (who later became town mayor), Barry Gusi got a Business Administration degree from the University of the East in Manila and later studied Hotel and Restaurant Management at the Universidad de Madrid in Spain. Gusi has four children with his wife Evelyn Tantamco, a pediatric doctor.
His website says, "It was during his stint in Europe that he developed a flair for international relations, exceptional multilingual skills, and was exposed to people of varied creeds and cultures, shaping his dream of world peace."
Share this story with your friends!
---
Help us make Spot.ph better!
Take the short survey
Load More Stories