Tweets of the Week: Maguindanao Massacre
Mikey Arroyo sends his sympathies to the grieving families, Iza Calzado calls on President Arroyo and Jim Paredes calls Eduardo Ermita an incompetent jerk.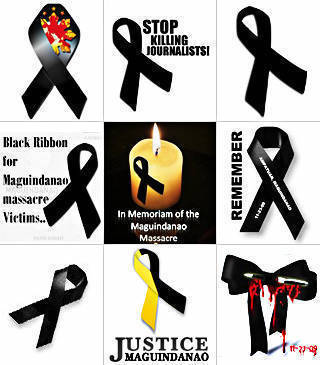 Black twibbons make a statement on Twitter and Facebook
Mikey Arroyo, Pampanga representative: My sympathies go out to the grieving families of this horrific crime: http://bit.ly/51ghBd
Gibo Teodoro, presidential candidate: The integrity of state institutions is at stake. I really don't care about politics at this point. #Maguindanaomassacre
Mar Roxas, vice presidential candidate: Lets pray PGMA finds the will to do what needs to be done. Even just this one time.
Pia Cayetano, senator: As we celebrate the Intl Day to Eliminate Violence agst Women today, I condemn the lackluster investigation of the Maguindanao massacre.
Risa Hontiveros, Akbayan representative: The massacre in Maguindanao is an indictment of GMA's coddling of & impunity 4 her warlord allies. Due process, Yes; kid-glove treatment,No!
Iza Calzado, actress: President Arroyo, why don't you do something right before you leave your seat and bring justice to the killings in Maguindanao..
ADVERTISEMENT - CONTINUE READING BELOW
Heart Evangelista, actress: Justice must be served.this is too much! Praying for the victims of the mass murder.
Chris Tiu, basketball player and TV host: Can't stand all these stories about the massacre!Can't imagine how these people can do such a thing.Sorry they're not people but monsters!!
Anne Curtis, actress: Grabe my heart aches for the families and the victims of the massacre. I can't take it in. How can people be so heartless? =(
Jim Paredes, singer/songwriter: 'Because we are only human, we cannot stop these things from happening'--Ermita. RESIGN you incompetent jerk.
Laurent Dyogi, director: parang nabura lahat ng napakita natin sa mundo because of this incident. nakakalungkot talaga...
- sa mga ganitong pagkakataon,na sana ibang bansa ka parang ang hirap sabihin na taga Pilipinas ako..
- ...buhay kasi ang pinag uusapan...contradicting kasi yung massacre sa essence ng people power that we are known for...
CONTINUE READING BELOW
Recommended Videos
Carlos Celdran, performance artist: feels that the current arrest of Andal Ampatuan is just a ruse. This goes deeper than him. For sure. More crap to fly before day is over.
Yan Yuzon, musician: Don't be afraid to speak up about Maguindanao. The government can't protect us but our numbers can. They can't possibly massacre us all. (?)
- Pucha, eh bakit pa ako manonood ng Paranormal Activity? Kung gusto kong matakot eh 'di MAGBABASA NA LANG AKO NG DYARYO!!!
Share this story with your friends!
---
Help us make Spot.ph better!
Take the short survey
Load More Stories