The Juicy on Gusi: "First Pinoy model of Armani" and other claims
Who is this man and why is he giving out awards? SPOT.ph.gives you the lowdown.
Since that hissy-fit video made its rounds online, people have been asking: Who is Barry Gusi and why was he so furious with Manny Pacquiao? SPOT.ph was able to dig up a March 2001 feature in Kabayan newspaper on the former ambassador, who has claimed that he was the first Filipino model for Armani: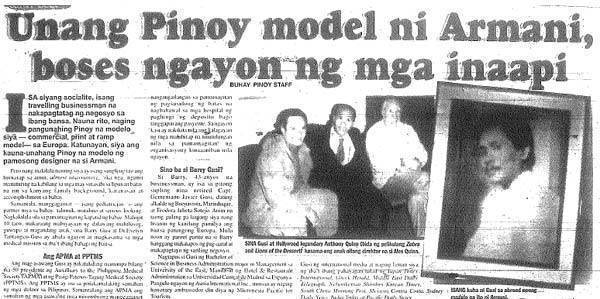 In the feature from its "Buhay Pinoy" section, the newspaper reported that Gusi was the first Filipino model for world-renowned designer Giorgio Armani, aside from being a "commercial, print and ramp model in Europe." The article also said that Gusi was a judge in the Miss Guam World Beauty Pageant, Miss Australia, Miss Chile and Miss International Japan, and a human rights advocate in Korea, Japan, Australia, Saipan, Guam, USA and Germany. Many OFWs apparently asked him to help them report complaints and get better jobs. Because of his "kagalingan at kabutihan (skills and kindness)," he was featured in international publications like the Japan Times, International Greek Herald, Middle East Daily Telegraph, South China Morning Post, Sydney Daily News, India Today and Pacific Daily News, Kabayan reported.
ADVERTISEMENT - CONTINUE READING BELOW
RockEd Radio invited Gusi over for a chat on December 4. For those who missed the verbal exchange on air, here are some of the unedited highlights:
Gusi on his YouTube outburst against the People's Champ:
"I'm a man of international peace and I have never been into trouble in the country and into the youth of the Filipino people that's why I'd like to correct the accusation of the youth had against me. Let me clarify I'm not angry at Manny Pacquiao."
Gusi on Carlo J. Caparas' Gusi Peace Prize win in 2006:
"Carlo Caparas is not even a graduate of Grade 6, but he can write English, he can speak English, he can direct a movie, and he is a very humanitarian person, and he is deemed as a hero of comics in the Philippines. Imagine a Grade 5 who were able to direct a movie, who were able to involve themselves into the charity in the country. That is great enough to be a Gusi Peace Prize for art."
CONTINUE READING BELOW
Recommended Videos
Gusi on the prize awarded to laureates:
"The plaque of appreciation which is made from Germany, a very beautiful plaque signed by the President, the chairman of the board of the Gusi Peace Prize, and the president of the Gusi Peace Prize and the dignity around the world non-stop publicity that you are a hero or heroine of peace world wide and of course to be in line with those most distinguished and prominent people from all over the world who are truly achievers and peacemakers."
ADVERTISEMENT - CONTINUE READING BELOW
Gusi compares the Gusi Peace Prize with the Nobel Prize:
"You know the Gusi Peace Prize is a very fair Peace Prize although it is the Asian equivalent of the Nobel Peace Prize…"
SPOT.ph compares the Nobel Peace Prize and its "Asian equivalent," the Gusi Peace Prize, based on research as well as Gusi's statements:
Gusi Peace Prize

Nobel Prize

Founder

Ex-Ambassador to Micronesia, Barry Gusi

Chemist, engineer, innovator, and inventor, Alfred Nobel.

Nomination Process

Anyone, even you, can nominate an awardee.

3,000 nomination forms are sent to a very select group composed of members of the academe and former laureates

Selection process

The committee deliberates and checks if the honorees can make it to the awards night.

A committee of five assigned to each category deliberates on the entries. The short list is then sent to international specialists who choose the final winners.

Conditions for winners

- At least 35 years old (Manny Pacquiao is 30, right?)
- Must show up at the awards ceremony or suffer Gusi's wrath
- Has done something noteworthy, or a lot of charity work
- No announced age limit
- Winners are given the award whether or not they show up
- Must pass the rigorous criteria set by the committee specializing in each field

The prize

A plaque of appreciation shipped by Gusi's relatives from Germany and "the international prestige attached to being a Gusi Peace Prize awardee," according to Gusi

A gold Nobel Prize medal and a cash award (US President Obama received $1.4 million) to serve as funding for more research or continued welfare work in the awardee's home country

Notable past winners

Carlo J. Caparas, Sen. Aquilino Pimentel Jr., Benjamin Abalos, and Sen. Rodolfo Biazon

Jimmy Carter, Pablo Neruda, the Dalai Lama, Mother Teresa and Martin Luther King Jr.
Gusi explained that the awards, which were named after his father, Capt. Gemeniano Gusi, a guerilla leader during the Japanese occupation, are a means to promote the Philippines to the rest of the world. He also stated that every time the foreign awardees come to the country at their own expense, it not only boosts tourism but our economy as well. Gusi hopes that the Filipino youth will support the awards and help out in the several charity projects his foundation has started in rural areas in the country.
Learn more about the awards and the foundation at the Gusi Peace Prize Foundation's official website.
Share this story with your friends!
---
Help us make Spot.ph better!
Take the short survey
Load More Stories