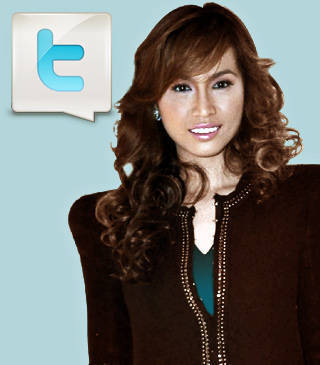 Divine Lee, real estate heiress and socialite: Drunk tweeting is bad.
John Mayer, singer/songwriter:
- I've got two women texting me they want to come over. What's that, Modern Warfare 2? You understand me? Done. Night, ladies!!!
- I don't like this savory smell of cooking wafting from the apartment next door. It's cocky. "Look at me, I buy groceries and have a family."
Adam Lambert, singer:
- Wow eminem mentioned me in a song?! I must be doin something right!? Even if he used the f word.... Whtev
- Oh he says "fake it" my bad
Sarah Silverman, comedian: When someone says "She/he keeps me humble"- it makes me giggle 'cause it's like the most fat headed thing anyone could say or feel.
Solange Knowles, singer/actress and Beyonce's sister: Just blew a snot bubble.
ADVERTISEMENT - CONTINUE READING BELOW
Lea Michele, TV and theater actress: I don't understand the vampire rules...how come Stefan and Elena can 'do it' but Bella and Edward can't???
Ala Paredes, artist:
-i dont get why Hayden Koh is being stripd of of hs medical license.Wat does dat have 2 do w the sex vid?he didnt shoot them while on the job
- and if "unethical conduct" is the reason,since when have plastic surgeons been the guardians of morality?
Ramon Bautista, actor: hadlang yang mga bagong funky u-turn sa tapat ng technohub sa pagt tweet habang nagddrive. muntik na ko sumampa sa island grrr
Divine Lee, real estate heiress and socialite: Drunk tweeting is bad. Gosh, I don't understand half of what i posted last night. ERASE. Bunch of gibberish!
Bubbles Paraiso, actress: @maxenemagalona im ur stalker! hahaha.. sorry.. i just really... want...u... i mean.. i wanna BE you..... hahaha
Pia Guanio, TV host: @merrillsoto ksp guy raised his arms and hit my mic which hit my tooth. and lower lip. hard. ouch!
Artwork by Warren Espejo.
Share this story with your friends!
---
Help us make Spot.ph better!
Take the short survey
Load More Stories