WARNING: EXTREMELY GRAPHIC PHOTOS AND VIDEOS AHEAD
While the Christmas weather makes most people button up, it makes guys run around buck-naked at the University of the Philippines (UP) in Quezon City. Every December, the Alpha Phi Omega (APO) fraternity holds the Oblation Run, a university tradition that started in 1977 to protest the banning of the movie Hubad na Bayani, which depicted human rights abuse during martial law. The run derives its name from the iconic symbol of UP, a sculpture of a man naked but for a fig leaf covering his privates, facing the sky with his arms outstretched.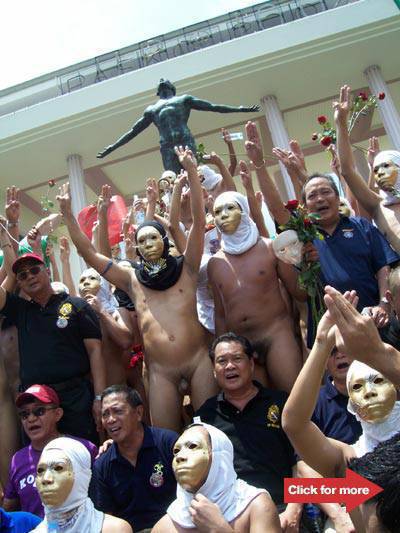 APO "Brod"Jejomar Binay (second from left), Makati City Mayor and Vice Presidential candidate, and other APO alumni attended the Centennial Oblation Run in June 2008. Click the photo to see the gallery.
The masked runners usually protest political issues like charter change or corruption. The Oblation Run also pops up even when it's not December, which is APO's founding anniversary. In August 2006, then Justice Secretary Raul Gonzalez said UP is the breeding ground of "destabilizers and naked runners," so naturally, the fratmen streaked in protest.
Thirty members of APO ran this year and condemned the Maguindanao massacre and
urged future leaders to address climate change and poverty.
Other UP campuses also hold the Oblation Run but the star is the one in UP Diliman. Catch it this year on December 15 around noon at Palma Hall (College of Social Sciences and Philosophy). SPOT.ph dug up some tips for those who plan to watch:
1. Come one, come all. Anyone can go; no entrance fee, no ID needed. Can you go with your boyfriend? Yes, but brace yourself for his snarky (read: insecurity driven) remarks.
2. The early bird gets to see the, uh, birds. The event starts around noon but go to Palma Hall or AS in UP lingo (Palma Hall used to be the College of Arts and Sciences) as early as 10 a.m. A frequent watcher says the first floor corridors are the best spots, but get ready to be crushed since the corridors aren't that big. If the corridors are already jam-packed by the time you arrive, try the lobby and the steps by the building's main entrance.
Oblation Run 2009: View from the first floor of Palma Hall
3. Grab the right garb. Wear comfy, breathable clothes to survive the mosh-pit-like crowd. Slippers guarantee bruised and dirty feet, so wear sneakers. Pull your hair back-you don't want a photo of you, screaming with your hair resembling Sisa's, mass forwarded all over the 'Net (then again, you could use your hair to cover your face if you don't want any photographic evidence of you watching).
4. Gear up. A picture is worth a thousand gasps so bring a camera or even a videocam. Binoculars are a tad much, but a foldable chair or stool to stand on to get a better view is slightly acceptable.
5. Uncover the naked truth. If you want to catch a runner you know in the act, call out his name and pray his instincts make him look. Also, find out if he has birthmarks, tattoos or any permanent marks on his body beforehand and let that be your smoking gun.
6. A rose from a nude dude smells just as sweet (maybe even sweeter). The runners give away red roses to the audience. You're practically guaranteed one if your significant other or your It's Complicatedâ"¢ partner is running. Don't have either? Fight your way to the front of the line, preferably in the first floor corridor, and defend your position. Reach out and smile. "If all else fails... buy yourself a rose and claim that it came from a runner," Bianca Consunji writes in Inquirer.net.
7. No touch? There's no law prohibiting you from touching the runners but if you're gutsy and fast enough, do keep the molesting, er, touching PG-13. Pinch the cheeks on his face, not those cheeks.
8. The singit sitch. To sneak to the front of the line, Consunji says, "pretend to be a marshal (shout with authority, wear black and furrow your brow)." Want to share the penance for your evil deed? Try a slightly modified JJ (jumping jologs) tactic. Get at least three partners in crime. Fall in line behind the person with the biggest build and put your hands on the shoulders of the person in front of you. The person in front pushes his/her way to the front while you all say, "excuse me" as if you're just passing through. Do not let go. When you reach the front of the line, stay there side by side and lock your arms together. Ignore the expletives from the people behind you.
9. The singit sitch part two. So you waited for hours just for people to block your front-row view. Be alert and thwart their evil plan by blocking them. If they get through your defenses, call for backup. Look for the scariest looking person among the similarly affronted and have him or her tell off the singiteros. No reaction? It's not really the season to start a brawl or worse, a stampede so no violent pushing! Just loudly drop hints and hope their conscience kicks in, or eat something garlicky and breathe on them (pop a mint after they leave unless you want runners falling in a not-so-good way at your feet).
10. Gain boob tube glory. Consunji suggests bringing a banner or "fainting as the boys pass by" to get a TV cameo. If you want to be interviewed, catch the eye of the TV crew. Scream your love for naked men and subtly fix your hair and clothes. For extra measure, pretend you dropped something and pause in front of the TV crew.
Still no luck? Streak like a couple of allegedly Korean female students who made a surprise appearance near the end of the 2005 Oblation Run. They wore masks and covered their privates with a cartolina that called for equal rights for women, posed for the camera, and then left in a car waiting for them. Reliving their act might "insult" APO, though. "We are condemning their act not because they are women; they can run naked if they want to. But the event was supposed to be ours," Joselito Caparino, APO media liaison, told PhilStar.com.
Photos by JM Tuazon.
Share this story with your friends!
---
Help us make Spot.ph better!
Take the short survey
Load More Stories