Win, Lose, or Draw? How will 10 top sites fare in 2010?
Which website is the next Facebook? SPOT.ph lists 2010's sites worth seeing.
With 350 million users, Facebook was undoubtedly one of the most popular websites of 2009. But it's a whole new decade, and there's a whole new slew of sites popping up all over the Web. Which ones are worth checking out? SPOT.ph did some browsing:
(Roll your mouse over the graphics)
What is it? Currently the most popular social networking site in the world, Facebook offers a breadth of features–from games such as FarmVille and Restaurant City, to photo sharing, real time chatting, and status updating. The website has turned into such a vast virtual community that sometimes even real life is based on Facebook updates: "Is it Facebook official, yet?"
The users: Almost anybody with access to the Internet
2010 forecast: With more users migrating from Friendster and Multiply everyday, Facebook will only gain more users.
Verdict: WIN!
ADVERTISEMENT - CONTINUE READING BELOW
What is it? It is the mother of all social-networking sites in Asia which sparked the terms like "I-friend mo 'ko!" or "Testi ko, ha?" It allows people to add fellow users as friends, letting them interact and express themselves online through various means provided by the site.
The users: Since its conception in 2003, Friendster has become overrun with pre-teens wanting to hook up and die-hard fans pretending to be their "id0lz."
2010 Forecast: Late last year, the re-launched site introduced a new look and promised a lot of goodies for current users. This year, we predict that it's still going to be the same old Friendster with the subtle difference of a new look and the promise of a lot of goodies.
CONTINUE READING BELOW
Recommended Videos
Verdict: DRAW
What is it? It's a nifty site that helps you convert your boring everyday avatar into an attention-grabbing profile clip. The site lets you record and share five-second clips of yourself just by following three easy steps.
ADVERTISEMENT - CONTINUE READING BELOW
The users: "Telegenic" people who like spreading videos of themselves online
2010 Forecast: With the popularity of static avatars quickly becoming passé, we predict that mobile avatars will be the new trend. Plus, Robo.to's new tie-ups with other social-networking sites makes a flood of novice users seem inevitable.
Verdict: WIN! (For people who love posting mini clips of themselves doing anything cutesy) and LOSE! (For people who have the misfortune of viewing them)
What is it? Looklet turns its users into Rajo Laurels or Vera Wangs right in the comfort of their seats. Fashion has never been this accessible–with real pieces and accessories to mix, backdrops to match, models to dress, and weekly fashion challenges that add to the site's thrill (e.g. dress a model up as Marilyn Monroe or Carrie Bradshaw of Sex and the City.)
The users: Fashion-saavy stylistas
2010 forecast: While Looklet may be enjoyable, it won't take very long for users to get tired of mix and matching outfits. We suggest some star power to provide more credence to this site.
ADVERTISEMENT - CONTINUE READING BELOW
Verdict: DRAW
What is it? It's a site that lets you post about your current status or activities in 140 characters or less (also known as "tweets"). It can be accessed via web, phone, and any other special Twitter application. It is often used to break new stories long before they're televised while others use it to broadcast every single thing they're doing...even if no one really cares.
The users: Anyone. They can be your nosy little tween sister, certified celebrities, political figures, companies, and social groups.
2010 Forecast: Twitter will continue to boom, launching more apps that will allow people to tweet anytime and anywhere.
Verdict: WIN!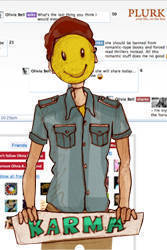 ADVERTISEMENT - CONTINUE READING BELOW
What is it? Plurk is a microblogging and social networking site described as a 'social networking journal for your life.' While it may be akin to Twitter, Plurk has a few unique features–the horizontally-oriented timeline, smileys, and a rating for the number of entries or plurks called "Karma." If you're wondering what Plurk actually means, it is an anagram of "play and work," and as an acronym, it means: "Peace, Love, Unity, Respect, Karma."
The users: Intense status updaters
2010 forecast: As more and more celebrities use Twitter for self-promotion, Plurk is slowly losing steam. The layout doesn't help either.
Verdict: LOSE!
What is it? It's an online space, or something like a virtual scrapbook, where individuals can post just about anything, from cool finds to pop culture trends, personal projects and even diary entries. Users get a chance to reblog, like, ask, and also collaborate with their fellow Tumblrs from all over the world. The sudden influx of some local celebrities has notably raised Tumblr's popularity in the country.
ADVERTISEMENT - CONTINUE READING BELOW
The users: Tumblrfolk are varied depending on their personal preferences. They can range from artists, writers, reblog-addicts, comedians, and a slew of self-proclaimed hipsters.
2010 Forecast: The original Tumblr "hipsters" will be so freaked out by the surge of the "mainstream" crowd that they will be forced to evacuate and look for a more alternative, underground website.
Verdict: WIN-LOSE-DRAW (depending on the kind of user you are)
What it is: Wouldn't it be fun if you could ask your friends anything anonymously? Formspring is the site for all these controversial questions since it allows its users to receive and send anonymous questions or comments to other site users. Answers and reactions to questions and comments then get published on the user's page.
The users: Boy Abunda wannabes
2010 forecast: With Filipinos being naturally chismoso, expect Formspring to gain more popularity this year. Wouldn't it be cool if Krista Ranillo had one?
ADVERTISEMENT - CONTINUE READING BELOW
Verdict: WIN!
What is it? It's an online community portfolio where artists can share their pieces, swap comments and techniques with their fellow artists, and sell their artwork.
The users: Artists and their fans
2010 Forecast: Deviantart has neither withered nor expanded in terms of their features, a smart decision which continues to solidify its established community of artists.
Verdict: DRAW
ADVERTISEMENT - CONTINUE READING BELOW
What is it? While most social networking sites put a premium on connectivity, Multiply's focus is still on sharing media–photos, videos, and many others. This is a clear reason why online sellers have trooped to the site to upload write-ups and pictures of their products and services.
The users: Online merchandisers
2010 forecast: While more small enterprises will make use of Multiply's free service, ordinary users will look for more functions and things to do. And Facebook is right around the corner.
Verdict: LOSE!
Illustrations by Warren Espejo.
Share this story with your friends!
---
Help us make Spot.ph better!
Take the short survey
Load More Stories