Ad Board bombarded with complaints about DJ Mojo Jojo's "Gay" billboard
Radio personality and LGBT activist Mojo Jojo (Joseph Paul Javier in real life) has gone on a Twitter-barrage after a handful of anti-gay e-mails concerning his Glutamax billboards were posted by blogger Amiel Aguilar Cabanlig.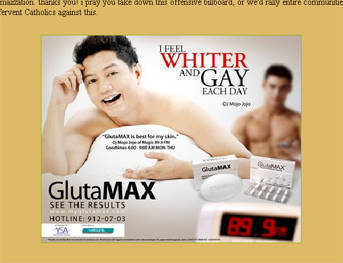 Screen capture from Cabanlig's site
The billboard features a topless Javier and a naked man in the background. Cabanlig says he was able to get hold of some e-mails addressed to the Ad Board, mostly complaining about the ad's "sexual innuendo" and published them on his website. One of the emails, coming from a certain Abdulrahim Janjalani said:
I am writing to extend my violent vehemence regarding that Glutamax billboard ad on South expressway because it is offensive to public morals, given the implicit sexual message it gives. it normalizes homosexual sex, a propagandistic act to make homosexuality seem natural when it is not. Homosexuality is a gender identity disorder that needs compassion and care and cure, not mindless naturalization and normalization. thanks you! i pray you take down this offensive billboard, or we'd rally entire communities of fervent Catholics against this.
ADVERTISEMENT - CONTINUE READING BELOW
Javier went to Twitter to voice out his disdain. Some of his prominent tweets read as follows:
"Come on, this is the Philippines! GAYS are EVERYWHERE and have been part of PINOY CULTURE since forever. Let's not fool ourselves, PUHLEEZ!" (mojojo899)
"It's okay to have gays in pinoy media as comedians singers & such but to have the word "GAY' in an advertisement, why is that controversial?" (mojojo899)
"LGBTs literally run Philippine Media & Advertising but why is it that they do not stand up for our own rights? Please, make a stand!" (mojojojo899)
Javier also posted a message saying that he would upload all the complaints once he receives a hard copy.
CONTINUE READING BELOW
Recommended Videos
SPOT.ph wants to know: What do you think?

Share this story with your friends!
---
Help us make Spot.ph better!
Take the short survey
Load More Stories