Kris Aquino confronts James Yap's female fan and her mother outside their home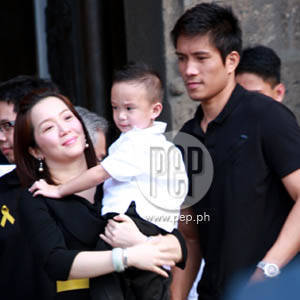 Kris Aquino, Baby James, and James Yap
Actress and TV host Kris Aquino spent 10 minutes shouting insults at Mayen Austria, a 35-year-old fan of husband James Yap and her mother outside their house in Valle Verde (where Aquino and Yap also live) around 4 p.m. on January 13, reports the Inquirer.

The Inquirer's source was   a certain Gabby Lopez, Austria's uncle, who claims to have been inside Austria's home during the incident (along with other guests including a bishop and a nun), but said "I only knew about it when Mayen, between sobs, related to us the incident immediately after Kris left."
Another unnamed source told the Inquirer that when Aquino arrived, "Mayen went out and saw Aquino, who immediately threw invectives at her." The mother followed Mayen outside , then "(Aquino) also shouted at her (Minna): Anong klaseng nanay ka? Anong klase ang palaki mo sa anak mo?"
ADVERTISEMENT - CONTINUE READING BELOW
However, when Aquino's co-host and best friend Boy Abunda was asked about the incident, he claims Aquino was "very cool and polite," and "spoke in a very low voice." He said, "Kris was bothered when she heard James talking on the phone with a girl who was crying. She learned from James that the girl was heartbroken and was confiding in him...Kris said that since she was in the neighborhood, she might as well introduce herself to the girl and the girl's family."
While the Inquirer referred to Austria, said to be a graduate of Poveda, as Yap's "rumored girlfriend," Abunda denied this and said Austria is a fan of his basketball team, the Purefoods Tender Juicy Giants.
CONTINUE READING BELOW
Recommended Videos
Abunda's version of the story agrees with Philippine Star columnist Ricky Lo's account, which he says is from a mole "deeply imbedded (sic) in the Aquino-Yap household": "So Kris decided to drop by the girl's house (also in Valle Verde) where the girl's mom very nicely met her. Kris politely turned down the mom's invitation"to come in" and simply, very politely, told the mom the whole incident. Kris never raised her voice (unlike perhaps most "aggrieved" wives); she was calm as she reminded the mom that she and James are working very hard at saving their marriage and calls or text messages from "any girl" to James is the last thing that they wanted especially at this stage when they (Kris and James) have just patched things up. Kris didn't make sugod the girl. She only wanted to relay to the girl the message that she should refrain from calling or texting James since James is very much married and it doesn't look good for her to be doing that."
ADVERTISEMENT - CONTINUE READING BELOW
The mole also said, "For quite a time now, the girl has been sending James chocolates or cakes or other goodies, addressed only to James, making Kris wonder, "If she can't write my name or those of our children, why doesn't she just address them to 'James and Family' para naman mawala ang suspicion?"
Aquino and Yap were reported to have had a big fight on the morning of December 24, says PEP.ph, causing Yap to leave their house. He missed their noche buena but returned later that night.   The two reconciled afterwards and went on a trip to Bangkok.
Abunda said that on January 13, Aquino told Austria's mother that "[she and James] almost split up in December and that they were separated for weeks. Kris also told [Austria's mom] that she is fighting hard for their marriage. She said she really wanted their marriage to work. In the middle of their conversation, (Mayen) arrived and said there was nothing going on between her and James and that they're just friends."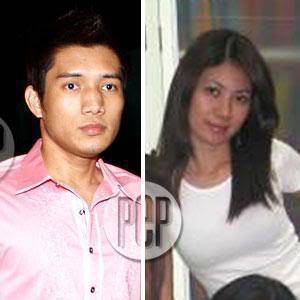 James Yap, Hope Centeno
In early 2007, a few months before Aquino gave birth to their son Baby James, controversial news broke out about Yap's alleged ten-month affair with Belo Medical Group receptionist Hope Centeno, who came out on national TV to expose the details. Yap issued an official statement denying their liaison, which said, "For the record, nothing ever happened between the woman and me. There is no one in the world who could ever make me even contemplate risking my relationship with my wife or the health of Baby James."
ADVERTISEMENT - CONTINUE READING BELOW
Photo by Noel Orsal for Pep.ph.
Read "10 Athletes and their Alleged Affairs."

Share this story with your friends!
---
Help us make Spot.ph better!
Take the short survey
Load More Stories