The inside scoop on the Cebu inmates' international Michael Jackson video
Behind-the-scenes dish and photos of the recent "This Is It" collaboration featuring Cebu's dancing inmates.
Michael Jackson's choreographer for 18 years,  Travis Payne, was in  the Philippines recently to teach the renowned inmates of the Cebu Provincial Detention and Rehabilitation Center (CPDRC) the steps to the King of Pop's "The Drill" and "They Don't Care About Us." The performance, immortalized on video and currently making waves on the net, serves as a tribute piece for the late Michael Jackson.
In a January 25 interview on CNN's The Joy Behar Show, Payne discussed his desire to go to the Philippines and work on a number with the inmates. He explained that Jackson enjoyed watching them perform through their YouTube channel.
"We first learned of these prisoners from the Cebu prefecture in the Philippines [when] one of Michael's fans sent me a link and they were doing "Thriller". I showed it to Michael and he loved it. He just got such a kick out of it. Imagine 1,500 people moving in unison to his music... It's great. All of the things we had done over the years with computer-generated images, they were actually doing."
"I knew that once Michael passed, we would be looking for opportunities to sort of reach out and be with his fans. It just hit me like a ton of bricks. We should go to the Philippines, because he loved it. He loved the area to perform in, but he also loved seeing the prisoners. Sony was able to work it out... so we found ourselves there."
Payne, together with two of Jackson's dancers, Dres Reid and Daniel Celebre, set out to Cebu on January 17 and 18 to choreograph a number for and dance with the inmates in the video.
ADVERTISEMENT - CONTINUE READING BELOW
SPOT.ph got to chat with Ernest Escaler, who organized the latest Michael Jackson project, about some production secrets and details of the performance. Also, check out the exclusive behind-the-scenes photos from the production.
Travis Payne expressed his desire to work with the inmates some time after the passing of Michael Jackson. He said that he asked for Sony's help and ended up in Cebu, but how did all this really come about?
We planned this last December... I was asked by Sony Pictures to organize [this performance] for the launch of the DVD and Blu-Ray edition of "This Is It." We had to keep it quiet because they wanted to premiere this event on CNN [originally with] Anderson Cooper. [But since he's] in Haiti, it was premiered on The Joey Behar Show.
CONTINUE READING BELOW
Recommended Videos
(Escaler is a good friend of Sony Pictures Senior-Vice President/Worldwide Publicity Fritz Friedman, with whom he went to the Ateneo.)
In their Youtube videos, the inmates usually wear their uniforms with the exception of a few costumes needed for the dance. In this case, they were all wearing black shirts.
Those are Michael Jackson shirts. The orange pants are really a part of their uniform. We asked permission if we could make them use the Michael Jackson "This Is It" T-shirt. We had them made here and gave them [to the inmates] as gifts.
Were the inmates paid a fee for appearing in this video?
No. This was voluntary on their part. They were willing to do it. It was very emotional even for them–even they were crying.
ADVERTISEMENT - CONTINUE READING BELOW
Speaking of crying, the  Inquirer said you cried when the inmates performed "We Are The World" in a surprise set. What moved you to tears?
Everyone was crying. The way the prisoners were performing, they were like professionals. It was very heartwarming. They really welcomed us. They were really happy. They were rehearsing from 9 p.m. to 4 a.m. When they resumed at 7 a.m. on the same day, they were still happy as can be. That touched us.
We were a bit surprised to see Will Devaughn in the video. How did he get involved in the production?
We invited him to come over so that we would have a local celebrity in the show. He was the only one we invited because he's managed by one of my partners, Dondon Monteverde.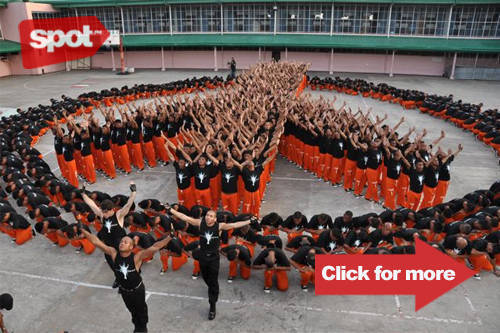 Behind the scenes at the Cebu inmates' international video shoot
They say that every dance has a story, so is there a story behind this particular performance?
ADVERTISEMENT - CONTINUE READING BELOW
"The Drill" is the introduction to "They Don't Care About Us." Michael Jackson wrote that song when he visited a prison in Brazil. He wrote it in honor of the inmates and the downtrodden. Then they just added "The Drill" for the "This Is It" concert.
Does Travis Payne have any future plans involving the inmates?
We're talking about many, many projects because Travis Payne fell in love with the whole idea. As a matter of fact, it was such a very emotional experience for all of them that they wanted to do other projects that might involve the inmates [some time] this year… What exactly? we still don't know. It's still on the drawing board.
Michael Jackson's "This Is It" is now available on DVD and Blu-ray. Unlike its theatrical release, fans will get to watch new additional footage and some interesting revelations about the King of Pop.
Watch the video here.
Photos courtesy of Ernest Escaler.
Share this story with your friends!
---
Help us make Spot.ph better!
Take the short survey
Load More Stories