Tweets of the Week: Angel Locsin, Chito Miranda + more
Parokya's Chito Miranda clarifies that he and Angel Locsin are just friends, Divine Lee says Marlene Aguilar "seems like she's on something," and Angelica Panganiban quits Twitter.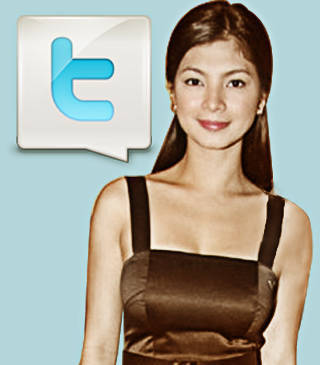 Angel Locsin
Chito Miranda, lead singer of Parokya ni Edgar, on Angel Locsin: For the record, Gel & I are just good friends! We're buddies who enjoy hanging out with each other! So please stop bothering her about that!
Bubbles Paraiso, actress and model, and Divine Lee, real estate heiress and socialite, on Marlene Aguilar, mother of road rage killing suspect Jason Ivler:
Lee: I know na sinong umubos nang pink nouveau sa MAC. Nanay ni jason ivler.
Paraiso: WAHAHAHAHAHA!!! i dont understand why shes on tv.
Lee: @bubblesparaiso wild noh? but seems like she's on something! baka suminghot nang katol!
Paraiso: @DivinemLee super!! baka niyosi ang katol and suminghot ng moth balls!
Lee: @bubblesparaiso dude, ang taas talaga nya! turukan nga natin nang KAPE!
Yan Yuzon, musician:
- di raw maka-decide the killers kung si ivler o si ampatuan ang papalit kay brandon flowers.
- sige, tumawa kayo sa mga tweet ko ha, pag ako kinasuhan ng libel damay kayo lahat hahahaha
ADVERTISEMENT - CONTINUE READING BELOW
Angel Locsin, actress: Would love to see @chitomirandajr [Chito Miranda] & jay of kamikaze in a full-contact friendly fight! (suntok & sipa+kagat) right @bubblesparaiso [Bubbles Paraiso]? :)
Maxene Magalona, actress: Sad dat Angelica Panganiban deleted her Twitter. I totally understand her tho. Some ppl here are really just too rude. A lil respect, pls??
Tweet exchange between blogger Divasoria and ANC Alerts. Divasoria is Grace Velasco, a "full-time banker, part-time dreamer," who writes a column for The Philippine Star:
ANC: Marlene Aguilar:My ex-lover, who used to be wanted in England, is now in jail. After that,I had an ex-lover that was a Colombian Arms dealer
Divasoria: @ANCALERTS what is this? Pep.ph?!?!? We will follow the pep Twitter account if we wanted this kind of crap!
ANC: @divasoria Thanks for your feedback. Just live tweeting the newscast. Keep following :)
Divasoria: You better shape up, yo!
ANC: @divasoria Pls wait for the new tweets, they may not appear in your feed immediately. There are COMELEC, AFP , Maguindanao massacre etc.news
Divasoria: @ANCALERTS don't worry, I've seen the other tweets. Your other tweets tho are infuriating since you're a "trusted" news source.
ANC: @divasoria Why is it "infuriating"? We'd really like to know. Those were her own words. We did not add anything to it.
Divasoria: @ANCALERTS because you consider those things news. You're contributing to the cheapening of the pinoy psyche.
Divasoria: @ANCALERTS you are in a position to make young pinoys be well informed. And what do you do? You flood them with shit like Marlene aguilar!
ANC: @divasoria Thanks for your thoughts. We really appreciate it. :)
Divasoria: Wow, based on your messages, many of you enjoyed my take down of @ANCalerts. Ã?"
CONTINUE READING BELOW
Recommended Videos
ADVERTISEMENT - CONTINUE READING BELOW
Katy Perry, singer: Baby your pocket tweeting. RT @rustyrockets: Wq
Russell Brand, actor, writer and fiancé of Katy Perry: I just accidentally stuttered out a spurious tweet. Like leaky nonsensical pre-cum. I'm soOOoo sorry. X
Artwork by Warren Espejo. Photo by Noel Orsal of PEP.ph.
Share this story with your friends!
---
Help us make Spot.ph better!
Take the short survey
Load More Stories