10 Tips to Protect Yourself on Facebook
Is your Facebook profile as safe as you think? Here's a quick guide to help you make sure that what's private stays that way.
So, maybe you're one of its earlier adopters or you've just recently dumped MySpace and Friendster for the tiny gray text of the Facebook News Feed. Whatever the case may be, you're now part of its 350 million active users worldwide. You're out there–and so is everything else about you. Or, at least, everything you choose to share about yourself.
While the company does make an effort to secure its users' information, privacy concerns aren't entirely unfounded. A frequent user would be able to tell you how to get the juiciest tidbits from anyone's profile, and not because of the website's lack of privacy settings, but because users readily provide this info.
Remember: Facebook's default settings make your Wall available to EVERYONE. Now a pesky admirer from high school who can't view your profile can actually see that you've just become a fan of Twix candy bars and believes in his heart that it's because he gave you one for Valentine's Day when you were 14.
SPOT.ph lists down some tips for securing your information on Facebook (click on the links while logged in for easy access):
1. Do some housekeeping. Ask yourself if you really, truly, have 825 friends. Think about how many people you really want to have your information and be privy to your every thought and activity. If you haven't talked since kindergarten and probably won't be reminiscing about the old days anytime soon, take them off your friends list and block them. The other person won't get an announcement that he or she has been blocked or "defriended," but simply won't be able to see you on their list. Facebook has more information on blocking friends here, or click "Settings" on the blue Facebook toolbar and go to Profile > Privacy (Manage) > Block List.
ADVERTISEMENT - CONTINUE READING BELOW
CONTINUE READING BELOW
Recommended Videos
2. Create Friend Lists. Yes, there are those who aren't really friends, but can't be taken off your friends list. You can create a list called "Not Really Friends" and have separate settings for them. For example, you can make it so that your "Not Really Friends" group doesn't have access to your photos, your birth date, your contact information or your status updates. Now your "Not Really Friends" can still view your profile and Wall, but not necessarily everything on it.
To do this, click on "Friends," then on the left-hand column, click "All Connections" to see all your friends. Click "Create New List" and name it "Not Really Friends." Now each friend's name has a drop down menu next to it that says "Add to list" and you can add them to any list you create. Make lists such as "Family," "BFFs" or "Work" and specify security settings accordingly.
ADVERTISEMENT - CONTINUE READING BELOW
3. Specify settings for each photo album. (Even if it's just to make sure that your boss won't see photos of you cavorting on the beach when you told him you were sick.)
In Settings > Privacy (Manage) > Profile Information > Photo Albums (Settings), you can change privacy settings for each photo album. First, in "Who Can See This?" make sure that none of your albums are visible to "Everyone" because this means any Facebook user can view them. For friend-specific settings, click "Customize" from the drop-down menu where you can enter names and friend lists in "Except These People." This way you can share your drunken spree photos (never a good idea) with your "BFFs" friends list, but not with your "Work" list.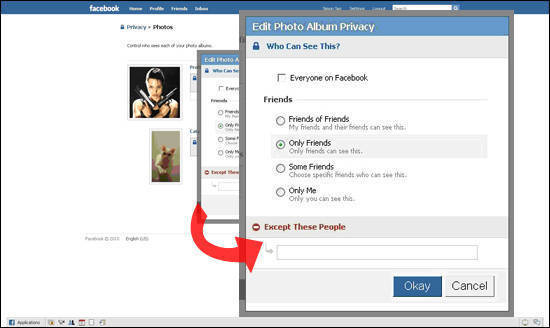 4. Disable posting to your wall. Sure, it's cool for a friend to be able to put a public birthday greeting on your Wall, until the same friend writes a well-meaning note on it about your unemployment, or a link to an article on combating depression. One of the biggest mistakes FB users make is to treat the Wall as a private message board when it's in full public view. If you want a surefire barrier against posts you have no control over, disable the function by clicking on Settings > Privacy (Manage) > Profile Information, and uncheck the box next to "Allow friends to post on my Wall."
ADVERTISEMENT - CONTINUE READING BELOW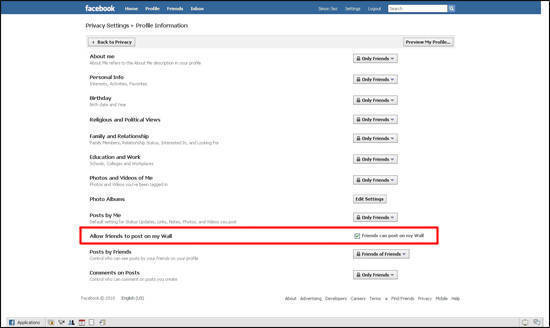 5. Protect your "tags." It can be as minor as a photo of you on a bad hair/skin/outfit/mood day, or as major as a candid shot capturing you in all your drunken glory–either way, it's always a good idea to adjust settings for tagged photos of you. Go to Settings > Privacy (Manage) > Profile Information > Photos and Videos of Me, and choose from the drop-down menu. At the minimum, make sure it's not set to "Everyone" but just "Friends," or customize it according to the lists you've created in tip #2
6. Make yourself invisible.
Tired of getting friend invites from strangers? Change your "searchability" in Settings > Privacy Settings > Search. As an added security measure, uncheck the "Allow" box in Public Search Results.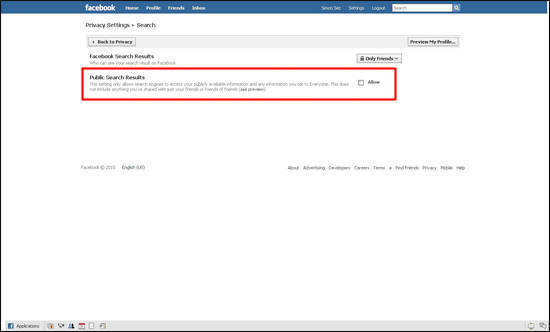 ADVERTISEMENT - CONTINUE READING BELOW
7. Manage your applications privacy
Just because you've reached the highest level in Mafia Wars doesn't mean you want updates on your minute-by-minute action on your Wall. (Plus, you can keep pretending that you're working on that presentation 24/7 and not taking a Mafia War break every 45 minutes…)
Prevent applications from posting to your wall in Settings > Application Settings.
8. Don't let Facebook use your information in advertisements.
If you don't want all of your friends to know that you've become a fan of The Official Mariane Rivera Facebook Page, disable this feature in Settings > Facebook Ads.
9. Don't trust Facebook security. Read this article on how Facebook employees have one master password they can use to enter any account and use your information.
10. When it doubt, take it out. Security settings change frequently and without warning, so if there's anything in your profile and photos that could possibly be used against you in any way, it's probably in your best interest to remove it from Facebook. Especially if it's a photo of you getting a lap dance in 2006.
Share this story with your friends!
---
Help us make Spot.ph better!
Take the short survey
Load More Stories