On Rajo Laurel Cobweb "Copying" Issue: Arcy Gayatin, Lulu Tan Gan Speak Out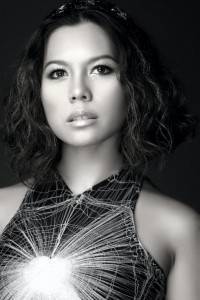 2003 Cobweb dress by Arcy Gayatin
As the Philippine fashion industry is abuzz with the controversy surrounding designer Rajo Laurel's cobweb dress that landed on the cover of Women's Wear Daily" and Cebu-based designer Arcy Gayatin's Facebook post of   "My 6-year-old cobweb collection," eliciting   speculations on plagiarism, the latter sent Spot.ph her side of the matter:
"First of all, let me point out that I was not even aware of Rajo's cobweb dress until my designer friends (both from Cebu and Manila) pointed it out to me. It was they who insinuated that the cobweb dress was a copy of a collection I presented back in May of 2003. To them, Rajo's cobweb dress called to mind my previous collection. It would have been one thing had I been the one making these claims, it's quite another to have a jury of your peers stand up for you and by you. The latter has to count for something. And I wouldn't label it crab mentality because those who have been empathizing with me have nothing to gain from this.
ADVERTISEMENT - CONTINUE READING BELOW
Secondly, please allow me to explain how my cobweb collection came to be. My inspiration was really quite literal–a photo of a cobweb from House and Garden magazine. I found the image beautiful and thought about translating it to clothing. I just used the shredding (I call it degraining) technique as an accent then. I started using it as a cobweb- like pattern on a black top. I then discovered that I could use the same technique on an entire garment, essentially using the degrained material as a fabric and not just an accent on a dress.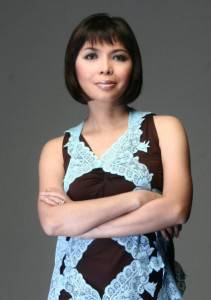 Arcy Gayatin
Mr. Laurel makes the claim that this is a technique that other designers have employed back in the '80s. I cannot dispute that claim, so I can only offer my personal experience. As you can gather from the story above, the concept behind my degrained pieces was very organic. I swear to God (this sounds dramatic but I cannot emphasize this enough) that, in my case, my source of inspiration was not other designers (however much I may look up to Yohji, et. al.) but an image that simply struck me. This speaks about my design process as a whole. As someone who just discovered the internet barely a month ago, I have never been an avid follower of trends and it is not my style to design based on other existing designs. I take inspiration from things other than fashion. It would be arrogant to think of myself as completely independent of influence and purely original, but what I do know and am certain of is that, as a designer, I'm very much an individual."
CONTINUE READING BELOW
Recommended Videos
ADVERTISEMENT - CONTINUE READING BELOW
Both Laurel and Gayatin are board members of the Fashion Design Council of the Philippines. Past FDCP president and veteran knitwear designer Lulu Tan Gan gave her two cents' worth on the issue:   "It is not the first time that a known, irked designer has accused another known designer of copying design ideas. The difference is that it is all over Facebook (I heard!). Success stories like that of Arcy Gayatin, who is recognized to be original through material manipulation, and Rajo Laurel, whose strength is in marketing and sales, never mind if it is clothes or cake fashion, and Rhett Eala, a conceptual designer who sets a major trend every decade and who must now be hurting as bigger brands have hijacked his Philippine islands logo–where do we go from here?
Just slug it out in Facebook and Stylebible? It is sad to say that we fashion designers have organized a legitimate council (the FDCP) but have never lead it to maturity to discuss and tackle issues related to the betterment of our sector. We have so far used our council as a marketing vehicle instead. Then, we become too busy to take time to share and participate further, thinking it is no longer worth our time.
The council is self-sufficient and by this time, should have tackled some textile issues, set and lead local fashion trends, developed and by now branded with manufacturers worth launching in the international fashion trade exhibits and at last be able to tackle intellectual property issues. The creative industry is a huge industry. If only we had a vision. Through a solid council, creative individuals or groups can easily address and resolve issues."
ADVERTISEMENT - CONTINUE READING BELOW
SPOT.ph wants to know: What do you think?
Share this story with your friends!
---
Help us make Spot.ph better!
Take the short survey
Load More Stories