SPOT exclusive interview: Wynn Wynn Ong purse and cuff land the cover of Women's Wear Daily
A day before Rajo Laurel's cobweb dress landed the cover of international fashion bible Women's Wear Daily (WWD), Manila-based jewelry designer Wynn Wynn Ong's pieces made it to the cover of WWD's February 8 issue, reports StyleBible.ph.
On the cover are two of her one-of-a-kind accessories: A jeweled bag named "Nauty Boy" and a bark-finished cuff named "Stella." "Nauty Boy [is] sculpted based on the actual anatomically accurate rendition of the animal that inhabits the nautilus shell. Its belly is fully lined with real pearls, its eyes are hand-cut Smoky Quartz, and its head is studded with Brazilian tourmalines," Ong told SPOT.ph.
ADVERTISEMENT - CONTINUE READING BELOW
Featured in the inner pages is "Identity Crisis," a ring "centered around a small natural shell. It is sculpted in vermeil with real pearls, Brazilian citrine, corals and tourmalines."
Both are from her Naga Collection, which is "named after the Buddhist mythological dragon or water serpent who protected Buddha during his meditation in the forest," the Buddhist Ong said.
Ong feels "very calm" about landing the cover of WWD. "I tend to see things as challenges and I don't compete with anyone but myself. I tend to see an achievement as another personal challenge that's accomplished. My family and friends are incredible. They're my biggest cheerleaders and have been more excited about it than I have."
CONTINUE READING BELOW
Recommended Videos
"I found out that I would be featured the very day I met the WWD team. They loved the collection, started to interview me there and then, and asked if I would be in New York long enough to be photographed. I had no idea that my jewelry would be on the cover just a week later."
Her designs always have names and, sometimes, have stories too. "'Nauty Boy' is a petulant pet who loathes the cold and hates being taken for walks by his mistress in Central Park. The only way she can keep him quiet is to feed him a belly full of pearls."
As for "Stella," the second cuff in her "All Bark, Some Bite" series just launched in New York, her story is: "Stella left the web in a huff. Harry had been at it again. It wasn't the first time but it was certainly going to be the last."
ADVERTISEMENT - CONTINUE READING BELOW
"Identity Crisis" has two tiny seahorses sculpted on each side. "The story is... Being one of a pair of identical twins was a prickly and delicate situation."
WWD named Ong as one of the accessories designers to watch, quite a long way from her days of giving handmade accessories to relatives as Christmas gifts.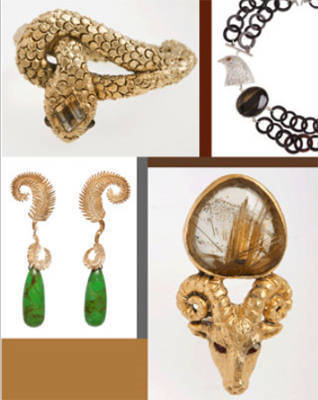 "Ages," Wynn Wynn Ong's 40-piece collection launched on November 23, 2009.
Born in Rangoon, Myanmar (Burma), Ong was raised in Vienna and later in Manila where "her mother joined the Asia Development Bank as a young widow," according to her website. Ever since a stylist friend noticed her flair for jewelry in 2001, Ong has made waves locally and internationally. Sold exclusively in Manila at Firma, AC+632 and Felicity, her designs have also been sold in Hong Kong, Morocco, San Francisco and New York.
In New York, she has had private clients since the year after she started. She had been invited to sell there but she limited her designs at the Asia Store on Park Avenue. "It has always been my stand not to mass produce, and I also did not want to enter things I couldn't follow through with."
ADVERTISEMENT - CONTINUE READING BELOW
"Then someone in the fashion industry from New York contacted me last year… I was very hesitant at first as I prefer to stay away from the business end of things. I would rather just stick to design, but he immediately put me at ease.   He understood my concerns, my philosophy and my approach.   He and his partner now represent me in New York."
Ong works with a wide range of materials: precious metals, leather, wood, horn, shell, resin, steel and driftwood, among others. "As a Burmese, I grew up with the traditional precious gems like rubies, diamonds, emeralds, pearls and sapphires so those don't excite me. I have always tended to use the lesser known gems like prehnite, kunzite, morganite, bi-color tourmalines, imperial topaz and colored diamonds like the cognac, brandy and whiskey colors."
She intends to make a limited number of designs every year. "I don't make identical designs. I personally prefer to own pieces that are one-offs or collector's items and I'm sure my friends and clients feel the same way too."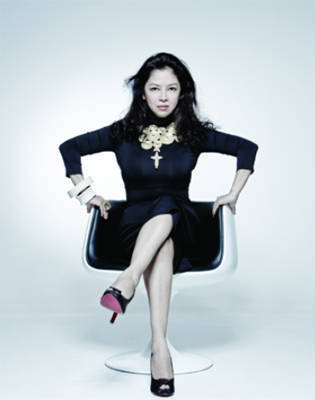 Wynn Wynn Ong
Ong is one of the latest in the string of Pinoy fashion coups abroad. "I think it's about time. I have always loved Filipino art, Filipino crafts and Filipino creativity. The Philippines has always been rich in talent and we don't have any linguistic or cultural barrier. People are very global in their approach here."
ADVERTISEMENT - CONTINUE READING BELOW
Ong is also the chairperson of non-profit volunteer organization Hands On Manila and a founding member of the Manila ladies branch of the International Wine and Food Society. She is married to an investment banker with whom she has two grown children. She is now "embracing grandparenthood."
Screencaps from WWD.com and nagajewelry.com.
Share this story with your friends!
---
Help us make Spot.ph better!
Take the short survey
Load More Stories