Mich Dulce wins International Young Creative Entrepreneur Award in London
Adding to the string of recent international Pinoy fashion coups is designer Mich Dulce who won the International Young Creative Entrepreneur Award for Fashion in London on February 21 for her millinery collection.
With her "unique creativity and international outlook," she bested finalists from Bangladesh, India, Libya, Lithuania, Russia, Sri Lanka, Syria and Turkey, according to the British Council. "Each of her hats is handmade, exquisitely molded and always with a whimsical touch that makes it distinctly her own, whether it's her geometric experimentation, her unusually sculpted fabric or her unconventional use of materials," said the British Council.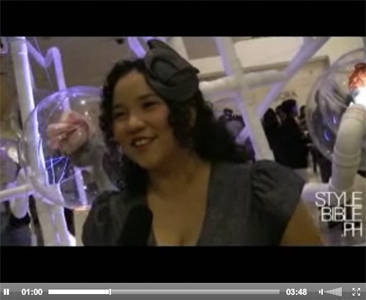 Click the photo to watch Mich Dulce's interview with StyleBible.ph.

In an interview with StyleBible.ph during her hat exhibit and send-off party on February 2, Dulce said, "In an attempt to promote millinery, I decided to go with a hat exhibit... I'd love to maybe collaborate with a British designer on developing new hats with fibers that come from the Philippines like sinamay. Every single one of these hats is made using local materials... They can actually pass for couture hats."

ADVERTISEMENT - CONTINUE READING BELOW

As the winner of the British Council award that champions creative entrepreneurs in the fashion industry, Dulce received a grant of GBP5,000 for a collaborative project with the British Council. She was announced the winner after a 10-day, all-expense-paid trip to the United Kingdom where she met leaders of the fashion industry and went to London Fashion Week's events, meetings and seminars.

Mich Dulce's exhibit video by Tom Estrera III on Vimeo.

Dulce Tweeted, "Can I just say–when they announced the winner was Michelle, I waited because I forgot it was my name. I waited 'til they said Philippines, hahaha." She also thanked those who sent their congratulations, "I have never felt so blessed in my life… Thanks guys!!! We Filipinos, we're effing awesome :)"

Mich Dulce's Luxe Wear Collection for the Philippine Fashion Week Spring-Summer 2008

Dulce has been "a permanent fixture in the fashion scene since 2001." She studied in renowned fashion schools like Central St. Martins, London School of Fashion, and the Fashion Institute of Technology in New York. She interned for Marjan Pejoski, Jessica Ogden and Susan Cianciolo. Dulce was also the MEGA Fashion Designer of the Year for Streetwear in 2007, a Paris Young Designer's Competition finalist in 2002, a MEGA Young Designer's Competition first runner-up winner in 2002, and MTV Revolutionary Designer nominee in 2004.

Previous Young Creative Entrepreneur (YCE) winners from the Philippines include Ani Almario of Adarna Publishing (2004 YCE winner for Publishing), Jay Aldeguer of Islands Group (2005 YCE winner for Design), Louie Talan of Wombworks Inc (2007 YCE winner for Music) and Benedict Carandang of Tuldok Animations (2008 YCE winner for Screen), according to the British Council.

ADVERTISEMENT - CONTINUE READING BELOW

Aside from being a designer, Dulce also sings with director Quark Henares in the band Us-2 Evil-0 whose first album, Dirty Debutantes, was released on November 28, 2009. Their first single, "This Mighty Heart Attack," is featured in the latest Greenwich commercial.

<> <>"This Mighty Hearty Attack" by Us-2 Evil-O <>

Load More Stories