US safari site promotes rare trophy hunting in Mindoro, PAWB says wildlife hunting is illegal
UPDATED (FEBRUARY 26, 11:41 p.m.)
The Protected Areas and Wildlife Bureau (PAWB) of the Department of Environment and Natural Resources (DENR) released a public advisory concerning Adventures411.com's Philippine safari. The document reads:
"Our attention has been called by an advertisement, "trophy hunting in the remote jungles of the Philippines", in the web site http://www.adventures411.com/philippine_trophy_hunts.html"
"We would like to categorically state that wildlife hunting in the Philippines is prohibited. The activity being promoted in the said web site is illegal!"
"We are therefore advising the general public, especially the foreign visitors/nationals not to engage in any transaction with http://www.adventures411.com/philippine_trophy_hunts.html involving wildlife hunting in the country."
"Any person who will be found hunting in any part of the Philippines will be dealt with the full force of republic act 9147 (wildlife resources conservation and protection act) and other relevant laws!"
The advisory was signed by Antonio c. Manila OIC, Assistant Director-In-Charge of the Office of the Director.
FIRST POSTED (FEBRUARY 26, 11:16 p.m.)
Adventures411.com, a website based in Montana in the US offers a 14-day trophy hunting tour in Mindoro, reports Dateline Philippines. This webpage dedicated to the Philippine safari shows photos of Caucasian hunters and their Filipino guides posing together with their slayed trophies. One prominent photo shows a hunter named Michael Valencia together with his 15 1/4" record-holding Philippine Bearded Warty Pig.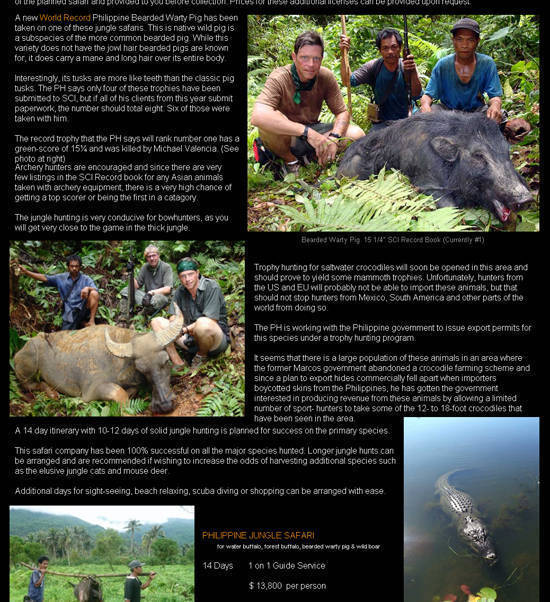 Screencap of Adventures411.com's Philippine Safari webpage
The site advertises the Philippine safari as the "only real opportunity to collect rare, native Asiatic species." For US $13,800, hunters are given the privilege to kill trophy animals including the Native Asian Water Buffalo, Asian Dwarf Forest Buffalo, Asian Wild Boar, Philippine Black Philippine Jungle Cat, Large Palm Civet and Small Palm Civet Cats, Bearded Warty Pig, Asian Sambar Deer, Mouse Deer, and the Saltwater Crocodile. Most of those animals are considered endagered species in the country.
ADVERTISEMENT - CONTINUE READING BELOW
The safari package allegedly includes island accommodation in beachfront cottages complete with air-conditioning, TV, and private amenities in individual rooms. The package is also inclusive of meals, guides, licenses, trophy fees, and exportation costs.
The site says, "With China still closed to trophy hunters, these Philippine jungle safaris offer the only real opportunity today to collect some of these unique Asian species. Nowhere else can a hunter collect the number of rare native Asiatic trophies on a single safari. A jungle hunter here usually can collect 5-6 trophy species on a 20 day extended safari."
"Fully booked for 2010, but now taking deposits for safaris in 2011 and 2012. Only Two openings currently remain available for 2011."
CONTINUE READING BELOW
Recommended Videos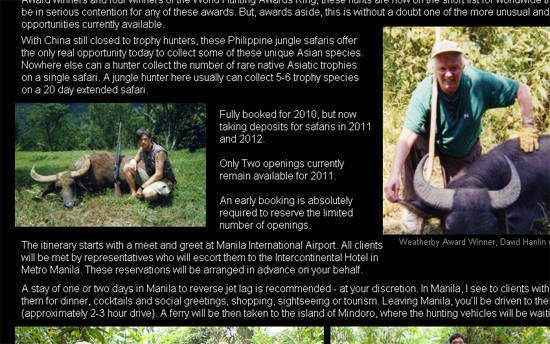 Screencap of Adventures411.com's Philippine Safari webpage
PETA (People for the Ethical Treatment of Animals) Asia Pacific issued a statement to SPOT.ph regarding the matter: "The Animal Welfare Act leaves the issue of hunting a bit vague stating that only a few animals can be killed in the Philippines–it does not address hunting specifically nor the species of animals advertised on the 411 Web site. However, a chapter from the Wildlife Resources Conservation and Protection Act (R.A. 9147) states that "collecting, hunting or possessing wildlife, their by-products and derivatives…" is unlawful."
ADVERTISEMENT - CONTINUE READING BELOW
"We oppose all hunting because of the suffering that it causes animals. The stress that hunted animals suffer–the inescapable noise, fear, and commotion–severely compromises their normal eating habits, making it hard for them to store the fat and energy that they need to survive... Hunting also disrupts migration and hibernation patterns and destroys families. For some animals who mate for life and live in close-knit family units, hunting can devastate entire communities."
Adventure411.com's webpage featuring the Philippine hunts has since been taken down from the site. According to PETA, this is a good sign. PETA told SPOT.ph that they will be doing more research on the issue and will post updates in due time.
Share this story with your friends!
---
Help us make Spot.ph better!
Take the short survey
Load More Stories