Two paintings by National Artist Benedicto "BenCab" Cabrera are missing after they were shipped via Fed Ex from the AndrewShire Gallery in Los Angeles to Singapore.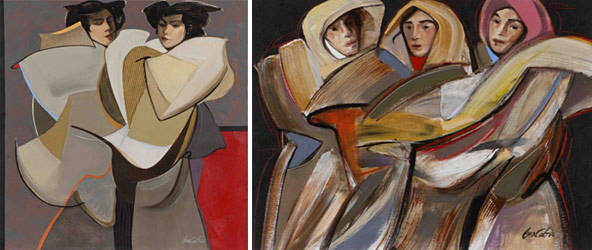 Missing paintings: "Twins" (left) and "Three Women" (right) by BenCab
Cabrera said in an interview with Mornings@ANC, as reported by ABS-CBN News, that the two acrylic on canvas paintings were part of an exhibition in AndrewShire Gallery in Los Angeles. All the paintings were sold and the two missing paintings were the last to be shipped.
In a letter forwarded by Cabrera, AndrewShire Gallery co-owner Susan Baik wrote, "FedEx picked up the paintings wrapped and sealed in a tube at the Los Angeles Gallery on February 26 and delivered an empty tube to me in Singapore on March 8, with the cover carefully sawn off but with my address and details clearly stamped on the tube."
ADVERTISEMENT - CONTINUE READING BELOW
"After two weeks of back and forth, [FedEx instructed the Gallery] to formally proceed with a claim against the company since they have failed to locate the two paintings."
Baik has already filed a police report in Singapore in the hopes of revealing "details that FedEx is withholding" from her, such as the reason for the sawn-off cover or the fact that the tube was empty did not raise a red flag in FedEx.
"As frustrated and angry as I am at the turn of events and despite the hours of anguished how's and why's I have subjected myself to, I have to now accept that the paintings have been stolen - not just misplaced," Baik said. "In all the years that we have shipped art across continents, we have never had something like this happen to us. FedEx has always been entirely reliable with their collection and delivery schedules, and the risk of blatant theft from a secured facility, honestly, never seriously crossed our minds."
"It's quite sad. It's not the money but the missing paintings. I am quite surprised that a very reputable delivery company lost the painting, that it was stolen," Cabrera told Mornings@ANC.
Baik has sent out formal notifications to and requested local and international auction houses to keep an eye out for the paintings. BenCab requests the public to inform them of any information regarding the paintings. Call Cabrera at (+63 74) 442-7165 or email bencabartfoundation@gmail.com.
Share this story with your friends!
---
Help us make Spot.ph better!
Take the short survey
Load More Stories