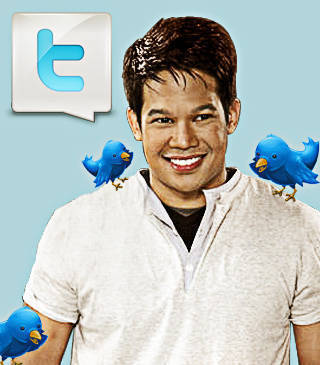 Mo Twister
Mo Twister, TV and radio host:
- I feel bad 4 @iloveruffag,it's a professional decision that she's entitled to.For some1 who ls promoting freedom,weird to get that treatment
- @MsLeaSalonga not sure if it's the line she said today or the weekly throttling that kris gives her that made her cry but she felt terrible-
- @MsLeaSalonga it had to do with her leaving the Buzz for another offer. And I know from ruffa, that kris has a pretty crummy attitude-
- @MsLeaSalonga so I guess today she couldn't take it anymore and decided say fuck it, I ain't having it. It was awesome.
Pia Guanio, TV host: for the record Showbiz central tried to get kris' side through John lapuz who's one of her bestfriends. she ignored us.
Mich Dulce, fashion designer:
- I'm so team @iloveruffag even if i have no idea what is going on. TEAM RUFFA!
- OMG people fighting me for saying im team Ruffa w/o knowing daw other side! Its called loyalty! @iloveruffag is my friend & a great person.
- Can I remind my friends about 'deado deado deado'?! I didn't see it but Kris is smart but i think tact is not one of her strong points.
ADVERTISEMENT - CONTINUE READING BELOW
Lea Salonga, singer-actress:
- I can't really objectively comment on Ruffa & Kris. None of us can. What happens on TV doesn't always reflect reality.
- @iloveruffag Hugs from New York, dear! Now enjoy the bebes! There is much to look forward to!
- @crisdieta Oh okay. No, I'm not taking sides, but I just don't like seeing someone cry. Hence my hugs to Ruffa.
Ces Drilon, news anchor: When 2 women fight, fireworks talaga yan, maybe they'll fight & then patch up later w/ photogs clicking away.
Pinky Amador, actress: personally, I would never take sides. Know and love them both and am sure it will work itself out
Tim Yap, TV host and eventologist:
- With @iloveruffag --friendship always wins. I've seen her get hurt& bounce back & forgive& never look back on past pains. She's stronger --
--than what everybody thinks.But she's human, too.So,let's give everyone the chance to be human.I pray for everybody's happiness in the end
- Although I'm sure this is front page fodder for a lot of publications--just look at the dailies later. Plus with politics in the pic--chaos.
- Expect Team RUFFA vs Team KRIS issue to dislodge presidentiables& politics as talk of the town--for a few days. Shirts, anyone?
Candy Pangilinan, comedian:
- nag walk oit si ruffa dahil kay kris. wag na natin palakihin. magakaibigan yan.magbabati din yan. mas plenty ang dapat problemahin.let it be
- i really hope na maayos ito. i like them both. they both have entertained us. yun na yun. wag emotional friends. lumindol sa Haiti.remember?
ADVERTISEMENT - CONTINUE READING BELOW
Recommended Videos
Chokoleit, comedian: I think Ms.Kris didint mean harm its just that its out dat Ms ruffa is officially leaving after a week thus she is sentimental these days.=(
Chito Miranda, vocalist of Parokya ni Edgar: RT @AdolphMark @chitomirandajr chito ano masasabi mo sa away ruffa-kris? Ruffa-kris... Wala akong paki
Artwork by Warren Espejo, photo by Noel Orsal of PEP.ph.
Share this story with your friends!
---
Help us make Spot.ph better!
Take the short survey
Load More Stories