10 Most High Profile Couples in Philippine Politics
We list 10 of the most popular–and notorious–past and present political couples in the country.
In Philippine politics, where equal measures of smarts and glitz are needed to grab the public's attention, a politician's mate is just as important as the politician. At times, the mate eventually becomes a politician, too (if he or she isn't one already). SPOT.ph lists, in no particular order, 10 of the most visible past and present political couples in the country.

For the latest Philippine news stories and videos, visit GMANews.TV
1. RALPH RECTO AND VILMA SANTOS
Power positions: Ralph was elected to the Senate in 2001 and served until 2007. He lost his senatorial reelection bid in 2007 but is now running for senator again. Vilma is seeking reelection as Batangas governor.
Union dynamics: Ralph hails from a clan of politicians (Claro M. Recto is his grandfather) and Vilma has become quite a popular public official in Batangas. Ralph, on the other hand, seems to have learned a thing or two from Vilma when it comes to wooing crowds.
Alliance insights: The Ralph-Vilma tandem seems like a well-oiled machine. (And has anyone realized yet that Vilma was a "cougar" before the word became popular? She's 10 years older than Ralph.)
Imaginary Vilma to Ralph dialogue: "I love you, Ralphy! Here's a glass of Bear Brand."
2. JOSE "JOE" DE VENECIA, JR. AND GINA DE VENECIA
Power positions: Joe is on his last term in Congress as the representative of the fourth district of Pangasinan. Gina, who used to head the Congressional Spouses Foundation, Inc., is now running for Congress to, ideally, take over the seat that Joe will vacate.
ADVERTISEMENT - CONTINUE READING BELOW
Union dynamics: He's got uncanny political savvy. She enhances their partnership because she comes from a clan that's respected in the movie industry–the Vera-Perezes who launched many stars via Sampaguita Pictures.
Alliance insights: He's intimidating but her motherly vibe neutralizes all that nervous energy. They're each others rock through their travails, one of which supposedly caused Joe to lose his seat of power in Congress.
Imaginary Joe to Gina dialogue: "I'm all ears for you."
3. MANUEL "MAR" ROXAS II AND KORINA SANCHEZ
Power positions: He's a senator who wants to be the next vice president of the country. She's one of the top TV personalities of ABS-CBN.
Union dynamics: He's got the buena familia pedigree and political connections. She has media presence and devoted fans.
Alliance insights: They both have masa appeal without actually claiming to be masa. They both defied the norm by staying single well past legal age, tying the knot when she was in her 40s and he in his 50s. Though many questioned the timing of their wedding, the two of them seem to be having their cake and eating it, too.
Imaginary Korina to Mar dialogue: "There's no way I'm riding that pedicab!"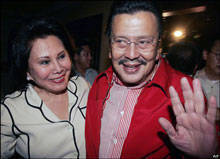 4. JOSEPH "ERAP" ESTRADA AND LOI EJERCITO
Power positions: He's an ousted president of the Philippines who wants to be back in Malacanang Palace. She's a senator. Union dynamics: He's a former action star who has the pedigree and the political connections. As a doctor, she has credentials that can be taken seriously.
ADVERTISEMENT - CONTINUE READING BELOW
Alliance insights: Theirs is a partnership that defies blatant controversies and logic. They both have distinct hairdos.
Imaginary Erap to Loi dialogue: "Jinggoy actually looks vaguely cute now that he's lost a bit of weight, doesn't he? But not as cute as I was in my prime, right?"
5. NINOY AQUINO AND CORAZON "CORY" COJUANGCO AQUINO
Power positions: He was a senator. She became president of the Philippines. Both were extremely popular public figures who captured the nation and the world's attention.
Union dynamics: Both came from well-connected political clans. He had the ambition, drive, and will to serve the public. He had charisma. However, it was she with her quiet charm and unassuming ways who eventually had to step up to the presidential plate.
Alliance insights: They were yin and yang–for better or worse. His death forced her to attempt to follow through on his impossible dream for the country.
Imaginary Ninoy to Cory dialogue: "Do you think I'm 'mukhang pera?"
6. NOYNOY AQUINO AND SHALANI SOLEDAD
Power positions: He's a senator who wants to be the next RP president. She's a Valenzuela City councilor.
Union dynamics: Noynoy bears the burden of being compared to his charismatic father and internationally-recognized mother. He is perceived as a straight-laced (others even call him "boring" or "robotic") public official. This does not seem to bother Shalani, who is said to look up to him.
ADVERTISEMENT - CONTINUE READING BELOW
Alliance insights: Comely Shalani, who exudes the sweet-tempered vibe favored by the public, humanizes Noynoy. He, on other hand, can teach her a lot about how Philippine politics operates. He is, after all 20 years her senior.
Imaginary Noynoy to Shalani dialogue: "I'm just a politician standing in front of another politician, asking her to love me."
7. SHARON CUNETA AND FRANCIS "KIKO" PANGILINAN
Power positions: Kiko is a senator. Sharon is the country's "Megastar" now and forever.
Union dynamics: Though Sharon was the one born with the "perfect" combination of political (Pablo Cuneta, her father, was mayor of Pasay for 50 years) and showbiz (she is the niece of actress Helen Gamboa) connections that would have made her a sure winner if she decided to be a politician, it's Kiko who has the drive to seek public office.
Alliance insights: He has credentials–but it can't hurt to have a big movie star as his wife. Kiko's political clout likewise adds to Sharon's fame. (But it's not as if she needs more of it.)
Imaginary Kiko to Sharon dialogue: "You? A bituing walang ningning (star that has lost its shine)? Never. You're more like my not-so-secret weapon."
8. FERDINAND MARCOS AND IMELDA ROMUALDEZ MARCOS
Power positions: He was the president of the Philippines and she was the First Lady who also served as governor of Manila from 1976 until 1986, when they were ousted by the first EDSA People Power.
ADVERTISEMENT - CONTINUE READING BELOW
Union dynamics: He had the brains and the guts, she had the beauty and the pedigree. But it is she who has inspired an adjective: Imeldific. He took care of hardcore political stuff while she put up a lot of grand buildings like the supposedly haunted Manila Film Center.
Alliance insights: Their union was the focus of a book by Primitivo Mijares titled The Conjugal Dictatorship of Ferdinand and Imelda Marcos. (Shortly after the book's publication in 1972, Mijares went missing along with many others.)
Imaginary Ferdinand to Imelda dialogue: "Why did you have to have that many shoes again?"
9. GIBO TEODORO AND NIKKI PRIETO-TEODORO
Power positions: He's the Secretary of National Defense who wants to be the country's next commander-in-chief. She's a congresswoman representing the first district of Tarlac.
Union dynamics: They're equals in terms of pedigree and credentials–he just has a slighter edge because he's connected to one of the country's most visible political clans (the Cojuangcos).
Alliance insights: They're the alpha couple: He's a bar topnotcher and a pilot while she personifies the glamor-and-brains combo.
Imaginary Nikki to Gibo dialogue: "Whatever you do, don't rap in your campaign video like your cousin did in his."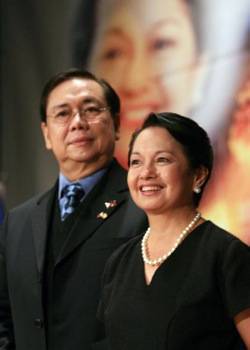 10. GLORIA MACAPAGAL-ARROYO AND MIKE ARROYO
Power positions: Gloria's the president of the Philippines who wants to become a congresswoman later on. Mike is the First Gentleman.
Union dynamics: Though they grapple with height disparity, these two are well-matched in terms of credentials, connections, and tenacity.
ADVERTISEMENT - CONTINUE READING BELOW
Alliance insights: On first sight, they'd never strike you as savvy power brokers. Oh, but they are. (And don't we all know it.)
Imaginary Gloria to Mike dialogue: "It's you and me against the world, my darling."
Art by Warren Espejo.
Image credits: Gina de Venecia's Multiply Site (Joe and Gina de Venecia), Philippine Information Agency (Gloria and Mike Arroyo), and Chrispforr.Net (Joseph Estrada and Loi Ejercito).
Load More Stories