The making of History Channel's Ninoy Assassination docu
SPOT.ph EXCLUSIVE! Inside insights from the makers of what's touted to be the most professionally produced docu on Ninoy's murder.
Trailer of History Channel's "The Assassination of Benigno Aquino Jr.,"
On Sunday, May 2, History makes Philippine history as the international network History Channel airs "The Assassination of Benigno Aquino Jr.," the newest documentary on the still-unsolved 27-year-old murder that prompted Filipinos to take to the streets to oust a dictator in the People Power Revolution of 1986.
"The story has not been covered by an international network before, and so our Filipino audience, while familiar with the story, will not have seen a production like this," Louis Boswell, A&E Television Network (the company behind History, Lifetime and The Biography Channels) All Asia Network general manager told Malaya. The one-hour documentary boasts of new material and findings from extensive research, comprehensive interviews with even more sources, and enlightening new insights on Ninoy Aquino's assassination.
"Usually, when you see a documentary on Ninoy Aquino, it's a tribute," says director Jeannette Ifurung. "What I wanted to do here was a whodunnit. I want people who watch it to wonder if what they believed for almost three decades could possibly be wrong." Producer Kara Magsanoc Alikpala says, "I guess what's new is the manner the story will be retold." "The Assassination" was created with an international audience in mind as it will also be shown in Brunei, Cambodia, Fiji, Hong Kong, Indonesia, Laos, Macau, Malaysia, Myanmar, Papua New Guinea, Singapore, Taiwan, Thailand, and Vietnam.
ADVERTISEMENT - CONTINUE READING BELOW
In this exclusive interview with SPOT.ph, �Alikpala and Ifurung of Asianeye Productions (the outfit behind the award-winning documentary Batas Militar) reveal the story behind their retelling of the story and relive the challenges and experiences behind this historical broadcasting moment.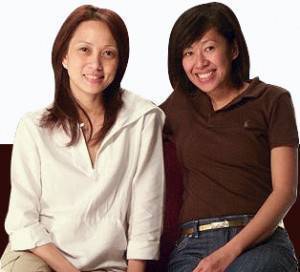 Producer Kara Magsanoc-Alikpala and director Jeannette Ifurung
CONTINUE READING BELOW
Recommended Videos
ADVERTISEMENT - CONTINUE READING BELOW
SPOT.ph: How did this documentary originate? Whose idea was it?

Kara: The topic was not our idea but History Channel's. They came to Manila for a day to interview some production houses and to invite them to make a pitch on the Assassination. We weren't invited. We didn't know about it. One of those interviewed said, "I know someone perfect for this" and she referred me and our company, AsianEye Productions. AETN All Asia Network general manager Louis Boswell invited me to pitch. I didn't expect much since we were a last-minute inclusion. We met our core team plus our favorite freelancers to craft our pitch. We worked hard on it, as if we were already producing a documentary.
Then, one fine day, I opened my email as usual, not expecting any important messages, and lo and behold, I received a letter from the producer saying we won the pitch! I couldn't believe my eyes. I had to re-read the message. I was ecstatic, and jumped for joy. I immediately called my partners to share the good news.

SPOT.ph: Almost three decades after the assassination, what parts of the story have not been told or have not been told correctly? What new insights can viewers expect?
ADVERTISEMENT - CONTINUE READING BELOW
Kara: For news die-hards, hardcore journalists, and those who lived through the times, they might not think anything is new. We had to cater to an international audience so the info we delivered had to be very basic. While we dug deep, we couldn't present everything that we found out.
At the same time, I no longer want to assume I know what the audience knows. When Jeannette and I sat in an audio sweetening session, our news-savvy sound mixing engineer was watching it telling us there were so many things he learned for the first time. I guess what's new is the manner the story will be retold. We tapped the best creative forces in the advertising, movie, TV and print worlds to recreate the temper of the time. The re-enactments directed by Mike Alcazaren are really gripping.
Jeannette: We wanted to do it because it was a chance to reach an international audience and to tell the story to another generation.
ADVERTISEMENT - CONTINUE READING BELOW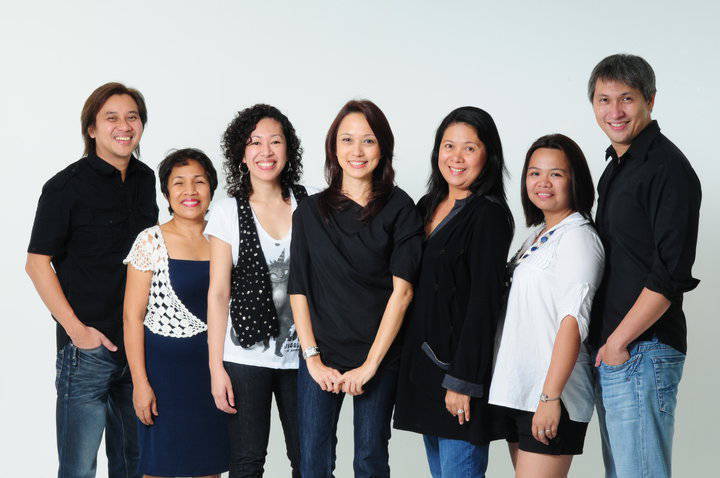 The Asian Eye crew: (L-R): Mike Alcazaren (director for re-enactments), Fe Zamora (historical consultant), Jeannette Ifurung (director), Kara Alikpala (producer), Lee Meilly (cinematographer for re-enactments), Mary Rose Manansala (researcher), Heintje Fernandez (editor)
SPOT.ph: � How did you assemble your team? Who is the team composed of?
ADVERTISEMENT - CONTINUE READING BELOW
Kara: It was a no-brainer. We always work with our suki, the same team behind our most memorable documentaries like Batas Militar and Alay ni Da King ( a documentary on Fernando Poe Jr.). Like I said earlier, we usually tap the best minds from the advertising, movie, TV and print industries so our approach is whole-creative and editorial-wise. The team's commitment to excellence is total. They are passionate about documentaries, and are kind-hearted people. Our set and editing sessions are calm. No flaring tempers even in the worst of crises. No divas. No hierarchy.
SPOT.ph: What was the time frame for the whole thing?
Kara: A record two-and-a-half months. For the History Channel this was their shortest timetable ever for a documentary. The same went for us.
SPOT.ph: � Did you time the airing for the elections? What is your reaction to any possible speculations that it could be a pro-Noynoy campaign tactic?
ADVERTISEMENT - CONTINUE READING BELOW
Kara: We had nothing to do with the broadcast date. It was History Channel's call. Yes, we know some people will speculate it's a pro-Noynoy campaign strategy. But that's beyond our control. What we controlled was this: we made sure we didn't interview Sen. Noynoy Aquino lest we fuel more speculation. And for History Channel loyal followers, they know the channel's solid reputation. The station strives to be balanced and non- controversial.
Jeannette: Although definitely not politically motivated, History Channel did time the air date so it came really close to the elections. That way, there's built-in interest in the topic precisely because of Noynoy's candidacy.
SPOT.ph: What was it like interviewing Imelda? Were you surprised she agreed to do it?
Kara: I did the interview but I'll let Jeannette answer...(laughs)
Jeannette: Imelda was Imelda. Unflappable. Dropping quotable quote after quotable quote. Unfortunately, there were a lot of things we couldn't include. Stuff a Filipino viewer would get immediately, but which the History Channel guy supervising us just didn't understand. Anecdotes? She kept us two hours more after we finished the interview lecturing us about how is she working to develop this fantastic fuel source found only at the bottom of the Phlippine Trench. Then she showed us pictures and videos of her glory days. I was not at all surprised that Imelda agreed to the interview. She is running for office after all. During the interview she kept saying she's been fighting for the truth and that a grave injustice was done to the Marcoses.
ADVERTISEMENT - CONTINUE READING BELOW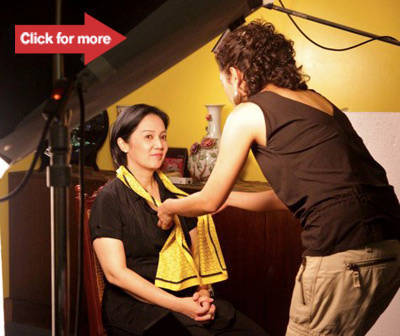 Director Jeannette Ifurung and interviewee Ballsy Aquino-Cruz
SPOT.ph: How about the other interviewees? What were they like?
Kara: Ballsy Aquino-Cruz is very mild-mannered but firm and gutsy. She is a clear thinker able to see things as they should. She can immediately take away the clutter that can surround any issue. Many say she's like her mother. I say she's so much like her mom but also she's become her own person. Or perhaps we're just learning more about her, now that she's not in the background as much as before. She had this calming effect on the set. Everyone felt light, it was as if Ballsy had been their long time "Ate" or friend.
ADVERTISEMENT - CONTINUE READING BELOW
David Briscoe, former Associated Press Manila Bureau Chief was enlightening. He was our eyes and ears of the time. In some sense, he was an outsider looking in so his perspective was less colored and very grounded. So many things he said I wish we could've used but due to time constraints we couldn't use everything. The same goes for Winnie Monsod. I wish we could've used more of her sound bites. Our British History Channel Producer based in Singapore found her so engaging. Her mind is razor-sharp and she speaks as if every sentence ended in an exclamation point.
I also found Rolando Salas alias Kumander Bilog, former head of the Communist Party to be very intelligent and down to earth. This is embarassing to admit but before I met him, I thought he would be high-minded and talk in platitudes. I enjoyed learning about the Martial Law years from his perspective. He also told us many revealing things off the record!
ADVERTISEMENT - CONTINUE READING BELOW
Every interviewee in the documentary was carefully chosen. Each of them was credible and each of their perspectives represented a different voice or thinking. None of them were afraid to speak their minds. All of them gave their own opinions and were able to justify their thoughts on who they suspected the mastermind to be. Again, due to lack of time, we couldn't include all the interviewees.
Jeannette: Winnie Monsod has always been a favorite interviewee of mine. Even way back when I worked with The Probe Team, she was always our first choice when we needed an economist. She's smart, funny, speaks in sound bites-the perfect interview. Raquel Fortun was an interesting interview too because she provided a scientific viewpoint. It kind of made us feel like we were in CSI.
Forensics expert Raquel Fortun sheds scientific light
ADVERTISEMENT - CONTINUE READING BELOW
SPOT.ph: What were the most challenging aspects of production? The easiest? The most unforgettable?
Kara: Logistically speaking, this was the toughest documentary we've ever had to make. The timetable was so short. We had to hit the ground speeding. No time for a learning curve. Thankfully, we had Fe Zamora, senior reporter of the Philippine Daily Inquirer, on our team, the one journalist whose done the most research and stories on the topic. In fact, she's working on a book.
Release forms for interviewees, location, print and video materials were a challenge. This is S.O.P for most international production teams doing documentaries but not in this country. Many of those we asked to sign were intimidated or turned off by the legal document. We lost some valuable interviewees who were willing to talk but not willing to sign.
I also found out that there are still a lot of people afraid to talk. Maybe the mastermind is invincible and still out there. Or maybe the mastermind is powerful even after death.
ADVERTISEMENT - CONTINUE READING BELOW
The easiest part? I loved the people I worked with. Besides our old reliables. I discovered many more generous souls willing to lend their talent and resources. I am so so grateful to them like Underground Logic, Zap! Visual Effects, Industria Productions, Brew Productions and Clayshop and many more. Truly am overflowing with gratitude. That's one of the first things we bargained hard for-a long credits list or what we call CBB, closing billboard. Normally the CBB only runs for 30 seconds, we got more.
Most of them said they wanted to help us succeed because it's the first time the History Channel is doing a documentary with a Philippine production team. They wanted the Philippines to look good; they wanted to be part of what they consider to be a worthy endeavor. Telling the story of one of the most important chapters in our history.
Jeannette: This was probably the most difficult project I've ever worked on: a really tight timetable, vital interviewees backing out, release forms, different working styles. Also, intellectual property rights mean very little in this country. So it was something of a shock for us to have to clear every single frame in the documentary. Every single shot had to have a signed release form saying that we have permission from the owner to use it. Then, there's the difference in working styles. I don't want to get too technical about it but essentially, the first thing we do, is the last thing they do. So that workflow just didn't make any sense to the post-production team-it also meant that their workload tripled or quadrupled.
ADVERTISEMENT - CONTINUE READING BELOW
Also, we're not used to talking to an international audience. So things we wouldn't have to explain to a local audience, we had to explain a little-like People Power, for example. It was also difficult to go through a mountain of documents (the Agrava proceedings, court records, hundreds of photos, books written on the subject, etc) in the very short time we had, and then decide what we should include. In the end, I'm sure who lived through the assassination will think we left out quite a lot of important stuff.
Easiest thing about it was working with the same people I've worked with for maybe 10 years now. It's great when I can tell my editors, "we need a longer pause there-mga tatlong hinga," and they give me the exact length of pause that I need.
Director Mike Alcazaren explains the bullet's trajectory
ADVERTISEMENT - CONTINUE READING BELOW
SPOT.ph: What do you hope to achieve with this documentary? How do you want it to affect and change its viewers?
Kara: It would be great to say that we hope to pinpoint with such certainty the mastermind and triggerman of the assassination. Imagine, the JFK assassination was caught on film and photos and yet, no one [still] knows for sure who the mastermind and triggerman are. Aquino's assassination was not photographed nor captured on film or video. So this makes it more mind-boggling.
But let me say, with any documentary we make, we want people to be informed. We want people to figure out how the information and insight from the documentary can make them better persons, build solid families and a country they can call home sweet home. This is achieved by learning from the mistakes of others, and emulating those people who have inspired others to do good. It's that simple and corny. In this case, I think people should never forget this dark chapter in our history because they should do everything in their sphere of influence to make sure it doesn't happen again.
ADVERTISEMENT - CONTINUE READING BELOW
While we were researching and editing the documentary, we saw Ninoy Aquino's dead body in many angles, in different settings, varying lighting conditions. Many photos we saw like those taken during the autopsy were unusable for TV. Seeing it made me sick to the stomach thinking there was one selfish person out there who wanted another man dead in such a grisly fashion. How do you create or raise a person with such a mind? How did such a person find other collaborators to execute such a horrific plan?
Sadly, today we continue to see many unresolved killings and orphaned families. I hope we don't lose our sense of outrage, and the willingness to right what is wrong. With this documentary, I want people to know and to remember.
Jeannette: I don't speak for the team here because we all have our own opinions and motivations. But personally, I want people to look at the physical evidence and think that maybe it wasn't such an open and shut case after all. Usually, when you see a documentary on Ninoy Aquino, it's a tribute. What I wanted to do here was a whodunnit. I want people who watch it to wonder if what they believed for almost three decades could possibly be wrong.
ADVERTISEMENT - CONTINUE READING BELOW

SPOT.ph: Do you think the world has forgotten about it? How about the Filipino people?
Kara: I think in some ways the Filipinos have forgotten. Maybe we're growing immune to the fact that the guilty always get away. That telling the truth is dangerous to your health, so why bother? And because we don't tell the story enough, the world will forget since we're not there to remind them.
Jeannette: I don't think the Filipinos have forgotten about it, but we are resigned to the fact that we will probably never know the entire truth. Eyewitness accounts (even the ones by civilian witnesses) don't all agree. And no photo or video of the precise moment Ninoy was shot exists anywhere. And as one of our interviewees said, it would probably take something that concrete, being shown a photo or video of that exact moment, for us to be able to say, "THIS is how it really happened."


ADVERTISEMENT - CONTINUE READING BELOW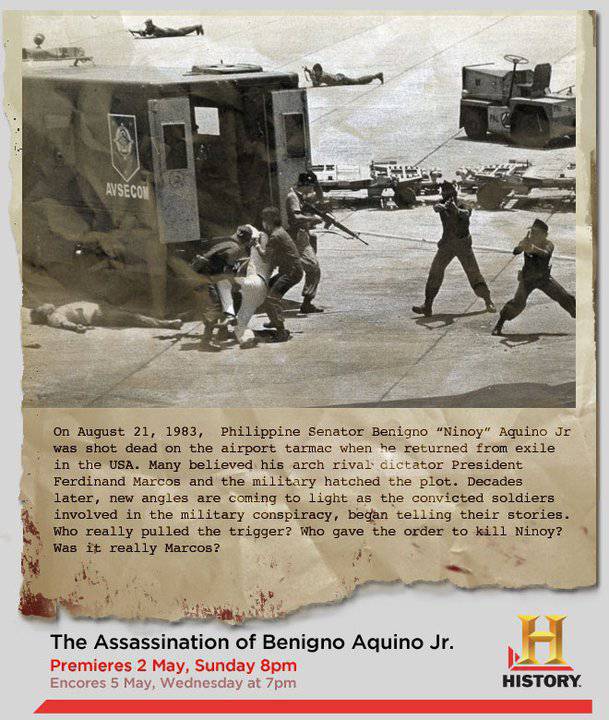 SPOT.ph: How has working on this project changed your life? Or was it just another assignment that merited your time and expertise?
Jeanette: It didn't cause any profound change in my life, except that I will never again agree to produce a documentary that involves someone being shot during an election period. Imagine having to dramatize an assassination during a gun ban! We thought about using toy guns, but they're banned too. At one point, we even considered making guns out of cardboard! We ended up having to get a special permit from Comelec which exempts us from the gun ban during the two-day filming of the dramatizations.
ADVERTISEMENT - CONTINUE READING BELOW
Kara: First of all, any documentarian who tells you they don't dream of having their work broadcast on PBS, National Geographic, Discovery or History Channel is pretending to be cool. � I have to admit, despite its many imperfections, it's a huge honor to produce for the History Channel. In my own small way I probably feel like Lea Salonga when she bagged the role of Kim in Miss Saigon or when Arnel Pineda landed a job with Journey! Okay, that's a stretch.
You have to be a martyr to want to produce documentaries. It's not easy and you don't snag worthwhile projects all the time. But because we think storytelling is our way of making our world better, we stay the course. And because we carefully select our projects, we hope that every step we take is a step in a better direction. And having this opportunity from the History Channel only sweetens the deal. I'm also confident that we are opening doors to other Filipino documentarians who want to make pitches to the History Channel.
ADVERTISEMENT - CONTINUE READING BELOW
Share this story with your friends!
---
Help us make Spot.ph better!
Take the short survey
Load More Stories