Know what to do on May 10? Your Top 20 FAQs Answered
Before you go out and vote, sit here and read this.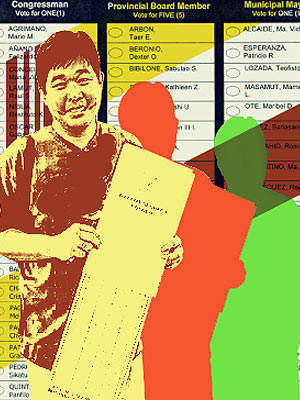 May 10 marks the first ever automated elections in the Philippines. Amidst the confusion on the new system with the new election ballots and fancy machines, we shed some light to questions you thought were too stupid or silly to ask about the elections:
1. How do I know where to go and vote?
It only takes a few minutes to check where your precinct is on Comelec's online precinct finder.
You may also check Google Map's precinct finder so you know exactly where it's located. It pays to know if there's parking space, if it's easier to walk, bike, or take public transportation to get to your precinct on election day.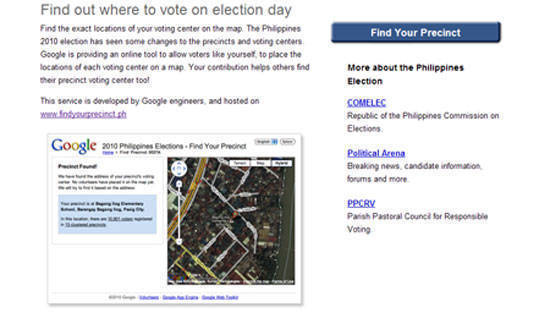 ADVERTISEMENT - CONTINUE READING BELOW
Take note that precincts are also clustered into five and there will be from 500 to 1,000 voters per precinct.
2. What do all those acronyms mean?
BEI? PCOS? Don't get lost in election jargon, know what people are talking about in the news, on the streets and on the Internet. Read up on election acronyms that you should know about.
3. How many names should be on my shortlist?
Aside from getting to know your candidates–their platforms, advocacies, track record and plans–you should also take note of the number of candidates that you should vote for:
CONTINUE READING BELOW
Recommended Videos
1 President
1 Vice-President
12 Senators
Voters also have to take note of local bets: mayor, vice-mayor, six councilors, and a congressmen/ congresswoman. Take note of candidates for governor and vice-governor, if it applies.
You will also be voting for one party-list representative, so it's imperative to do research from the 187 party-list representatives on the Certified List of Candidates.
Click here to see a list of party list representatives.
4. What does the new election ballot look like?
Well, for starters, it's 8.5 inches wide and about 25 inches long. To see for yourself, download the sample ballot from the Comelec website. Your possible picks for the national election are printed on one side of the ballot, while your local election picks are printed on its reverse side.
5. Should I really practice shading those "eggs"?
Here's where all your coloring sessions in kindergarten really pay off. Shading those "oval eggs is kind of tricky. You see, the Precinct Count Optical Scan (PCOS) machines used to read ballots will not read the votes if shading is done incorrectly. Now is the time to remember how to "color inside the lines."
ADVERTISEMENT - CONTINUE READING BELOW
Watch the instructional video with Mo Twister and Ramon Bautista:
Or click here to check out the step-by-step procedure.
6. Do I need to take note of emergency hotline and numbers for May 10?
In extreme cases that your precinct runs out of ballots or you need to report anomalies, take note of important numbers below:
Comelec:
525-9296, 525-9345, 527-5574, 527-1892, 525-9335, 525-9294, 527-0821, or 525-9297
Parish Pastoral Council for Responsible Voting (PPCRV):
521-5005 or 524-2855
e-mail: parishpcrv@yahoo.com
National Citizens' Movement for Free Elections (NAMFREL):
470-4151, (0927) 961-1524, or (0919) 338-9344
e-mail: info@namfrel.com.ph
7. Do I need to start looking for my Voter's ID?
It's time to fish out that Voter's ID and put it to good use. If you don't have a voter's ID, any government-issued ID with a photo will be okay to bring with you on election day. If you applied for a Voter's ID last year and haven't gotten it yet, you can also bring the claim stub that was issued to you by the Comelec.
8. What time should I go to my precinct?
Be early. Voting time is from 7 a.m. to 6 p.m.–but keep in mind that there are 500 to 1,000 voters per precinct.
9. What do I need to bring?
Your voter's ID or any government-issued ID with a photo and your shortlist. Government-issued IDs include Social Security System ID, Government Service Insurance System ID, Professional Regulation Commission ID, Overseas Workers Welfare Administration ID, National Bureau of Investigation clearance, postal ID, passport, driver's license, seaman's book and senior citizen card. If you're still a student, bring your school ID and registration forms.
ADVERTISEMENT - CONTINUE READING BELOW
10. What do I do first when I get to my precinct?
Locate your name on the Election Day Computerized Voters List (EDCVL) at your assigned precinct and then present your voter's ID or government-issued ID to the Board of Election Inspectors (BEI).
11. Where do I get my election ballot?
Only the Board of Elections (BEI) Chairman can give you the ballot. Make sure that you don't get it from anyone else in the room. Expect the BEI to check your right forefinger nail. Don't get scared. They'll just be making sure that your finger doesn't already have indelible ink on it. If it does, that means you're a flying voter, something which you totally shouldn't be.
12. What do I do with the election ballot?
The ballot should be clean and not crumpled to avoid spoilage. There's nothing special about the Comelec-issued marking pens but the rules dictate that you use only those pens. The secrecy folder is supplied for an obvious reason and it's considered "unlawful" not to use it. Before you vote, you should also check if your hands are clean.
13. If my election ballot gets dirty or ruined in some way, can I get a new one?
Drill this into your head: There are no replacement ballots. Once you make a mistake, your votes go down the drain.
14. What is the right way to "color inside the lines"?
As you should know by now, don't shade outside the oval unless you want your vote to go to waste. Whip out your shortlist and look twice before you shade the ovals on the left side of the candidates' names.
ADVERTISEMENT - CONTINUE READING BELOW
15. What if I overvote?
Overvoting is not allowed and will make your votes null and void.
Remember, it's one president, one vice president, 12 senators, one congressman, one party list representative, one mayor, one vice mayor, six councilors, and, if applicable, one governor and one vice governor.
16. How much time do I have to cast my votes?
Vote quickly but surely. There are people waiting for their turn. Plus, you don't want to loiter in precincts in this heat, do you? You might even be accused of deliberately "[delaying] the voting in some areas to prevent voters from voting," as Comelec Commissioner Gregorio Larrazabal said.
17. Can somebody help me fill out my ballot?
You're on your own here. Only the illiterate and disabled may be assisted by a relative or an election officer.
18. How can I check if my ballot was counted?
Before you feed it to the slot of the Precinct Count Optical Scan or PCOS machine, take note of the number of ballots cast on the PCOS screen. The number must increase by only one after you feed your ballot. You may try to feed your ballot up to four times before it is rejected so be careful. Don't leave until your ballot is scanned and dropped inside the translucent ballot box.
19. What should I do before I leave the precinct?
Return the secrecy folder and marking pen to the BEI and have your right forefinger nail marked with indelible ink. Also, put your thumb mark by your name on the Election Day Computerized Voters List (EDCVL).
ADVERTISEMENT - CONTINUE READING BELOW
20. What else can I do?
Make sure there aren't any violations as per Comelec Resolution No. 8739. Voters are not allowed to bring voting paraphernalia outside the polling place, make a copy of the ballot contents, attempt to disrupt the polling process, and more. Check out the complete set of rules.
Artwork by Warren Espejo.
Share this story with your friends!
---
Help us make Spot.ph better!
Take the short survey
Load More Stories