10 Post-Election Facebook Pages and Groups
From Kris Aquino's <em>despedida</em>, to suggestions for her brother Noynoy, check out the pages that mushroomed after May 10.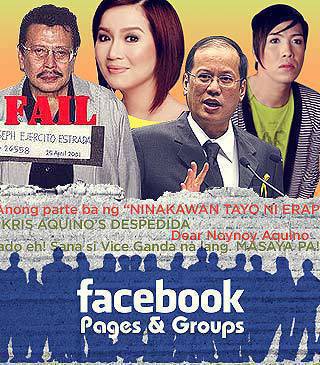 During the long and winding campaign season, Facebook was barraged with the likes of politician-exalting pages and politician-bashing ones. As the last few ballots were cast on May 10, new pages and groups emerged including organized efforts to deliver what Filipinos want to the winning politicians and a headline grabbing "despedida."

It's not even a week old yet but it's arguably the hottest local Facebook group right now. With over 12,000 members (and counting), the group reminds Kris Aquino, controversial TV host and youngest sister of leading presidential candidate Noynoy Aquino, of her promise in March to leave the country if she wreaks havoc on Noynoy's possible presidency. In a Philippine Star article published on May 14, Kris said, "Bakit ako papatol sa mga talunan na bitter ngayon? If you review my interview, I had told Noy na kung makakabigat lang ako sa kanya sa presidency niya, then by all means I'd gladly take my kids abroad and not to be a burden…But Noy said itigil na raw ang ka-dramahan." Kris told PEP.ph that she is indeed leaving but only for a Disney vacation abroad after her hosting stints.
ADVERTISEMENT - CONTINUE READING BELOW
The group's description now states, "This page was created purely out of fun. I have nothing against Kris Aquino. Let's all move on shall we? This is just a page. Get over [it]."
Another Facebook group called "Piso Para Paliparin si Kris Aquino" is "dedicated to making sure the party does not go to waste." The description states, "Donate to the cause so money will be one less excuse. Let's aim for First Class so she can leave in high style!" Created about a day after "Kris Aquino's Despedida," it has over 600 members as of posting time.
2. Anong parte ba ng "NINAKAWAN TAYO NI ERAP" ang hindi ninyo maintindihan? (What part of "Erap [Estrada] stole from us" don't you understand?)
CONTINUE READING BELOW
Recommended Videos

More than 35,000 Facebook users have "liked" this page created in outrage over the fact that more than eight million Filipinos still voted for the convicted former Pres. Joseph "Erap" Estrada. Nabbed for plunder on September 2007, Estrada was pardoned by current outgoing Pres. Gloria Macapagal-Arroyo about a month later.   One of the wall posts states, "Erap having obtained over eight million votes is the funniest yet saddest Erap joke of all."   A photo uploaded on the page album compares the fate of a shoplifter and a plunderer. One of the bullet points: A shoplifter can't leave prison without a "farewell beating," while a caught plunderer can take a vacation abroad or wait for amnesty and then run for public office.
ADVERTISEMENT - CONTINUE READING BELOW
3. NICE TRY MANNY VILLAR, SAYANG YUNG PERA MO :(( (Nice try, Manny Villar. You wasted your money.)
This Facebook page feels for the current third placer presidential bet Manny Villar and the alleged billions he spent campaigning. Some of its users said that Villar should've used the money for other causes like outreach programs, while others compared the billions to loose change for Villar. One entry tweaked the lyrics of Villar's LSS-inducing jingle, "Naging Mahirap": "Si Villar ang tunay na naghirap / Sa pera siya'y nawalan ng malasakit."
4. GIBO would have been president if "our" generation voted

ADVERTISEMENT - CONTINUE READING BELOW
The generation the page is referring to isn't officially mentioned but based on the comments, we assume it means the 20-somethings. The page celebrates presidential bet Gilbert "Gibo" Teodoro, who conceded on May 11, and bashes other presidentiables. The meanest post by the admin would have to be this May 11 entry: "Goal ni Binay = Magka-lung cancer si Noynoy." But on May 14, the admin posted an apology:
"Sorry sa pagiging bitter kay Noynoy, lahat ng mga sinabi ko ay biro lang. Alam kong mabuting tao si Noynoy at wala akong personal na galit sa kanya. Gusto ko lang magpatawa. Sorry po. Kahit pa na boto po ako kay Gibo. 'Di po niya magugustuhan ang mga pinagpopost ko dito sa fan page na ito kontra kay Noynoy. Sorry po :) Tanggapin nalang po natin na siya ang napili bilang presidente :)"
Other Facebook pages and groups about Teodoro sprouted after the May 10 voting period including those that called for his senatorial candidacy in 2013 and presidential candidacy in 2016.
5. Mamimiss ko si GLORIA M. ARROYO "wala na kasing magmomove ng Holidays" :( (I will miss Gloria Macapagal-Arroyo's holiday economics)
ADVERTISEMENT - CONTINUE READING BELOW
Admit it, you would too even if it's only for the long weekends. One of the page's more than 800 members posted hopes of leading presidentiable candidate Noynoy Aquino following suit.
6. DEAR NOYNOY AQUINO (suggestions to a new president)

Possible president Noynoy Aquino might want to check out this page. A project of Rock Ed Philippines in affiliation with Rethink Media Group, it collects suggestions for Aquino. Facebook users request for a corrupt-free government, better education policy and early preparation for the next elections, among others. Created on May 11, it has over 36,000 members as of May 14 that eagerly post their suggestions leading the page admin to halt posting privileges temporarily to give their volunteers time to collate all the messages.
Rock Ed founder Gang Badoy said their group will compile "thoughtful suggestions" for a book they'll present to Aquino before the June 30 inauguration, according to an Associated Press report via CBSNews.com. The book will have two versions: "one for Aquino's bedside and a waterproof version 'for his toilet reading.'"
ADVERTISEMENT - CONTINUE READING BELOW
7. Dear Senators of the Philippines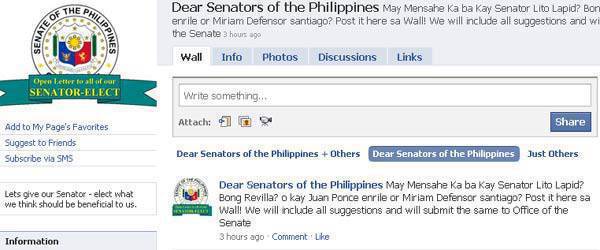 Inspired by the "Dear Noynoy Aquino" page, this page was created on May 13 to collect suggestions for the new batch of senators. So far, only a few of its 80 members have posted suggestions like the passage of the Reproductive Health Bill and a required college course on labor law. One Facebook user posted, "I humbly request that you all pay more attention to much more important issues that concern the majority, not those pathetic celebrity sex scandals. Thank you."
8. DEAR PINOY (commitments to help the new administration)

ADVERTISEMENT - CONTINUE READING BELOW
And the letters keep coming in–this time for Juan and Juana dela Cruz. Also inspired by the "Dear Noynoy Aquino" page, this Facebook group asks Filipinos what they will do to help the incoming administration. Members have posted their pledges including supporting volunteerism, sponsoring an indigent child's education and advocating the use of information technology. A project of One Tama, the group aims to "map, cluster and hopefully organize areas of and activities for citizen involvement."
9. ARTISTA PALA USAPAN SA SENADO EH! SANA SI VICE GANDA NA LANG. MASAYA PA! (If being in showbiz is all it takes to be a senator, then Vice Ganda should run so at least we'll be happy!)

Aside from famous comedian Vice Ganda, four leading senatorial candidates take the center stage in this Facebook page–just not in a good way. Actors Bong Revilla, Jinggoy Estrada, Tito Sotto and Lito Lapid are slammed with wisecracks like "Ang tatapang magsitakbo for senate, 'di ba nila alam hindi pwedeng gumamit ng stunt man sa senado?" The page is a little more forgiving to the celebrities in Congress since "it's their first time."
ADVERTISEMENT - CONTINUE READING BELOW
Sharing a similar sentiment is the "Hindi Set ng Taping Ang Senado!" page.
10. I voted during the first automated election in the Philippines

Pinoys give this page the finger–one that marked by indelible ink. Aside from posting photos of their right forefinger after voting, the page's fans also share their voting experiences, whether it was a walk in the park or hell on earth. As of posting time, over 18,500 people have "liked" the page.
In the same light, the page "When the PCOS machine tells you, 'Congratulations!'" contains messages of relief from Facebook users who had no problem using the PCOS machines. One user had a request though, "Dapat may nagsasalita with the Wowowee accent para mas nakakawala ng pagod!"

Artwork by Warren Espejo. Screencaps from Facebook.
---
Help us make Spot.ph better!
Take the short survey
Load More Stories