Tweets of the Week: Maxene Magalona, Anne Curtis + more
Maxene Magalona reaches out to rumored Twitter foe Pauleen Luna, Anne Curtis has a crush on Troy Montero, and Iza Calzado is an expert jejenese translator.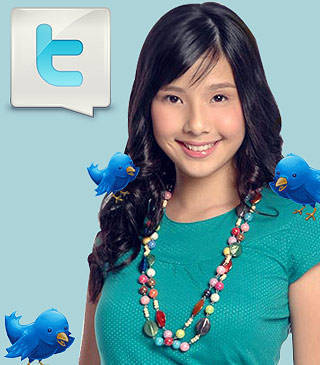 Maxene Magalona
Anne Curtis, actress and TV host: It's official! I have a crush on Troy Montero! He is for me what I imagine prince charmings to look like when I read romance novels! Specially when he sang Crazy lil thing called love earlier on Showtime. *i die* Aubrey Miles is a one lucky woman. Haha.x
Maxene Magalona on her group "Ampalaya Anonymous" allegedly ganging up on actress Pauleen Luna:
- Please bear with me. In my 8 yrs in showbiz, I've never been part of any intrigues until now. I love you all. :)
- Nope :) nag-eexplain lang ako ng side ko RT @ashelle14: nagpapaawa pa si @maxenemagalona, she thinks she can get the sympathy of the people
- Hi @marieluna! See you at the workshop on Monday, hope we could talk then. Dapat diba diretso tayo sa isa't isa? Di ko nga alam pano napunta sa media lahat nito eh :) take care see you!
ADVERTISEMENT - CONTINUE READING BELOW
Pauleen Luna, actress:
- I just wanna clear that I never claimed that the girls were referring to me with their tweets until some of their friends confirmed it.
- Also, this isn't publicity because in the first place, I'm not the breadwinner of the family and being in showbusiness is purely my choice.
KC Montero, radio host: I ain't gonna lie. I know what shit tastes like (I was a kid, it was an accident) and nothing I've eaten taste like shit, but shit.
Sarah Meier-Albano, radio host: Just blocked my 1st follower ever. I tried to be patient man, but the "I dreamt about you again" business was too friggin' much. C'mon son.
CONTINUE READING BELOW
Recommended Videos
Tim Yap, TV host: @I_amHologram Photoshop is for models. Hologram is for celebrities& politicians:-)
Iza Calzado, actress: At a party with childhood and gay friends and someone got a jejemon SMS. I ended up translating it 4 everyone. What the?!? Oh nooo!! :p
Risa Hontiveros, senatorial candidate who ranked 13th in the recent elections: Sign of closing d hq:staff bidding for d furniture in an auction! Hmmm,they better not bid for my loaned dining table,hehe. Life goes on(",)
Carlos Celdran, performance artist: is reminding you all to go join @iamkrisaquino (Kris Aquino) Despedida! Haha. I actually heard that Kris tried going after the creator of the FB Page (which probably explains the Description Part). Hoy. Kristeta. Chill out. It's just for fun and they are just kids. Smile naman. It's only 3 days after elections. No drama muna please. Tranquila por favor.
ADVERTISEMENT - CONTINUE READING BELOW
James Jimenez, Commission on Elections spokesperson: Niña Corpuz is so purty.
Artwork by Warren Espejo.
Image credits: Maxene Magalona photo from iGMA.tv.
---
Help us make Spot.ph better!
Take the short survey
Load More Stories