All the President's Men: 10 Cutest Guys in Gloria's Government
We concede to the public clamor for cuteness. SPOT.ph lists the cutest men in President Gloria Macapagal-Arroyo's administration. Was there enough eye candy for the president?
On May 18, 2010, deputy presidential spokesman Rogelio Peyuan dished out unsolicited advice to president-apparent Senator Noynoy Aquino during a press conference at Malacañang Palace. � Addressing Aquino, he said: "Ang importante siguro-huwag naman magagalit kung tayo ay magmumungkahi na muli-mamili ng medyo cute na mga makakasama sa kapaligiran (It's important-and I hope this advice isn't taken the wrong way-that [Aquino] pick [people who are kind of] cute to be around him."
By some strange coincidence, SPOT.ph published the "10 Cutest Guys in Philippine Politics" list the same day Peyuan stressed the need for cute officials. (For the record: No, we don't know Peyuan and have no connection to him whatsoever.) � One thing is clear, though. � There's a public clamor for cuteness.
In the spirit of democracy (or something like it), we bring you yet another list of both past and current cute politicians and public servants in President Gloria Macapagal-Arroyo's administration. � We picked these men based on their looks alone. Their political inclinations and public service records are best explored by hardcore news sites. � Our list is just for brainless entertainment's sake. � Hey, at least you get to know a little bit of Philippine history from a just-for-fun perspective. � We also wanted to see if GMA subscribed to the Cute Principle when she picked her men.
So, here's looking at you, Mr. Peyuan. (By the way, you don't have to listen to him or us, Senator Aquino. � As Antoine de Saint-Exupéry wrote in The Little Prince: "What is essential is invisible to the eye." Pick people with good hearts and great brains. � It's just that we really have to get our eye candy fix any which way we can.)
ADVERTISEMENT - CONTINUE READING BELOW
"Finally may pogi na sa Comelec," wrote Aliza Vergara on the wall of the Gregorio Larrazabal Facebook fan page.
1. GREGORIO "GOYO" LARRAZABAL
Cutesy title: Commissioner Cutie
Job description: The cuteness index of the Commission on Elections (Comelec) significantly increased when Larrazabal was named as one of its commissioners. At 38, he is the youngest among them.
Mush appeal: Despite the closely-cropped salt-and-pepper hair, his little boy face and cuddly bear build make him the perfect "crisis mascot" of the Comelec. You'll lose track of the PCOS machine glitches when he's the one talking. He was born in Leyte and graduated from Cebu's University of San Carlos. He's one hot Bisaya.
CONTINUE READING BELOW
Recommended Videos
"In fairness and in all honesty...ang gwapo naman talaga ni Atty. Marquez. I've got a huge crush on him. I love you, Atty. Midas," gushed YouTube user jessienumber12.
2. JOSE MIDAS MARQUEZ
Cutesy title: Oh-La-La Lawyer
Job description: He's the Supreme Court (SC) spokesperson and court administrator. He's the one who answers every little thing the media wants to. He's 43.
Mush appeal: Aside from his camera-ready face, Marquez, an Atenista, is articulate. His soothing voice doesn't hurt either-it's perfect for the times when he has to explain controversial SC decisions.
"Tignan mo si Ace Durano, gwapo, kaya maganda ang tourism [industry] natin," observed a PhilBoxing Forum user.
3. JOSEPH "ACE" DURANO
Cutesy title: Tourist Temptation
Job description: A lawyer by profession, he currently heads the Department of Tourism. It's his job to entice tourists to come to our country.
ADVERTISEMENT - CONTINUE READING BELOW
Mush appeal: His delicate good looks make him look younger than 40. Can you get over his light brown hair? It almost makes him look like a foreigner.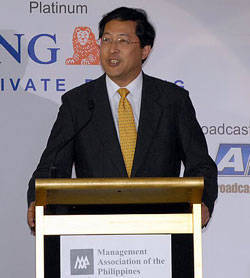 "He looks kind of Japanese-and I like that," gushed a Jose Isidro Camacho fan.
4. JOSE ISIDRO CAMACHO
Cutesy title: Super Fine Finance Man
Job description: He served as the Department of Finance Secretary in the early days of the Arroyo administration. He was once dubbed as "Arroyo's rising star." However, he quit government service in 2003. Dare we say we applaud him for getting out early?
Mush appeal: Besides his awesome features and luminous skin, the man has an ageless presence.
We wonder if it's country living that makes Congressman Mark Enverga look so delicious. (His wife is one lucky woman.)
5. WILFRIDO "MARK" ENVERGA
Cutesy title: Congressman Pogi
Job description: He represents the province of Quezon's first district.
ADVERTISEMENT - CONTINUE READING BELOW
Mush appeal: He's 33 and he appears to have the peaches-and-cream complexion that women would kill for. He's looks radiant. He should be on TV more. He holds a Bachelor of Applied Science in Hospitality Administration degree from the Southern New Hampshire University in Manchester, New Hampshire. He also took up postgraduate studies at the Ateneo de Manila University.
Is Governor Dax Cua single? Well, ladies and gentlemen, according to his Friendster account, he is.
6. DAKILA CARLO "DAX" CUA
Cutesy title: Governor Gwaping
Job description: He's the governor of Quirino. He's a University of the Philippines-Diliman graduate. � He used to play basketball in college.
Mush appeal: His nicely-blended Oriental looks make him one good-looking governor. He's only 32.
If only to have more political eye candy, we hope he hadn't lost his bid for reelection.
7. ROBERT "ACE" BARBERS, JR.
Cutesy title: Lovey-Dovey Gov
Job description: He served as Surigao del Norte's governor. He recently lost his bid for reelection. He's been on the news lately because he is reportedly a victim of election fraud.
Mush appeal: At 41, he's still baby-faced and has a good head of hair. He looks most adorable when he smiles. Hopefully, he'll do that more often when the post-election drama dies down.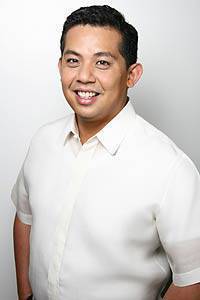 ADVERTISEMENT - CONTINUE READING BELOW
Martin Romualdez's boy-next-door looks must've captured heart of his wife, 1996 Bb. Pilipinas International Yedda Marie Mendoza Kittilsvedt.
8. MARTIN ROMUALDEZ
Cutesy title: Ritzy Representative
Job description: He's the congressman of Leyte's first district. He was in headlines sometime ago because he reportedly paid the $20,000-tab of GMA's lavish dinner at Le Cirque in Manhattan, New York.
Mush appeal: He's a nice-looking Pinoy with an infectious smile that highlights the seemingly-perpetual twinkle in his eyes. Hell, yes, you can picture yourself at Le Cirque when you look at him.
We hate drugs, too, Derrick Carreon! But, save for televised drug busts, how else will we get to see you? (Look very closely from 1:13 to 1:22)

9. DERRICK CARREON
Cutesy title: Dreamy Drugbuster
Job description: He heads the Philippine Drug Enforcement Agency's public information office. � Sadly, there's very little data about him on the Net. � But that's alright-we can just replay this video clip over and over again.
Mush appeal: He's a yummy mestizo who looks like he can protect you from all the evil forces in the universe. � He looks like he could be in his thirties-but we think he can pass for 25 when he's not losing sleep over evil drug lords and their minions.
Perhaps, GMA will say, "It's his loyalty that makes him so cute."
10. MIKE DEFENSOR
Cutesy title: Chief of Cutie Pies
Job description: He served as GMA's Chief of Staff. He recently lost his bid to be mayor of Quezon City to someone who's cute even in his sleep-Herbert Bautista. � As we Pinoys say, hindi na kinaya ng powers n'ya ang powers ni Bistek.
ADVERTISEMENT - CONTINUE READING BELOW
Mush appeal: He's charming when he puts his mind to it. Does he place conditioner on his hair? It looks so shiny.
Special "Due to Insistent Public Demand" Mention:
They're not exactly high-profile GMA administration allies or appointees-but, heck, Jonvic and Gilbert Remulla look damned adorable.
JUANITO VICTOR "JONVIC" REMULLA & GILBERT CESAR REMULLA
Cutesy title: Cavite Cupcakes
Job description: Jonvic (not wearing glasses) was recently proclaimed as governor of Cavite. Gilbert (in green, with glasses) ran for senator.
Mush appeal: Jonvic's smoldering eyes are his best features. Gilbert's boyish charm is his killer asset. Is there something in the water in Cavite that produces men with take-him-home-to-mother vibes? If yes, bottle it up, please.
...and
The Cutest of Them All:
Gibo Teodoro looks like he smells so good all the time-even when he's in the middle of very stressful situations. �

GILBERTO "GIBO" TEODORO
Cutesy title: Perfect Papa
Job description: He used to head the Department of National Defense. GMA endorsed him but he lost his bid for the presidency.
Mush appeal: Though he doesn't possess the stereotypical mestizo looks, Teodoro's unwavering class and "sparkling" appearance makes him look like the brightest star in the Philippine political universe. Every guy wants to be him-he's smart, he's moneyed, he's got a hot wife, and he can fly a plane. � If he reveals that he's the real Batman, we would not be surprised. � (Besides, it's probably more fun to hang out with Gibo than Bruce Wayne. � That is, as long as he doesn't make us chip in for the jet fuel.)
ADVERTISEMENT - CONTINUE READING BELOW
Art by Warren Espejo.
Image credits: 123people.com (Jose Isidro Camacho), MartinRomualdez.com (Martin Romualdez), and screen captures from various video clips.
---
Help us make Spot.ph better!
Take the short survey
Load More Stories