Noynoy tells CNN he'll defend his enemies' rights, would ask parents if they're proud of him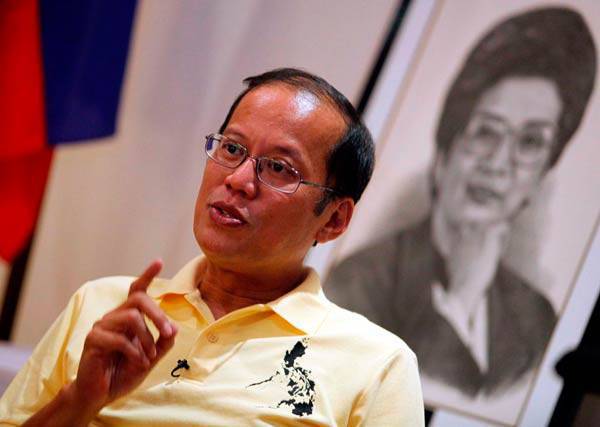 President-elect Noynoy Aquino. Photo courtesy of Jay Morales and CNN Talk Asia.
In an interview with CNN Talk Asia aired June 16, President-elect Noynoy Aquino shared what his dad, the late Sen. Benigno "Ninoy" Aquino, said, "The true test of democracy is the ability to defend the rights of your enemies."
ADVERTISEMENT - CONTINUE READING BELOW
Asked if he would go after government officials who committed corruption, allegedly including outgoing Pres. Gloria Macapagal-Arroyo, he said, "So long as the evidence is warranted… We should afford them the processes that were not utilized in our case. We have to prove that we are different from them."
Regarding the Marcos family, Aquino cited the Philippine law prohibiting the filing of charges "against people who have not been charged after 20 years." He added, "The only interest I have is to make sure that there is no revisionism down the line lest we make the same mistakes."
"As far as the [Marcos] children are concerned, I would like to I think I am in the same boat as they are. We are all victims of the rule of their parents; the only difference is that I recognize it and they don't. So long as they aspire for the betterment of the people, I can support them," he said. "As far as Imelda [Marcos] is concerned, I have to abide by what our courts determined. Advocacy of going beyond the law brings us to anarchy."
ADVERTISEMENT - CONTINUE READING BELOW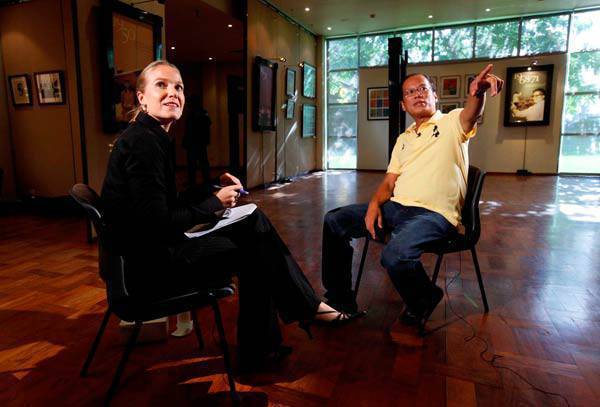 Noynoy Aquino with CNN reporter Arwa Damon. Photo courtesy of Jay Morales and CNN Talk Asia.
Aquino talked about how he deliberated on his presidential candidacy. "The end question was 'If things become worse, could I face myself in the mirror and say I could've done something but I chose not to, and say I'm okay with that?' I don't think I could."
ADVERTISEMENT - CONTINUE READING BELOW
He toured CNN reporter Arwa Damon around the Aquino Center and recalled his parents' courtship, and his father's imprisonment and assassination. He locked Damon inside a replica of Ninoy's solitary cell for a bit and said, "Imagine what it was like to be in there even for a few minutes."
If he could, he would tell his deceased parents, "Aren't you proud of your favorite son? Aren't you glad you have a son like me?"
Video courtesy of CNN Talk Asia
In a CNN article published on June 17, Kathy Quiano wrote, "The Aquino we interviewed turned out to be disarmingly down-to-earth, sharp and engaging. He gave lengthy answers, as he was known for, but showed a keen and detailed understanding of a wide range of issues."
Catch replays of the interview on June 19 (7 p.m.), June 20 (3:30 a.m. and 4:30 p.m.) and June 21 (9 a.m.) on CNN. The interview is also available online. Photos courtesy of Jay Morales and CNN Talk Asia. Thanks to CNN Talk Asia for the video.

ADVERTISEMENT - CONTINUE READING BELOW
Recommended Videos
Load More Stories