30 journalists killed in Maguindanao massacre honored in Washington Newseum memorial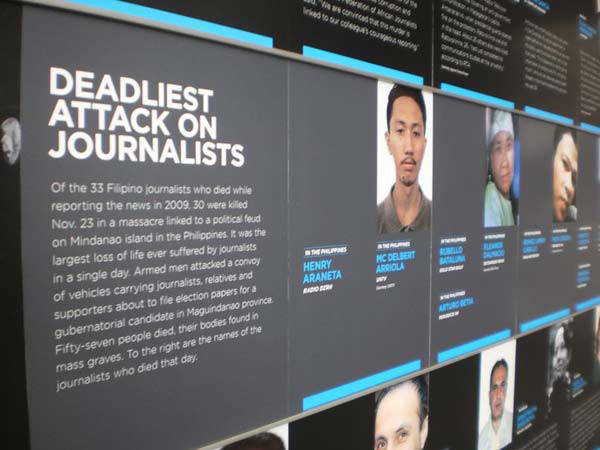 The 30 journalists who were killed in last year's Maguindanao massacre were honored at the Newseum in Washington, D.C., according to the Newseum's website. Along with three other Filipino journalists who died in the pursuit of news in 2009, the names of the 30 journalists were added to the Newseum's Journalists Memorial in May.
The Newseum dubbed the Maguindanao massacre the "deadliest attack on journalists," as seen in the Journalists Memorial display. The Philippines has been named the deadliest country for journalists in 2009, with 33 deaths, followed by Somalia with nine deaths, Mexico and Russia with six each, Pakistan with five and Iraq with four.
"The men and women on the Journalists Memorial remind us of the importance of a free press and the threats that exist to it around the world," Newseum CEO Charles Overby said. "The Newseum is proud to honor these journalists and the sacrifices they made in search of the truth." A two-story glass structure, the Newseum showcases five centuries of news history. It has seven levels of galleries and theaters plus hands-on exhibits.
Christiane Amanpour, CNN chief international correspondent, was the keynote speaker during the inauguration of the Journalists' Memorial. "A highly respected journalist recognized worldwide for her reporting, Amanpour has covered major crises from hotspots around the world, including Iraq, Pakistan, Afghanistan, Rwanda and Iran. In August, Amanpour will join ABC News as anchor of 'This Week With Christiane Amanpour' which will continue to be broadcast each week from the Newseum," according to the Newseum.
ADVERTISEMENT - CONTINUE READING BELOW
According to a recent statement of the University of the Philippines College of Mass Communication (UP-CMC), 104 journalists were killed during outgoing Pres. Gloria Macapagal Arroyo's administration from 2001 to the present.
The statement reads: "The violence against media is by itself condemnable based on two factors: the sheer number of deaths under the Macapagal-Arroyo administration-an average of one killing every month from 2001 to 2010-and the manner in which the killings were carried out, usually either in broad daylight or in full view of witnesses."
The statement was signed by CMC Dean Roland B. Tolentino, 31 faculty members, 14 staff members, the CMC Student Council and 14 CMC-based student organizations.
CONTINUE READING BELOW
Recommended Videos
Photo by Dhobie P. de Guzman
Share this story with your friends!
---
Help us make Spot.ph better!
Take the short survey
Load More Stories