Tweets of the Week: Kris Aquino, Ruffa Gutierrez + more
Charice gets Glee part, Kris Aquino "suspends being active on Twitter," and Ruffa Gutierrez talks about "very special" relationship with John Lloyd Cruz.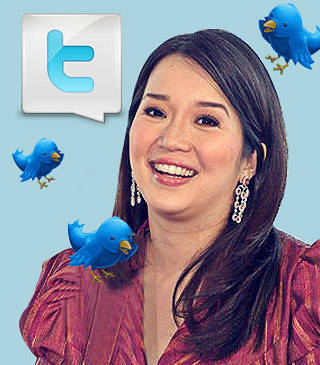 Kris Aquino
Charice Pempengco, singer: It's official. I'm on Glee (next season) but story behind it. When d rumor came out, it wasn't true. But then after that, I tried to audition. And i made it!!! Let's Party!!!!
ADVERTISEMENT - CONTINUE READING BELOW
Kris Aquino, TV host:
- I received this tweet several days ago- bakit hindi nyo minemention si james sa mga tweet nyo, only josh & baby james? I replied to it w/ honesty. My attention was called by Noy about this. So in the interest of keeping what is left of our privacy- I will suspend being active on twitter. It doesn't make sense for me to leave SNN & Buzz & keep this avenue open for people to speculate & judge. Sometimes being quiet (obviously difficult for me) is the only prudent course when u r the sister of the country's president elect. Thanks to all who followed my tweets.
- To answer one of your tweets re james. We went through a difficult time during the campaign- stress & long hours led to a big misunderstanding. I have never lied to all of u- until now hindi pa completely na-fi-fix. That's y I've just chosen to keep quiet since it's something very private.
ADVERTISEMENT - CONTINUE READING BELOW
Host-actress Ruffa Gutierrez on John Lloyd Cruz's recent admission of their past "very special" relationship: THE TRUTH SHALL SET YOU FREE! Thank you. Indeed it was very special. No regrets. Now let's stop, respect and move forward with a smile.
Zsa Zsa Padilla, singer: Me: omg, I was at the gym forever yesterday. Look, o, I have a 6 pack! Dolphy: may abs ka nga parang bunganga naman ng pating tyan mo sa dami ng tahi! Me: *toink! inggit, much?! He he ☺
Jericho Rosales, actor and new Twitterer: Greetings of peace and love! Tarzan no more! Let's try this thing :) haloooo-ooohh-ohhhh-wo-ohh-wo-oohh! :)
Mariel Rodriguez, TV host: I'm super dizzy!had to smoke cigarettes for cinco (required in the script) hehe I feel like an actress!doing something for the role!naks!
Risa Hontiveros, Liberal Party senatorial candidate in the recent elections: Ianna,my 13-yr-old,said a friend of hers told her that,at a toy con,some1 was cosplaying me in a white shirt & red alampay.Have arrived!(",)
ADVERTISEMENT - CONTINUE READING BELOW
Pepe Diokno, director: Sometimes, when you aim to bridge the gap bet indie & mainstream, you end up looking like a reality show w/ has-been artistas.
Tuesday Vargas, newlywed comedian: Yes! First day as mrs. Marizel Sarangelo-Placido. Super happy! Love you guys for attending the most beautiful wedding. Sigh
Tim Yap, TV host: Just had alone time dinner here at Melo's Fort.Wagyu steak galore-was so hungry! My bill? P6,500 plus-and that was just for ONE PERSON! :-)
Artwork by Warren Espejo, photo by Noel Orsal of PEP.ph.
Recommended Videos
Load More Stories