Women With Balls: Top 10 Fierce Pinays
We list 10 Pinays who dared to challenge the so-called norms and shake up the powers-that-be. These ladies have balls...really huge ones.
One great thing about being Filipina is that our society is relatively progressive when it comes to gender equality. Recently, we even beat the US in the World Economic Forum's list of countries for having one of the smallest gender gaps for women. We are the only Asian country in the top ten list and praised for our "drive for smaller gender gaps in labor force participation and wages."
But that doesn't mean sexism no longer happens. Far from it. If you're a woman, you need to have balls to push the envelope and earn people's respect-the kind that has everyone either quaking or cheering in your presence. SPOT.ph lists 10 women who dared to challenge the so-called norms and shake up the powers-that-be. They're Pinays with balls...really huge ones. Though we may not agree with them all the time, we can't deny the fact that they make things happen.
ADVERTISEMENT - CONTINUE READING BELOW
1. ESPERANZA CABRAL
Feisty move: Despite the forceful opposition of the Catholic Church, this feisty Department of Health Secretary is standing her ground on the issue of condoms, reproductive health, and sex education. Her resolve and her pragmatic stance has earned her many supporters.
Fighting words: In the wake of her smackdown with the Church, she told ANC's Dateline Philippines, "Of course, I am afraid of the Church. They are very powerful and they can sometimes be very vicious. I'm not exactly one who likes to live dangerously, but I'd rather live dangerously than do nothing."
Fierce fashion: Her upswept hairdo symbolizes her unflappability. You'd want her with you if religious organizations get on your case.
2. MIRIAM DEFENSOR SANTIAGO
Feisty move: This Ilongga lawyer has always been an overachiever. She was the first female editor-in-chief of The Philippine Collegian, the University of the Philippines' acclaimed campus paper. She went on to earn more degrees. She first made her mark when she headed the Bureau of Immigration and Deportation under President Corazon Aquino's administration. The media loved her witty, acerbic quips. Nowadays, she's the only senator who provides excitement during televised Senate inquiries. The lady does not hold back when she wants to give someone a piece of her mind. In fact, her quips are so famous that somebody actually put up a site called Miriam's Dictionary, a treasure trove of her most awesome quotes.
ADVERTISEMENT - CONTINUE READING BELOW
Fighting words: When asked if she feared for her life because of the enemies she amassed during her several crusades against corruption, she said, "I eat death threats for breakfast!" (And don't forget that breakfast is the most important meal of the day.)
Fierce fashion: Her curly hair and colorful power suits show that she's someone you can't mess with. If you're in a bar fight, you'd want this woman with you. She'll have your back...unless, of course, you're not smart enough for her. In that case, she'll probably beat you up, too.
3. RISA HONTIVEROS
Feisty move: Don't let her delicate good looks fool you. This lady can give as good ass she gets during rallies. She was one of the representatives of Akbayan party-list in Congress, where she passed legislation that championed women's rights. Despite the setback in recent elections, she still vows to fight for the change in society that we all need.
ADVERTISEMENT - CONTINUE READING BELOW
Fighting words: In 2009, she addressed the UP Cebu's graduates. She told them, "There is nothing like apathy to kill the soul of a generation, and with it, the soul of a nation."
Fierce fashion: She rocks white shirts and, of course, her ever-present alampay.
4. ARMIDA SIGUION-REYNA
Feisty move: Though she became popular for singing kundimans in Aawitan Kita, she's hardly the shrinking violet. Along with her director-son Carlitos Siguion-Reyna, she powered Reyna Films and gave the public films that provoked critical thinking such as Ligaya and Itawag Mo Sa Akin. It was she who took a chance on controversial Rosanna Roces. She continues to be an active member of civil society groups and she doesn't mince words each time she points out the government's lack of support for the arts.
Fighting words: In her column for The Daily Tribune, she discussed "thoughtless censorship," one of her pet peeves. "A porno flick running close to half-a-day is bound to get talked about by a global media increasingly on the look-out for news to cushion horrific stories of crashing stock markets, ineffective bailouts, and bankruptcies," she wrote.
ADVERTISEMENT - CONTINUE READING BELOW
Fierce fashion: She's an ageless fashionista who looks good in Filipiniana. These days, she wears her shock of silver hair like a crown. (You can't blame us for wanting to curtsy.)
5. MARITES VITUG
Feisty move: A veteran journalist, Vitug has worked for some of the most respected outfits in the country such as the Philippine Center for Investigative Journalism and Newsbreak. Her book Shadow of Doubt: Probing the Supreme Court, which reportedly exposes the shady side of the judicial system had the usual suspects in an uproar. Vitug had to field death threats for writing the book, which ended up selling like hotcakes.
Fighting words: "I've been called unfair. But I don't hide the fact that I do take positions based on the information I've gathered from my research. I tell it like it is," she said when asked how she dealt with criticism over her controversial book.
ADVERTISEMENT - CONTINUE READING BELOW
Fierce fashion: Her short do, dangling earrings, and glasses with quirky ornamental swirls show her kikay side. But if the pen is mightier than the sword, then she's got one of the sharpest tools in the shed.
6. TERESITA ANG-SEE
Feisty move: Back in the early 90s, the Philippines was fast overtaking Colombia as the Kidnapping Capital of the World. The Chinoy communities throughout the country's urban areas were living in fear of being kidnapped. Ang-See stepped up to the plate to organize a crusade against kidnap-for-ransom groups. She was not afraid of exposing some unscrupulous members of the Philippine National Police. To date, she is one of the spokespersons of a Citizens Action Against Crime. She has conducted several lectures throughout the country reiterating the need for vigilance against corruption. This woman speaks softly, but she gets things done.
Fighting words: "That's the capital flight from the Chinese businesses that were pulling out because of the kidnapping. It's not just a narrow, parochial concern of the Tsinoy community because of the economic repercussions of the continuing kidnapping cases," she told the Philippine Center for Investigative Journalism when they asked her how the kidnapping crisis was affecting the Filipino-Chinese community.
ADVERTISEMENT - CONTINUE READING BELOW
Fierce fashion: Her fashion sense is reminiscent of President Corazon Aquino-simple and sensible.
7. WINNIE MONSOD
Feisty move: Arguably, it was her diligent expose (via her Philippine Daily Inquirer column, Get real) of Senator Manny Villar's C-5 controversy involvement and his allegedly faux poverty that dashed his presidential dreams. Then, there was the time when she practically skinned alive presidential son and Congressman Mikey Arroyo on national TV. Her no-nonsense discussions about the issues affecting the country enlightens many Filipinos.
Fighting words: She dared to ask the president's son, "How do you earn millions as congressman?" He looked flabbergasted as the cameras kept rolling.
Fierce fashion: Her spiky hairdo serves as a warning. She's a prickly critic who doesn't get derailed.
8. CHECHE LAZARO
Feisty move: As the force behind the The Probe Team, which has been airing for over 20 years, Lazaro championed intelligent journalism. She's not into theatrics but she broke new ground by taking on controversial issues that mainstream media wouldn't know about. You could tell that she isn't only a "boss"-she goes down to the trenches with her troops. In her pursuit of a story, she was even charged with wiretapping, which she naturally contested.
ADVERTISEMENT - CONTINUE READING BELOW
Fighting words: "We don't want an arrogant media. We don't want a media that thinks it is all powerful," she stated in the TV show Media in Focus.
Fierce fashion: The short-haired Lazaro always looks put-together in dark jeans and crisp light-colored shirts.
9. JO-ANN MAGLIPON
Feisty move: What would local showbiz news be without the editor-in-chief of today's biggest showbiz mag, YES!, and the hottest online tsismis site PEP.ph? Well, quiet and boring. Not to say that Maglipon is a screeching harpy. In fact, she is quite cool and unaffected when controversies come her way. She has elevated the craft of entertainment writing, dishing out juicy tidbits without resorting to mudslinging or other questionable practices. The dame has got class.
Fighting words: She refused to view, disseminate the infamous Hayden Kho sex videos. She stated, "Sex videos diminish us all. With every second these videos are viewed, a human being is violated, and that, with each violation, the entire human race is diminished just that little bit more."
ADVERTISEMENT - CONTINUE READING BELOW
Fierce fashion: Maglipon loves wearing stylish tops-from dark hued ones to the occasional playful prints or pastels.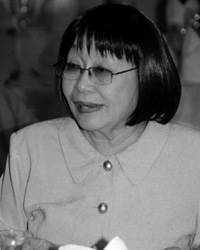 10. HAYDEE YORAC
Feisty move: Imprisoned during the Martial Law, this UP law professor is every bit the freedom fighter. She made her mark during President Corazon Aquino's time as the head of the Philippine Commission for Good Governance (PCGG), the agency tasked to investigate and retrieve "the loot" what the Marcoses were believed to have taken. Under her watch, tremendous strides were taken by the PCGG which got back billions of pesos for the government from the Marcoses' Swiss banks accounts. She got things done.
ADVERTISEMENT - CONTINUE READING BELOW
Fighting words: Before she succumbed to cancer in 2005, she stated, "Making a difference is enough."
Fierce fashion: Yorac's hair was memorable. At one point, she had cascading curls with bangs. Her bangs stood the test of time. Plus, she had her own sense of style that made her the thinking gay man's favorite icon back in the day.
Are you sure you want to delete this list?

Recommended Videos
Load More Stories